Klopp complains about Saudi transfer deadline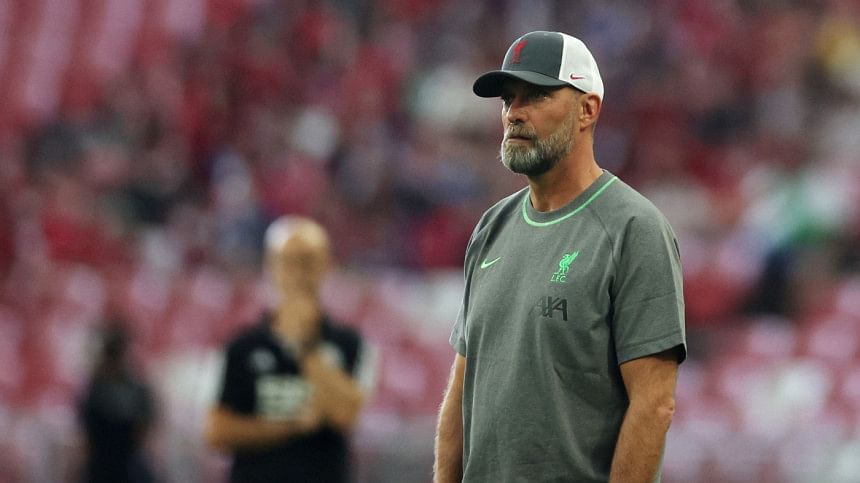 Juergen Klopp urged world soccer governing body FIFA to look into Saudi Arabia's transfer window closing three weeks after Europe's, with the Liverpool boss fearing major European leagues will lose more players without being able to replace them.
The Premier League's transfer window closes on Sept. 1, the deadline for most of Europe's top leagues, but Saudi Pro League clubs can sign players until Sept. 20.
Liverpool have already seen three of their key players move to Saudi clubs, including skipper Jordan Henderson and fellow midfielder Fabinho while striker Roberto Firmino moved on a free transfer.
"The influence of Saudi Arabia is massive at the moment," Klopp told reporters on Tuesday, a day before their pre-season friendly against Bayern Munich in Singapore.
"Pretty much the worst thing I think is that the transfer window in Saudi Arabia is open three weeks longer. If I am right, I heard something like that, then at least in Europe that's not helpful.
"UEFA (Europe's soccer body) or FIFA must find solutions for that. But in the end, at this moment, I don't know exactly what will happen. It's already influential for us but we will have to learn to deal with it... Time will show."
Saudi Arabia have flexed their financial might by luring some of the best players from European clubs with lucrative contracts, including French Ballon d'Or winner Karim Benzema and his World Cup winning compatriot N'Golo Kante among others.
The European exodus began last year when Al-Nassr completed the marquee signing of Cristiano Ronaldo soon after the World Cup in Qatar, making the Portugal forward the highest-paid athlete in the world.
Klopp also dismissed reports of Liverpool looking to sign Kylian Mbappe on loan for the season as the Frenchman looks to leave Paris St Germain, where he is at an impasse with the club as he enters the final year of his contract.
Mbappe has also been linked with a world record move to Saudi Arabia, but media reports said he rejected the idea of playing in the Gulf kingdom as he eyes a transfer to Real Madrid.
"We laugh about it," Klopp told Sky Germany. "I can say that I think he's a really good player, but the financial conditions don't suit us at all. I wouldn't like to ruin the story now ... but as far as I know, there's nothing to it."
"It's possible that someone else from the club is preparing something and wants to surprise me... That hasn't happened in the eight years that I've been here. That would be the first time."