Jamal 'representing Bangladesh in Argentina'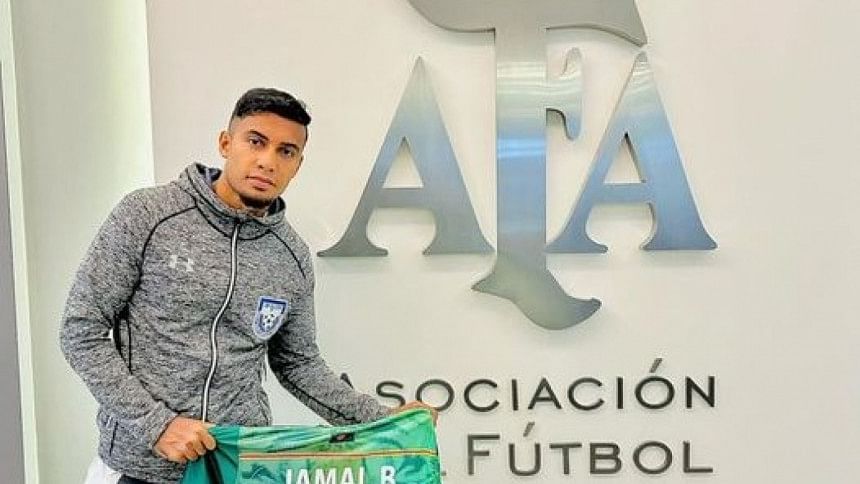 Bangladesh captain Jamal Bhuiyan has posted a picture of himself holding his Bangladesh jersey at the Argentine Football Association on his social media accounts a couple of hours ago, stoking further speculation whether he is indeed joining a third-tier Argentine club.
The post was accompanied with the following message: "It's time for me to represent Bangladesh in Argentina. Thank you to Argentina Football Federation for inviting me. AFA - Selección Argentina"
The Bangladesh captain had initially denied reports he was in the South American country, claiming he was in Europe even as pictures of him in Buenos Aires went viral on social media a few days ago. He had declined to admit that he had penned a deal with Sol de Mayo, a third-tier club of Argentina that had offered him to play last year. However, his former club Sheikh Russel declined to release him midseason.
Now that he is a free agent, Jamal does not have any binding obligation to play in Sheikh Russel, even though the Bangladesh Premier League outfit recently claimed Jamal had agreed on principle to stay with the club, admitting nothing was signed on paper.
Rumours of Jamal's playing in Argentina only gathered more steam earlier on Wednesday when Jamal was seen hanging out with Diego Cruciani, a former coach of Bangladesh and of Saif Sporting where Jamal played under the Argentine.
While there has been no indication from any quarters if Jamal has been invited by the Argentina FA as the social media post suggests, and now with Jamal openly promoting his tour to the South American nation, it seems even more likely that Jamal might eventually play for the Argentine club.
The 33-year-old midfielder, however, is expected to return to Bangladesh to take part in the national team's training camp, scheduled to start on August 20, for next month's FIFA friendly matches against Afghanistan and October's World Cup prequalifying matches.