'I end here, but they continue'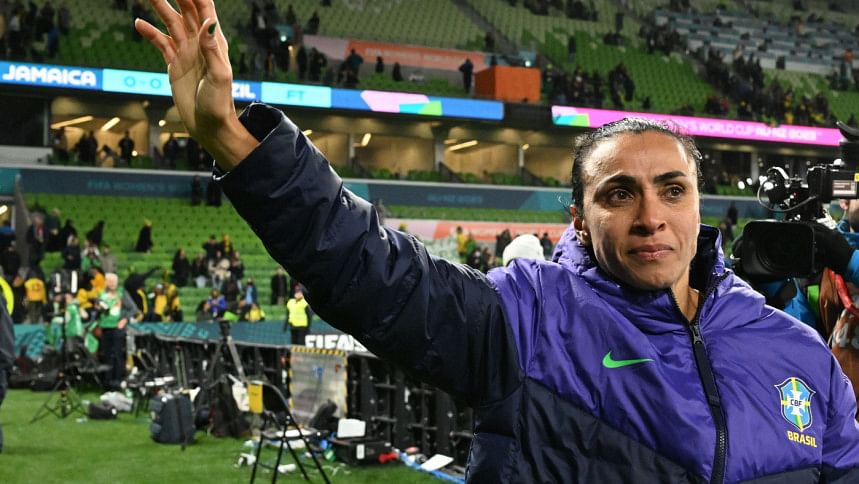 Marta said Brazil's Women's World Cup exit at the group stage Wednesday was "not even in my worst nightmares" as the legendary attacker bid a heartbreaking farewell to the tournament.
The 37-year-old, arguably the greatest women's footballer of all time, started the game but could do nothing to help Brazil get the goals they needed as their campaign ended in a toothless 0-0 stalemate with Jamaica.
Brazil and Marta are out in the group phase, their poorest World Cup performance since being dumped out at the same stage in 1995.
"It's hard to talk at a time like this. Not even in my worst nightmares was it the World Cup I dreamed of," said Marta, who looked as shell-shocked as she was upset.
"But it is only the beginning, the Brazilian people ask for renewal, and there is renewal.
"The only old one is me, most of them (team-mates) are young girls with enormous talent, it's just the beginning for them.
"I end here, but they continue."
Marta -- nicknamed "Pele in a skirt" by the late football great -- will never win the World Cup to add to her many achievements.
Among them, she is the all-time leading goal-scorer in World Cups, men's or women's, but was unable to add to her tally of 17 in Melbourne.
"Marta ends here, there is no more World Cup for Marta," said the forward, who has been dogged by injury in the twilight of her career.
"I am grateful for the opportunity to have one more World Cup and very happy with what is happening with women's football in the world."
Coach Pia Sundhage said she expects Marta to carry on with her playing career "because she loves the sport".
But she pointedly added: "Whether she is good enough for the national team, let's see.
"I am going to look for good players so it will be harder for Marta. We need to be better than today."