Rio Olympics: Where are the Marta jerseys?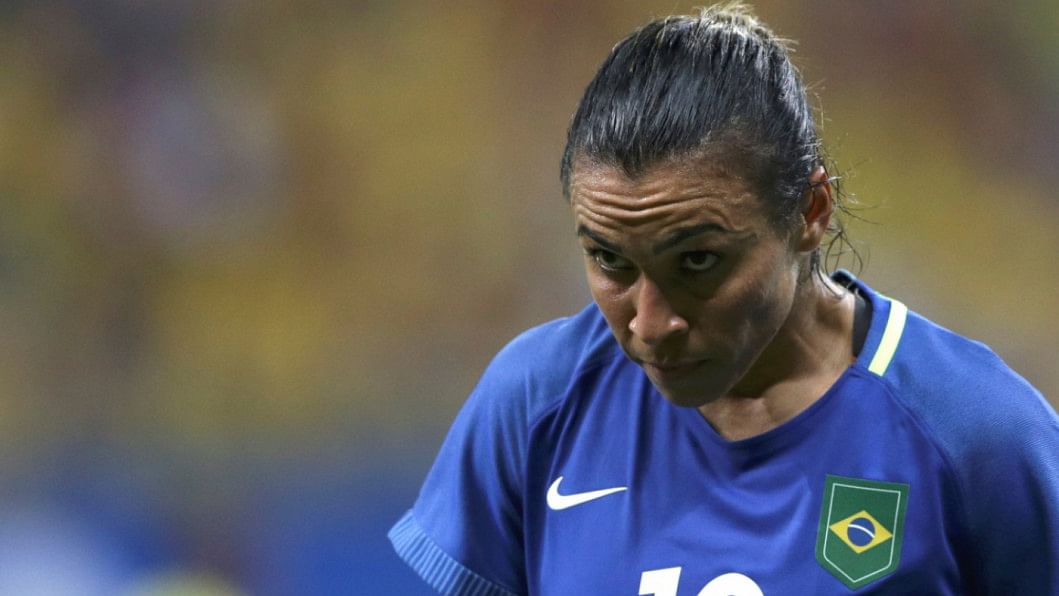 Step aside, Neymar. There's a new number 10 in Brazil.
The fashion statement of the moment for Brazilians glued to the Rio Olympics is the national football team's iconic number 10 jersey.
But it's not Barcelona star Neymar's name they want on the back. It's Marta, the captain of the women's team, whose dazzling performances have outshone her male counterpart, who is yet to score at Rio 2016.
The problem is, there are hardly any Marta jerseys to be found.
Clothing and sports stores in Rio de Janeiro have racks and racks of green and yellow shirts with Neymar's name on the back.
But good luck finding a replica Brazil jersey for five-time World Player of the Year Marta.
Her silky skills, two-goal display in a 5-1 thrashing of Sweden and down to earth nature have captured the hearts of Brazilians in need of Rio hero.
A video of a young boy wearing a Brazil jersey with Neymar's name crossed out and Marta's scrawled in with a heart went viral after Neymar sulked his way through two scoreless draws to open the men's quest for gold.
Brazilian actor Alexandre Nero took to Facebook this week in bitter protest after trying and failing to find a Marta jersey for men.
"I can't have a Brazil jersey with the name of one of the world's best footballers just because of some Medieval market notion that no man would wear a shirt with the name Marta," said Nero, a 46-year-old prime time TV star and musician.
'Behind the times'
Nike, the official supplier of Brazil's kit, says it does not sell replica jerseys with names on them. Buyers can decide to add any name they like.
There are no precise statistics available, but retailers clearly consider Neymar the name of the number 10, whether on official Nike jerseys or unofficial copies.
More and more customers disagree.
"Businesses are behind the times," Paola Jatahy, saleswoman at a shop in central Rio told AFP.
"There's a lot of prejudice against women."
'Marta is Marta' 
At a time of severe financial crisis in Brazil, where many believe the billions spent on the Games are an unneccessary luxury, there is more warmth towards the lesser known and significantly lower paid women than multi-millionaire Neymar - who has been pursued by authorities on both sides of the Atlantic in Brazil and Spain for tax fraud.
Salesman Thiago Nascimento da Silva said Neymar gives everything when he plays for Barcelona, but not for the national team.
"The money has gone to his head. He's not committed to the national team. Unlike the women, who are thinking of their country," said the 21-year-old.
At a nearby store, a fellow saleswoman said she had just lost three potential customers who were looking at Brazil jerseys.
"When they saw Neymar written on the back, they put them back because of the name," 18-year-old Maria told AFP.
At both men's and women's matches in the Olympics, a derisive chant has been in vogue with the crowds: "Marta is better than Neymar!"
Marta doesn't like the comparison.
The 30-year-old striker, who plays for Rosengard in Sweden, has never liked her nickname "Pele in a skirt."
And she doesn't like fans chanting that she's better than 24-year-old named third best player in the world last year.
"There's no comparison. Marta is Marta. Neymar is Neymar," she said after Brazil's opening win over China (3-0).