'I am fulfilled with this World Cup'
The tributes continue to pour in for Lionel Messi following Argentina's World Cup triumph as the Argentine superstar and his team have received a tribute from Conmebol, just right before the draw for the Copa Libertadores.
South American football governing body on Monday presented the 35-year-old Argentine star a with statue, which will be placed in the CONMEBOL museum next to those of legendary players Pele and Diego Maradona.
Messi also received replicas of the World Cup and the Finalissima trophy, which Argentina won against Italy, during the. His teammates and coach Lionel Scaloni received miniature trophies as well, including that of the 2021 Copa America lifted in Brazil.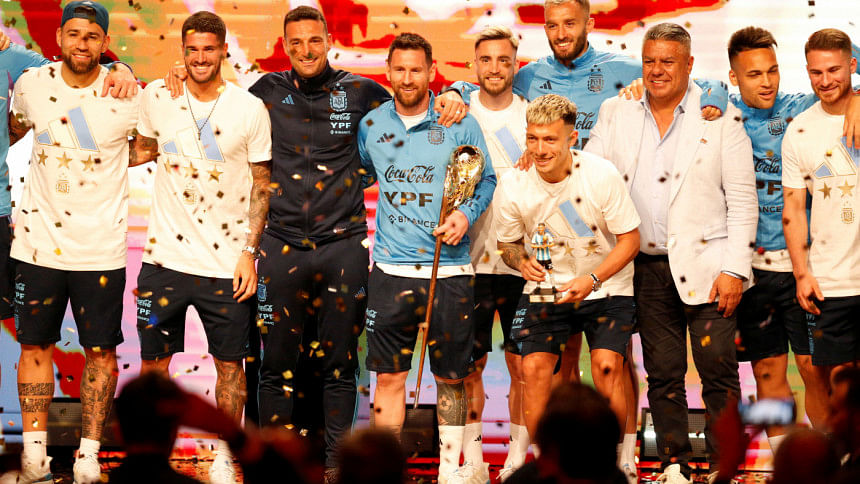 " Alejandro (Dominguez) thank you very much for these two cups that we had talked about, especially this one (playing the World Cup). I am going to keep it in the house museum as I have some more as well. Thank you, all of Conmebol for this tribute to all of us. To me, for the recent gift that was very moving from Sole. The theme for us is very significant for the wardrobe, it is a very special song that we listened to and that Sole is here and I sang it to us it reminded me -as she said- of that moment when she sang it to Diego (Maradona). That he sang it to me, that he sang it to us was a very nice moment so thank you very much", Messi began when he took the floor. 
" As I said the other day, we are experiencing a very beautiful, very special moment. We were lucky to return to play in Argentina after being World Champions for the first time and we are receiving many signs of affection.  Many people around the world were happy for us, for me, for being world champions and for bringing the cup to South America again," he continued.
Messi also highlighted the importance of affection on the part of the people and how that is something that they cannot measure in real time. 
"The last thing I would like to say is that I think that beyond all the affection that we are receiving after being world champions, that we are receiving from before in this entire group, for this recognition, for the expressions of affection, I think that still we're not really aware of what it means to be world champions.
"This is very often and we don't stop. We think about what's coming and not about what we did, I think this is for life. Here I saw many world champions who told us that, surely they It also happened to them, that to this day they are recognized and they don't even remember the moments when they were world champions. I am fulfilled with this (cherishing the World Cup), it was what I was missing, " confessed Messi.
"Thank God I can achieve everything in football, thank all my teammates for these beautiful gifts they gave me," he added. 
After the unveiling of his life-size statue and receiving the coarse with which he was awarded as the best player in the world, Messi left the final words and a beautiful message to conclude his speech. " This is really a lot. I had never dreamed or thought about this, my dream was simply to enjoy what I liked as a child. From being a professional soccer player to doing what I always loved in this life, which was playing the ball and I always tried to improve myself, wanting more and well, obviously I had a very long way.
"I had many disappointments, many defeats but I always looked ahead. I always wanted to go for a win, for a victory and that is what is most important. Fight for your dreams, that everything is possible and enjoy the ball, that for me and for us it is the most beautiful thing there is, " he ended.