Guardiola mind games get better of Arsenal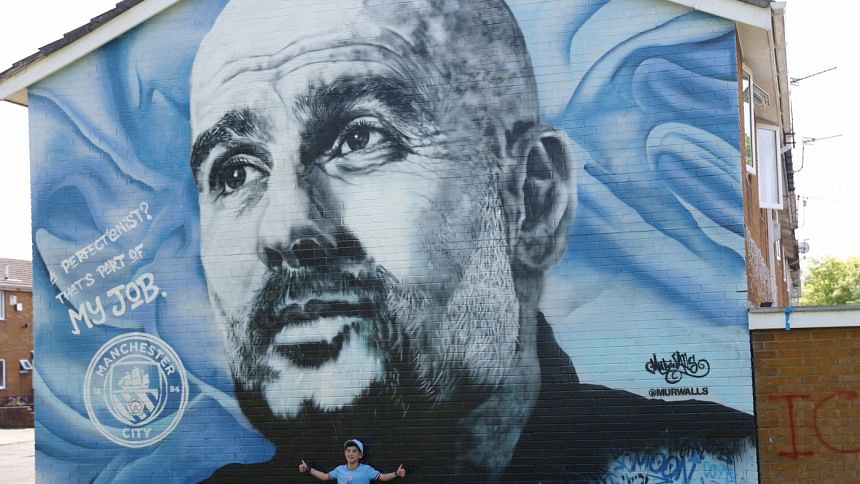 Arsenal's collapse in the Premier League title race showed they lacked the mentality and depth to dethrone Manchester City, but if there is any solace Mikel Arteta can take from the season is that they finally have a team that can be title contenders.
Arsenal's 1-0 loss at Nottingham Forest on Saturday brought the two-horse race to a premature end as Pep Guardiola's City were crowned champions with three games to spare, completing part one of a potential treble.
Having enjoyed the view from the top for nearly 250 days, Arsenal's title challenge crumbled in the face of a relentless, well-oiled winning machine that had been assembled and perfected over many years by Guardiola.
While Arteta and his players dismissed talk of "bottling" the title race, for their fans there is a crushing sense of what could have been.
Arsenal were eight points clear two months ago and appeared to be heading towards bagging their first league title since Arsene Wenger's 2003-04 'Invincibles'.
GUARDIOLA MIND GAMES
But the eight-point gap was an illusion as City always had games in hand while Guardiola played mind games, effusive in his praise of Arsenal and Arteta, his former assistant at City.
"Our problem is Arsenal was amazing so far. They do really well," Guardiola had said in April. "We are still there but there is another one better than you. You have to accept it, admit it and keep going."
As Arsenal stumbled with three straight draws last month, they glanced at the rear-view mirror and took their eyes off the road.
What started with Roberto Firmino's late equaliser in a 2-2 draw with Liverpool at Anfield, finished with Taiwo Awoniyi's winner on Saturday as Arsenal dropped 15 points in eight games.
Guardiola has seen his fair share of tense title races and even when Arsenal had three games to go, he gently applied more pressure.
"Definitely they are going to win their three games. I would like them to drop points to be honest, but I think they will get nine points," he said as he flashed a knowing smile.
Arsenal lost two of those games without scoring, losing 3-0 at home to Brighton & Hove Albion before defeat at Forest.
City, meanwhile, banked on their experience in title run-ins to win all their games, even dismantling European powerhouses Bayern Munich and Real Madrid in the Champions League along the way.
The master had outshone the apprentice as Guardiola's side marched to their fifth league title in six seasons.
SQUAD DEPTH
City's enviable squad depth has also been a major talking point with no outfield player clocking more than 3,000 minutes in an exhausting league season while Arsenal have had three led by Gabriel, Bukayo Saka and Martin Odegaard.
While Arteta had a starting line-up that challenged the best in the business, long-term injuries to key players -- such as defensive lynchpin William Saliba -- exposed the lack of capable backup players who could step in and do the job.
After playing out of their skins until April, Arsenal simply ran out of steam with no scope for player rotation.
"We wanted to squeeze everything that we had out of that group and find alternatives and ways to reach certain levels," Arteta said.
"We fell short and it is my job and my responsibility. I have to analyse that and think.