Coca-Cola's losses in brand value after Ronaldo gesture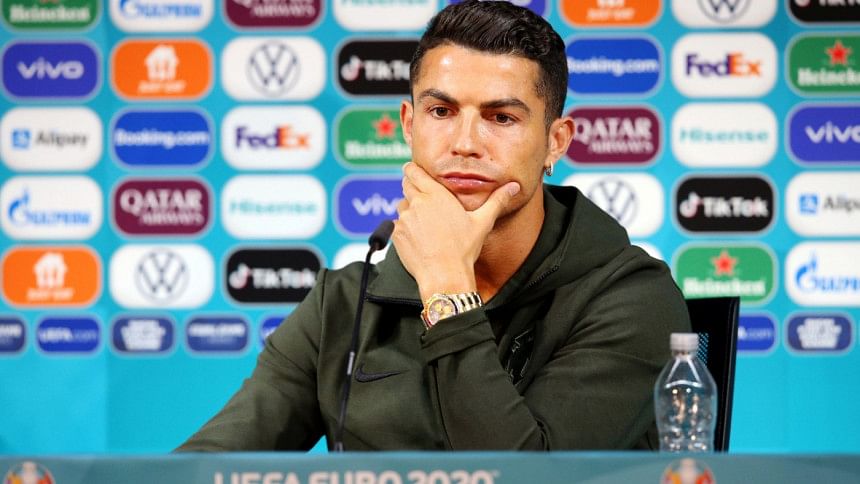 Any gesture of Cristiano Ronaldo has a huge impact on a product's brand value and apparently, his coke and water gesture in a press conference perhaps did not fail in that regard.
This Monday, at the press conference prior to Portugal's game against Hungary, he removed two bottles of Coca-Cola from his vicinity. The Portuguese star sat down, saw the two bottles of carbonated drinks and moved them away before taking a water bottle. His gesture was accompanied by a suggestion to 'drink water'.
Coke is a sponsor of Euro 2020. Marca reported that the company's shares took a dive, and meant billions of dollars in losses.
The stock market opened at 3pm in Europe. At that time, the Coca-Cola share was close to 56.10 dollars. 30 minutes later, when Cristiano Ronaldo and Fernando Santos stepped into the press room at the Puskas Ferenc Stadium in Budapest, stocks plummeted to a low of $ 55.22 per share.
The gesture of putting the bottles aside caused a brutal 1.6% drop for the company on the stock market. And in economic terms, Coca-Cola went from being worth $242 billion to $238 billion .Total losses of $4 billion.
The Portuguese international has even said in some interviews that it is important for children to have a healthy diet, away from sugars and fats. Being asked on one occasion about his relationship with his son on this issue, Cristiano Ronaldo was clear. "I'm tough on my son. Sometimes he drinks Coke and Fanta and he eats chips and he knows I don't like it," he had said.