Cabrera finds positives despite missed chances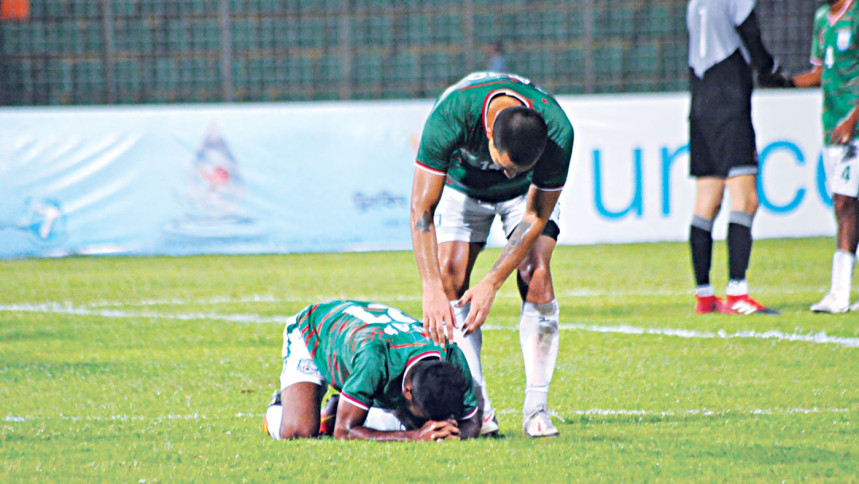 Bangladesh coach Javier Cabrera declined to blame his players, instead claimed that the team has made good progress and are adopting to his ideas, following a goalless draw against Mongolia in a FIFA friendly at the Sylhet District Stadium yesterday.
The 37-year-old Spaniard, who saw his side suffer a 2-0 defeat against Maldives away from home last week in his first assignment, said a win would have been a fairer result but he was satisfied nevertheless with the effort of his charges.
"I think we should be happy and proud of our players today," Cabrera said. "We achieved what we wanted, which was to have initiative with the ball."
For a change, Bangladesh dominated an international match in terms of possession and creating chances, but none of those efforts maanged to find the target, either through profligacy of the strikers or the lack of precision in the attacking third. Simon Reza, the top local scorer in the league last season, was to blame for spurning at least two gilt-edged chances.
The coach, however, was happy with the effort and wasn't too concerned with the outcome.
"I'm really happy with the team that we have, with the forwards that we have. We had many chances today and that's a really strong thing," the Spaniard said. "The crucial part was converting the chances but I'm happy with the work the strikers put in today."
There were moments in the match when Bangladesh players seemed to have too much of the ball, but little idea of what to do with it as the team seemed to try high-pressing football against an opponent happy to defend. Generally used to defending and playing on the counter-attack, the players failed to make a smooth transition to keeping possession of the ball with incisive passing.
It seemed like an odd mixture of old schoool long-ball football with an attempt to build the game from the back and passing the ball around. The outcome was neither very effective nor pleasing for the eyes. The coach, though, believes the players are making good progress in adapting to his style.
"I think we have made a lot of progress. These players are already playing at a good level and many of them have already adapted the style of football I want them to play," the coach said.
Even the substitions that the coach made – Nabib Newaz Jibon, who is more used to playing at a support striker's position for centre-forward Sumon, attacking midfielder Biplu Ahmed for the distributor Jamal Bhuyan – raised some eyebrows.
Eventually those substitutions failed to make any impact, but the coach said he felt the situation demanded those substitutions and he was happy with the performance of those who came in.