Booters can qualify for semis, believes Nabil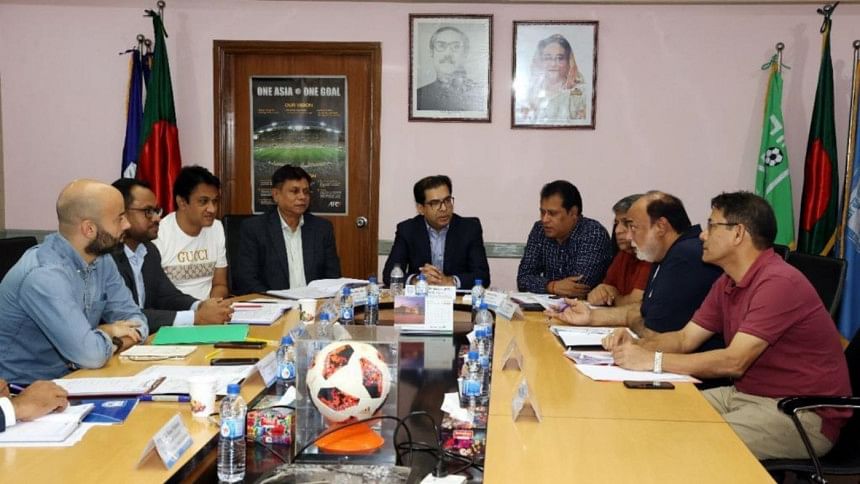 Bangladesh Football Federation has appointed David Dobarro Magan as national team's physiotherapist for next month's FIFA friendly against Cambodia and the subsequent SAFF Championship in India.
The appointment of the Spaniard was disclosed following a meeting of the National Teams Committee at the BFF yesterday. The meeting also decided to bring in David Gomez Gonzalez as assistant coach and Miguel Angel Anido Iglesias as goalkeeping coach, with both Spaniards being part of the team's coaching staff during March's home FIFA friendlies against Seychelles.
Kazi Nabil Ahmed, chairman of the NTC, informed that the Javier Cabrera-led side will leave Dhaka for Cambodia on June 10 for the June 15 friendly following a training camp, which will start on June 4 at Regency Hotel and Resorts in the capital. Shawkat Ali Khan Jahangir has been nominated as the team leader for the two assignments, he informed.
The BFF vice-president said despite having tough teams in the SAFF Championships, Bangladesh can still qualify for the semifinals.
"All teams are strong. Kuwait and Lebanon, the two invited teams, are way ahead in rankings. We will start against the strongest team (Lebanon)," Nabil said. "But I think we have chance to qualify if we play two good games."