Alba targets trophies after re-uniting with Messi in Miami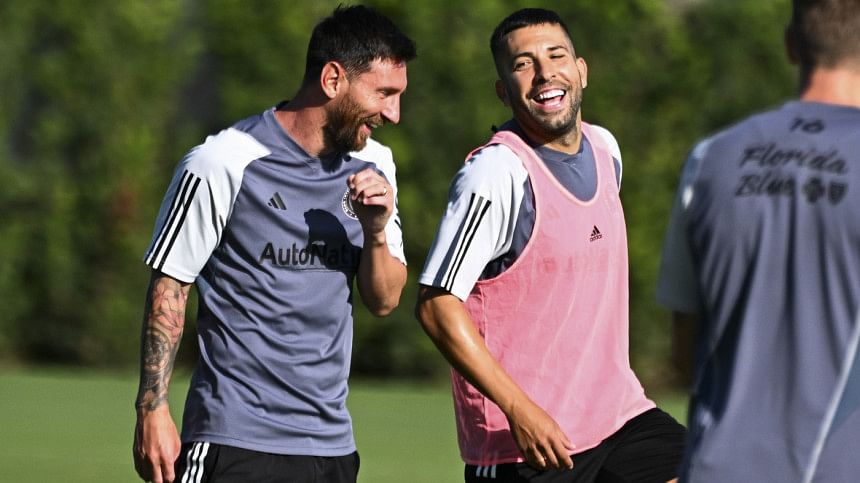 Spain full-back Jordi Alba says he is targeting more trophies after re-uniting with former Barcelona teammates Lionel Messi and Sergio Busquets at Inter Miami.
Alba is available for a possible Inter Miami debut in Wednesday's Leagues Cup match against Florida rivals Orlando City after arriving in Miami at the weekend.
The 34-year-old won five Spanish league titles and a Champions League title during his time with Barca and a European Championship and Nations League with Spain.
"I have come here to compete, to win everything," Alba told a press conference after training on Tuesday.
"I've been fortunate to win everything with Barcelona and almost everything with the national team...it was the right decision to come here to a very exciting project."
Alba said the impact of Messi and Busquets, who led Miami to back-to-back wins over Cruz Azul and Atlanta in the group stage of the competition, has already been evident.
"I think the arrival of Busi (Busquets) and Leo (Messi) has made the team grow a lot, Alba said. "And I'm going to be the same player I've been in Europe, I'm going to have the same demands of myself."
Alba said that despite not having played since Spain's Nations League final victory over Croatia on June 19, he has kept himself in good condition and is ready to hit the ground running.
"I have trained quite well in Barcelona for many days. It is true that it is not easy to train alone, but I got in touch with the (athletic staff) here, from Inter Miami, and well, they made it very easy for me," he said.
"I worked hard to be able to compete when I got here and I couldn't wait to train with my teammates, to know how they were personally."
The left back has been greeted warmly.
"They have welcomed me spectacularly," he said. "The truth is that I am very happy to be here. And well, physically I feel good, I am sure that with the passing of the weeks I will feel much better, and the change of climate is important but I feel good and strong.
"I've been here three days and it feels like I've been here my entire life."
Inter head coach Gerardo "Tata" Martino said that he was impressed with Alba's shape but that he would wait until Wednesday before deciding if Alba would play against Orlando.
With three top talents having joined a team that is bottom of the standings in MLS, it has been a challenge for Martino to create a cohesive team.
But he said he has been impressed by the way the players have responded to Messi, Busquets and Alba in the dressing room.
"What we have seen so far is that they are growing. They are not overshadowed by the greatness of the three players that we are talking about, but instead are focused on being able to learn from everything that they have done their careers," said the Miami coach.
"It is not easy for the players that we have here to receive players with so much history, with so many titles, with such good ability, with such a legacy in world football, In that sense, I think we are on the right track."