Muntari banned after racism complaint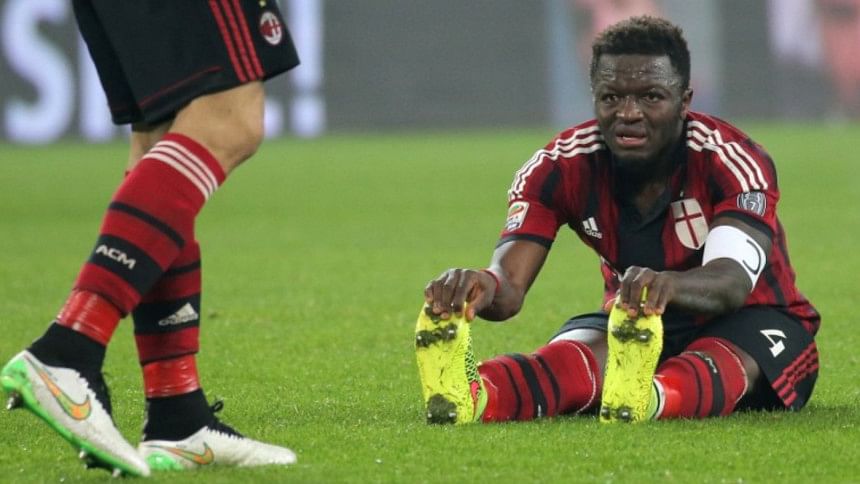 Pescara midfielder Sulley Muntari has been banned for one game after he walked off the pitch at Cagliari on Sunday, having been booked for complaining to the referee about racist abuse in the crowd.
Serie A's disciplinary committee also said that no action would be taken against Cagliari because only around 10 supporters were involved in abusing Muntari.
Meanwhile, Lazio and Inter Milan were found guilty of racist behaviour by their fans during other games and warned they would face partial stadium closures if there was a repeat.
The committee said that Napoli defender Kalidou Koulibaly was the target of racist chanting by Inter fans while Lazio supporters targeted AS Roma defender Antonio Ruediger.
Ghanaian midfielder Muntari said he suffered abuse throughout his side's 1-0 defeat at Cagliari but was booked for dissent when he asked the match official to stop the game.
The 32-year-old walked off the pitch in protest shortly afterwards and was then given a second yellow card and sent off.
The committee confirmed an automatic one-match ban, saying Muntari's second yellow was for "abandoning the pitch without the referee's permission".
The committee described the chanting as deplorable but said it came from a part of the stadium occupied by 2,000 fans and that only around 10 were involved, not enough to warrant a punishment against the club under Serie A rules.
It said that around 80 percent of the 7,000 Inter fans in one of the upper tier sections of the San Siro aimed insults at Senegal defender Koulibaly and a similar number of fans in one section of Lazio's Curva Nord aimed insults at Germany's Ruediger.
In both cases, the tribunal ordered the sectors to be closed for one game if there was a repeat incident within the next year.
Earlier, the world players' union FIFPro had called on Serie A to rescind Muntari's first yellow card.
"We urge Italian authorities to hear Muntari's version of events, investigate why the situation was mismanaged, and take firm action to ensure this never happens again," said FIFPro in a statement.
"Muntari was well within his rights to approach referee Daniele Minelli, as the first point of reference, to make his grievances known and seek a solution...
"Professional footballers should expect to be adequately protected by the relevant authorities."