Abahani look to fight against Bengaluru FC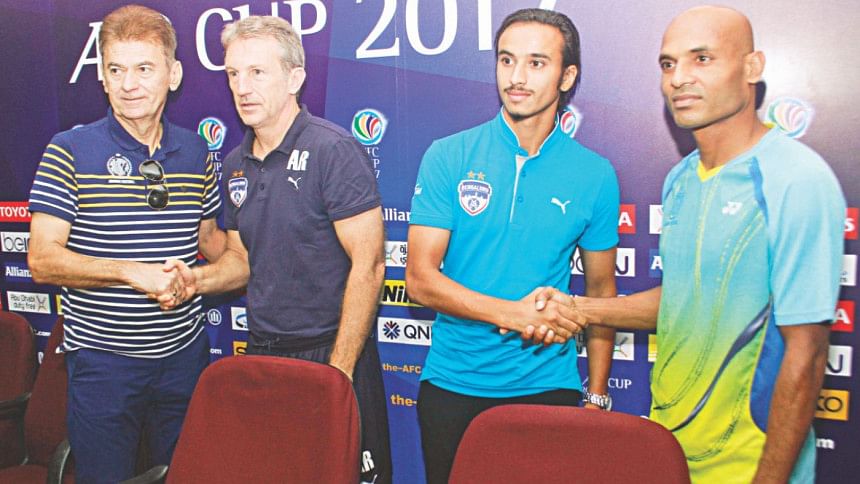 Bangladesh Premier League champions Abahani will look to put their best performance yet when they face JSW Bengaluru FC today in a bid to earn their first points from four matches in Asia's second-tier club tournament, the AFC Cup, at the Bangabandhu National Stadium.
Having played three matches against South Asian rivals, Abahani have yet to open their account. However, the five-time professional football league champions are confident that they will pull off a shocker when they encounter visiting Bengaluru. With three straight wins, Bengaluru currently occupy the top spot in the four-team table and a win over Abahani could push them closer to a place in the final round.
Even though the Sky Blues suffered a 2-0 defeat to the last edition's runners-up in Bangalore last month, Abahani are confident about doing better this time as Ghanaian defender Samad Yussif and midfielder Emon Babu have returned in addition to the players being in better physical condition.
"This is our second match at home, so it is our obligation to give it our best and try with all our might to push for the win," said Abahani's Croatian coach Drago Mamic at an official press conference at the BFF House yesterday.
However Mamic believes that to compete in the AFC Cup a team needs plenty of preparation before hand and so Abahani cannot be expected to move through the rounds with ease. Rather he wants to prove that the Sky Blues are improving match by match.
The 63-year-old coach has also urged his charges to be more competitive and to not repeat the mistakes in order to be more clinical and provide a positive result.
Despite expectations of a good result on home ground, it will definitely come as a challenge to topple Bengaluru, who came here with a full-strength squad in pursuit of a final round berth.
Bengaluru had rested four key players against Churchill Brothers during their last encounter of the I-League on Saturday, yet came out with a 3-0 win in that fixture.
"Bengaluru have come here to compete and will try their best to win the game. It will be tough here because Abahani is a good team and they will try to put us in trouble. My players know about it and their ability. We are fully convinced if we do things well we can have a good result even here," said Bengaluru's Spanish coach Alberto Roca, whose side finished fourth in the I-League recently.
"Our expectation in this tournament is very high because we reached the final last year. Tomorrow is an important game. If we win tomorrow we have possibility to move to the next stage," hoped Roca.