Mourinho's two reds set another Premier League landmark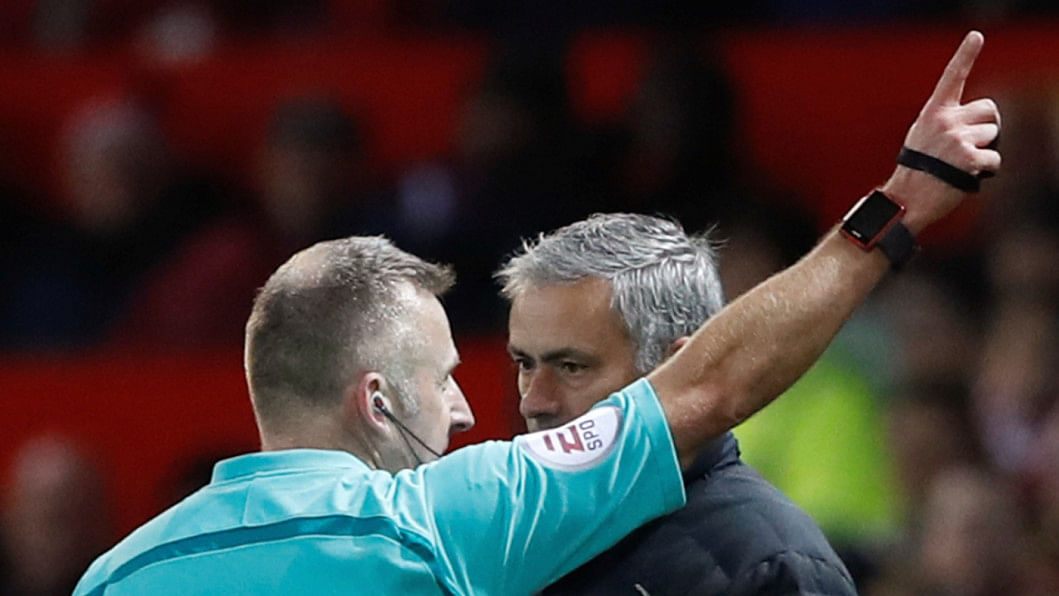 Manchester United's Jose Mourinho is fond of setting landmarks as a manager but becoming the first individual to be sent off twice in this season's Premier League is not one he will covet.
No player in England's top flight has yet been shown two red cards this term but now an angry man in a big coat has beaten them all to it following Mourinho's dismissal during United's 1-1 draw at home to West Ham United on Sunday.
If all that is not of great concern to Mourinho, then the plight of his expensively-assembled team, now 11 points off the pace and losing touch with the top four, definitely will be as United ponder their worst league start since 1990-91.
When you have won 22 trophies, eight league titles and the world coach of the year accolade, it is a bit of a comedown to now be dealing in the most red-carded manager category.
Mourinho's latest sending off was for a show of petulance when he booted away a water bottle down the touchline in frustration after referee Jon Moss had booked United's Paul Pogba for diving in the first half.
Referees in England are clamping down on dissent and this flagrant one prompted Moss to send Mourinho to the stands, just as he did last year when the Portuguese, then at Chelsea, had a halftime rant against the official also in a West Ham match.
It was striking how Mourinho's second sending off in a month - he incurred the wrath of referee Mark Clattenburg in a draw with Burnley at Old Trafford in late October -- coincided with another disappointing United showing against lowly opponents.
Whether his ill-discipline at Old Trafford could be linked to United's impotence in those two matches is open to question, but there is no doubt that Mourinho's behaviour is becoming an increasingly expensive failing.
Last month, he was fined 50,000 pounds ($62,400.00) by the FA after comments about referee Anthony Taylor before United's match with arch-rivals Liverpool.
His rant against Burnley came after United had been denied a penalty and he was given a one-match touchline ban and an 8,000 pounds fine. Now, the FA may consider another touchline ban.
Not Scoring
All of which could mean more post-match media work for Mourinho's assistant Rui Faria, who took a leaf out of his boss's book when talking of United being unlucky after their fourth consecutive draw at home.
Yet, in truth, there has been little that is unlucky about United's failure to turn dominance into points as their blunt edge in front of goal has seen Stoke City, Burnley, Arsenal and now West Ham outplayed but game enough to hang on for a point.
"The reality is that we are playing well," Faria said. "We create the opportunities but we are not scoring the goals and we are suffering.
"We can say we are unlucky and in the last matches we should get different results. We all believe the results will appear."
Not that Faria ever assumes the other managerial duties.
"I don't take over," he said. "The boss is Jose all the time and he passes on what is the best for the team and we just try to make it happen without having him there."
That is something United are just having to get used to.