Loss to Inter fails to dampen Ancelotti mood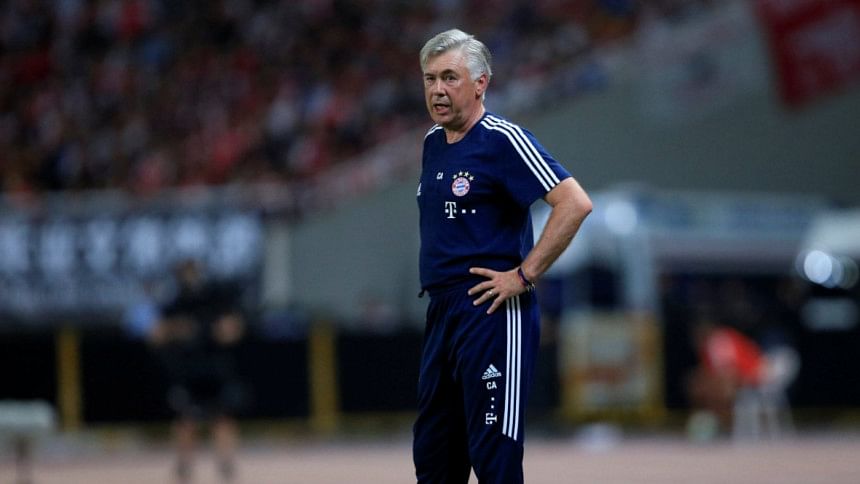 Bayern Munich manager Carlo Ancelotti shrugged off a 2-0 defeat by Inter Milan in a Singapore friendly on Thursday and declared the German champions' pre-season tour of Asia as a good test of the side's preparations for the upcoming campaign.
Ancelotti was also quick to dispel any injury fears concerning French winger Franck Ribery, who was withdrawn with a problem to his right foot, after two Martins Eder first-half headers decided the contest at the Singapore National Stadium.
"We planned this trip and were happy to come here. We have had a good test and some important matches to improve our condition," Ancelotti told reporters.
"It was good to be here and now we go back and will prepare for the German Supercup with the full squad.
"Ribery had a little cut on his ankle and needed one stitch but he will be fine in two or three days."
The highlight of Bayern's Asia tour was a 3-2 victory over English champions Chelsea on Tuesday, days after the Bundesliga side were thrashed 4-0 by AC Milan in China.
"The result is the least important thing in games like this, the performance is what we are more concerned with. The loss to AC Milan was not good but today we played well," Ancelotti added.
"Yes, we conceded poor goals but we generally controlled the game. We played Chelsea just two days ago, so I didn't want to give a lot of minutes to those who took part in that match.
"I used a lot of youngsters from the academy and I honestly thought they did really well."
Italian Ancelotti was also impressed by the performance of Portuguese midfielder Renato Sanches, who struggled to make an impact in Munich last season and has been linked with a loan move in order to gain more playing time.
"Renato played really well. I am not sure if it is a surprise or not but he played very differently compared to last season," Ancelotti said of the 19-year-old prospect.
"He has a new intensity at the moment and I am happy for him as he had this quality last year but was unable to show it then but seems to be able to now. He is an important player for us so we will see what happens."
Borussia Dortmund host Bayern in the German Supercup on Aug. 5.