Lahm, Alonso bow out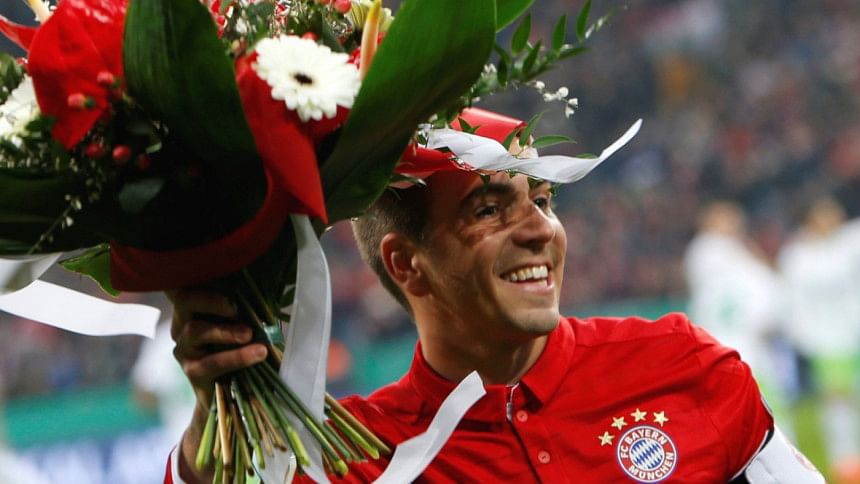 Bayern Munich will farewell two giants of the game on Saturday when World Cup winners Philipp Lahm and Xabi Alonso retire from professional football.
Bayern's game at home to Freiburg promises to be an emotional afternoon as the Bundesliga champions lift the trophy for the fifth successive season.
Between them, Lahm, 33, and Alonso, 35, won every major trophy and were key figures in two of the 21st century's most incredible matches.
Defensive midfielder Alonso scored Liverpool's crucial third goal in their comeback from 3-0 down at half-time in the 2005 Champions League final against AC Milan, before winning 3-2 in a penalty shoot-out, in Istanbul.
Lahm captained Germany from right-back when his team scored four goals in six devastating first-half minutes in their 7-1 thrashing of hosts Brazil in the semi-finals of the 2014 World Cup.
Alonso made his mark at three of the world's biggest clubs -- Liverpool, Real Madrid and Bayern.
He credits his moved to Merseyside in 2004, five years after signing his first pro contract with home-town club Real Sociedad, for kick-starting his career.
"My time in England was, for me, spectacular. I was 22, it was my first experience of living on my own and of living somewhere which wasn't my home town," he reminisced of his Liverpool days.
He will forever be remembered at Anfield for his part in the fight back in the 2005 European final, netting a 60th-minute penalty to win the Champions League title at the end of his first season in England.
He went on to become a key part of a golden Spain generation which won the 2010 World Cup in South Africa either side of the 2008 and 2012 European titles.
Alonso made 114 international appearances, forging a reputation as a solid tackler, cool under pressure with a heavy dose of Basque charisma.
He won the Champions League titles with Liverpool, on that unforgettable night in Istanbul, then nine years later when Real Madrid won 'la Decima' -- a tenth European Cup title -- in the 2014 Lisbon final.
When he lifts the German league trophy on Saturday, it will be the 18th time Alonso has won silverware for both club and country and his third straight Bundesliga title.
As for his future, Alonso plans to pass the test to ride a motorbike, take a break from football and travel with his family.
"I've spent my life trying to squeeze everything into four weeks in summer," he told The Times.
"Now I don't have to play anything. I have weekends for the first time in 18 years. My wife is thrilled."
Having joined as an 11-year-old, Lahm spent his entire career at Bayern, save for a two-year loan spell at Stuttgart from 2003-05.