Klinsmann fired as US football coach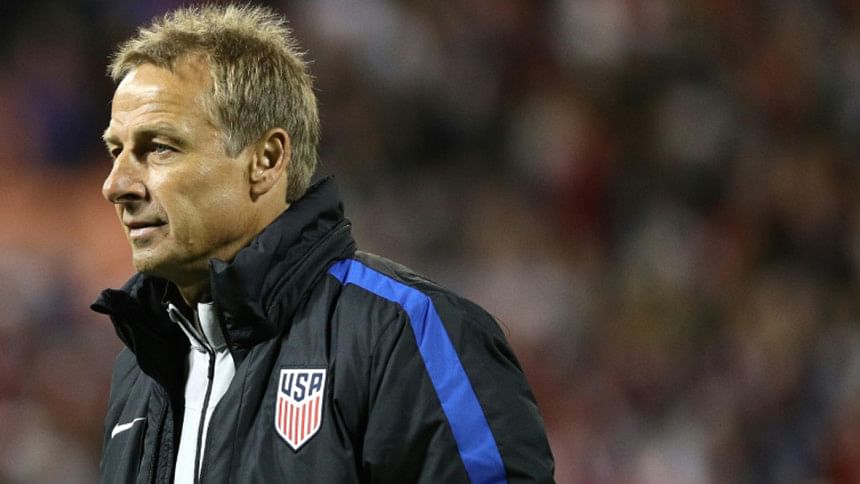 Former German international striker Jurgen Klinsmann was fired Monday as coach of the United States after losing two straight 2018 World Cup qualifying matches.
US Soccer Federation president Sunil Gulati announced the firing without naming a replacement. The United States does not face another World Cup qualifier until March.
"Today we made the difficult decision of parting ways with Jurgen Klinsmann," Gulati said in a statement.
"We want to thank Jurgen for his hard work and commitment during these last five years. He took pride in having the responsibility of steering the program and there were considerable achievements along the way."
Klinsmann went 55-27 with 16 drawn in a coaching tenure that began on July 29, 2011, when Gulati named him to replace the fired Bob Bradley on a team where Bradley's son Michael was a star midfielder.
Klinsmann, 52, guided the Americans on a team record 12-match win streak in 2013 and his 16 triumphs and .761 win percentage that year set US marks.
But the Americans stumbled to fourth in the 2015 Gold Cup, also losing a playoff to Mexico for the Confederations Cup.
Earlier this month, the US squad stumbled badly in opening the final round of North American (CONCACAF) qualifying for the 2018 World Cup in Russia, falling 2-1 at home to arch-rival Mexico and 4-0 at Costa Rica.
Bruce Arena, a five-time Major League Soccer champion coach now with the Los Angeles Galaxy, is thought to be a prime candidate to replace Klinsmann.
The 65-year-old American coached the US team to the 2002 World Cup quarter-finals and guided a 2006 US lineup that exited in the group stages.
Under Klinsmann in 2014, the Americans matched their 2010 World Cup showing by reaching the last 16.