Blatter and Ali battle for power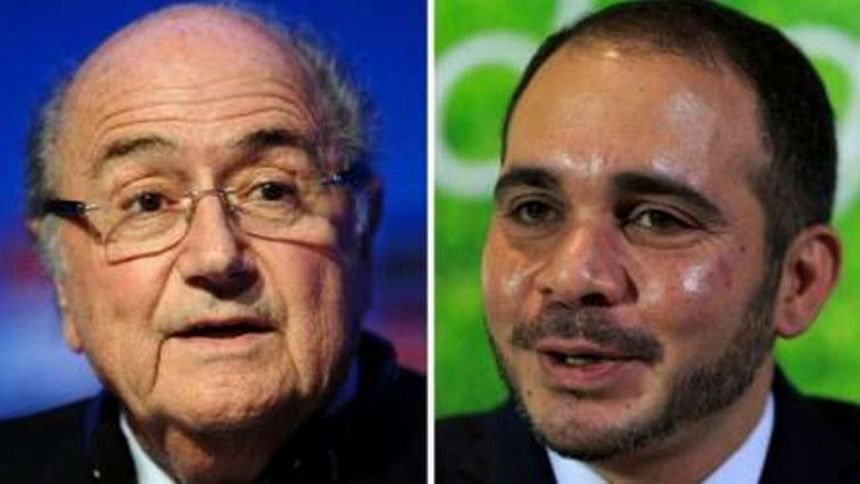 Fifa's 209 member associations will decide on Friday whether to give Sepp Blatter a fifth term as president.
World football's governing body continues to reel from "a storm" of damaging corruption allegations.
But the 79-year-old Blatter has already resisted calls to resign and insists he is the man to "fix things".
Blatter, who has been at the helm of Fifa since 1998, is being challenged for the presidency by 39-year-old Jordanian Prince Ali bin al-Hussein.
Speaking before the presidential election in Zurich, Blatter admitted "these are unprecedented and difficult times for Fifa".
But he added: "It must fall to me to uphold responsibility for the well-being of the organisation.
"The events of this week unleashed a storm. The important point today is to move ahead - and the important point is transparency. We have a problem to solve."
Fifa has been dogged by scandal but faced a fresh crisis on Wednesday when bribery and racketeering charges were laid against several top officials by authorities in the United States.
A total of 14 people were indicted, with seven senior football officials arrested in dawn raids at a Zurich hotel.
All seven now face extradition to the US.
In a separate development, Swiss officials opened criminal proceedings into the bidding process for the 2018 and 2022 World Cup bid processes.
Blatter condemned the "action of individuals" for bringing "shame and humiliation" on Fifa and football but he said that it was impossible for him to "monitor everyone all of the time".
How does voting work?
Before the voting begins, the candidates will have the opportunity to speak to Fifa members for 15 minutes.
Each of Fifa's 209 member associations gets a vote, so the likes of footballing minnows American Samoa have just as much of a say as nations such as England.
It is a paper vote rather than an electronic one, with member associations casting their votes by secret ballot, in alphabetical order.
In the first round, a candidate needs to get two-thirds of the vote to be declared the winner.
If the vote is closer than that, a second round of voting is held, with a simple majority enough to secure victory.
Fifa secretary general Jerome Valcke, assisted by a number of scrutineers, will control the distribution and counting of ballot papers.
Is it possible to abstain?
Yes. Six members did just at the last presidential election in 2011.
One of them was the English Football Association.
It decided to abstain after Blatter's only rival, Mohammed bin Hammam, pulled out days before the election after being suspended over bribery allegations.
Blatter was duly re-elected after receiving 186 of the 203 votes cast.
Weren't there other candidates for 2015 vote?
Blatter faced three candidates but two withdrew last week.
Former Portugal midfielder Luis Figo, 42, and Royal Dutch Football Association president Michael van Praag, 67, pulled out of the running because they did not want to split the anti-Blatter vote.
Former Tottenham and Newcastle midfielder David Ginola, backed by a betting company, had intended to stand but failed to secure the necessary backing of five football associations.
The same fate befell Ginola's French compatriot, former Fifa executive Jerome Champagne, who left the organisation in 2011.
Who is Prince Ali?
The son of the late King Hussein and Queen Alia, he attended Sandhurst military academy in England before joining his country's armed forces.
He is Fifa's youngest vice-president and the youngest member of the Fifa executive committee.
In his manifesto, he talks about protecting the integrity of the game and championing human and labour rights.
He was one of a number of officials who called on Fifa to publish of the report into allegations of corruption surrounding the 2018 and 2022 World Cup bids.
He also successfully championed the lifting of Fifa's ban on the hijab - the veil worn by Muslims - in women's football.
Prince Ali is also the brother-in-law of leading racehorse owner Sheikh Mohammed, the ruler of Dubai.
How will the election unfold?
Blatter has been publicly backed by the football confederations of Asia (AFC) and Africa (Caf), which means that most of their member nations are expected to vote for him.
Prince Ali is the favoured candidate of European confederation Uefa, so he is likely to pick up most of the European votes. Platini believes "45 or 46" from 54 European members could back him.
It is not quite so clear where the votes from the North American (Concacaf) and South American (Conmebol) confederations will go.
These regions have been loyal to Blatter but there are suggestions that at least some of their member nations will back Prince Ali.
Prince Ali himself is said to believe he has the support of 60 nations outside Europe, but bookmakers currently make Blatter the 1/2 favourite.
So why is Blatter so popular?
Blatter's Fifa gave Africa its first ever World Cup with South Africa 2010, as well as a debut Asia tournament in Japan-South Korea in 2002.
Asia has publicly stated its support for the Swiss, while Nigerian Football Federation president Amaju Pinnick believes "a minimum of 50 votes" of Africa's 54 votes are also Blatter's.
It is not just major tournaments that have maintained Blatter's popularity in the two largest voting blocks.
Pinnick cites developmental programmes, coaching and facilities as further reasons that a Blatter victory would be "good for football".
"What Blatter preaches is equality and fairness among the various nations," said Pinnick. "Even if it is the smallest or biggest nation. We don't want to experiment. We don't want any new face."
What happens if Blatter wins?
The BBC has learned that Uefa could call for an extraordinary general meeting of Fifa's congress if Blatter is victorious.
If 20% of members agree with the motion, the meeting would have to take place within three months.
A motion of no confidence would almost certainly be put forward.
There are even suggestions Uefa might decide to boycott Fifa in future, or some of its tournaments such as the World Cup.
"All of these things have been discussed," Scottish Football Association chief Stewart Regan told BBC Scotland.