'No problem with Neymar'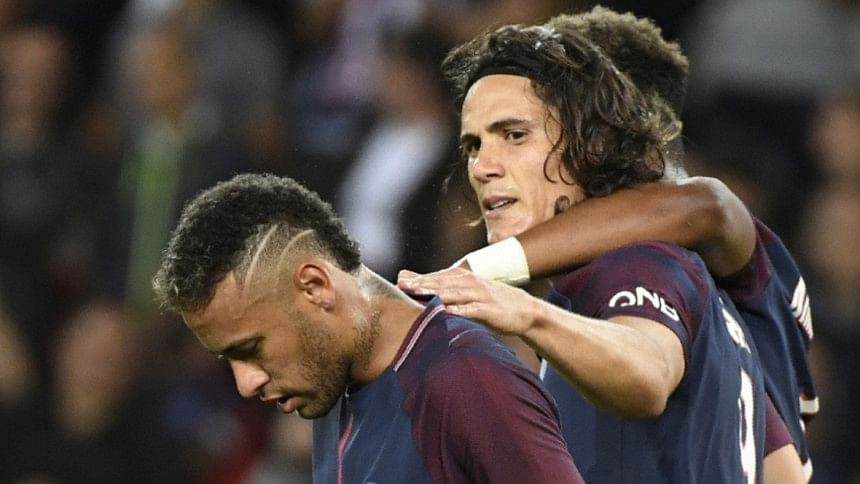 PSG striker Edinson Cavani has denied there is a rift between him and PSG's Brazilian forward Neymar, despite signs that say otherwise after the two disputed over free-kick and penalty duties during PSG's win over Lyon.
While talking to Gol de Medianoche de Radio Universal, Cavani said that there was no substance to the rumours of his supposed problems with Neymar.
"These things are created. I don't know why these stories are created. The truth is that these are normal things; things that happen in football.
"I learned of the story just now talking with my brother, about people saying that Cavani won't let anyone take penalties and that there's a problem with Neymar. The truth is that there's no problem."
In the 78th minute of the PSG-Lyon game, Cavani refused to let Neymar take the penalty. Cavani proceeded to take the penalty and hit the post with his strike.
Cavani must have been determined to take it due to an earlier altercation involving Dani Alves. During the 57th min. of the game, Brazilian Alves hid the ball from Cavani and handed the ball to Neymar instead. Cavani was by no means a happy chap after that incident.
Alves however remarked about the incident nonchalantly and said: "I was going to have a go myself [laughs]. I had already taken the ball for the free-kick because I have already scored a few [laughs]. I was confident. To me, this is nothing, the most important thing is that the team is ahead of any individual result."
"I believe that when the match is really hard and we want to make the breakthrough, we all want to take responsibility. That is what I wanted to do here but Ney took the ball from me and ended up shooting," Alves told SportTV.
The dynamics of the Neymar-Cavani relationship has been a bit awkward given that the Brazilian arrived at PSG to become the main star of the team. It is a far cry from what Neymar faced with Lionel Messi during his time at Barcelona.
Messi had always shared penalty duties with Neymar. During one game Messi advised the Brazilian to take a penalty even as the Argentine was battling Cristiano Ronaldo for the Pichihi trophy (highest goal-scorer in La Liga) and was on a hattrick.
Meanwhile, despite Cavani's insistence that there is no problem with Neymar, the Brazilian has already unfollowed the Uruguayan striker from social media platforms twitter and instagram.
Alves said after the game: "In a team there shouldn't be rifts between two team-mates. We all have to be together for the team to keep growing.
PSG's Adrien Rabiot said: "I think they are going to speak and come to an agreement. They can take penalty kicks one at a time."
However, those words does not quite reflect the clash of egos that is taking place at PSG at the moment.  
PSG coach Unai Emery urged the duo to come to a 'gentleman's agreement'. Cavani has so far taken three penalties this season and scored from two of them. He is yet to hand any penalties to the Brazilian Neymar.
It begs the question whether Messi's shadow was everything it was made out to be? Or did the Argentine share a blissful partnership with the Brazilian? At least in Barcelona, Neymar was sharing penalty and free-kick duties with the best player in the world – not bickering with Edinson Cavani.