Neymar sidelined for up to three months with foot surgery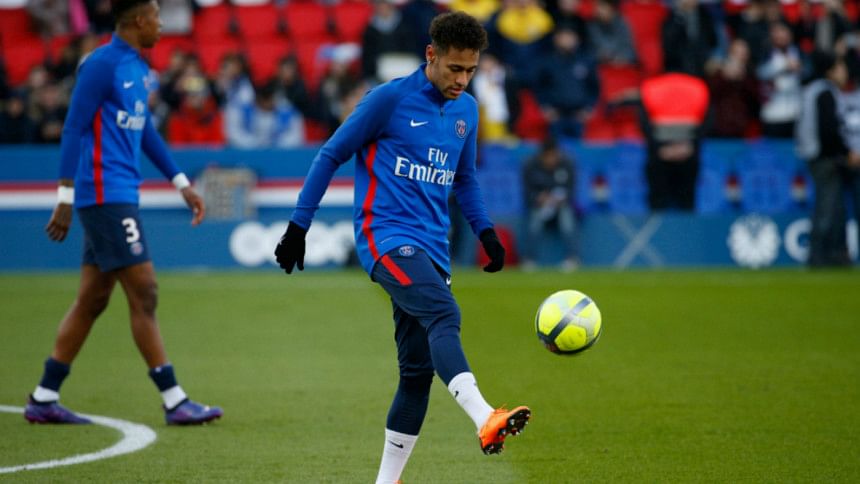 Brazilian superstar Neymar will be sidelined for up to three months -- perilously close to the eve of the World Cup -- after undergoing surgery on his broken foot, his doctor says.
The worse than previously announced prognosis came as the Paris Saint-Germain striker, 26, arrived in Rio de Janeiro from Paris for Saturday's operation.
"The (recovery) period will be around two and a half to three months," national team surgeon Rodrigo Lasmar, who flew with Neymar, said Thursday.
The injury has not only ruled the world's most expensive player out of PSG's make-or-break Champions League clash with Real Madrid on March 6, but more worryingly for the football-mad public in Brazil, also threatens the much-fancied national side's build-up to the World Cup, starting in Russia on June 14.
Lasmar, who will lead the surgery at a hospital in Belo Horizonte, said there is no quick fix for the striker.
"It's not a simple fracture, but a fracture in an important bone in the middle of the foot," Lasmar said.
Dressed in a black hoodie, a black baseball cap and wearing sunglasses, Neymar left the plane in a wheelchair. He smiled and took selfies with other passengers before leaving on a private jet to an undisclosed destination.
Neymar could arrive at the hospital on Friday by helicopter for maximum privacy, according to local press reports. From the airport he may have headed straight for his villa in the Rio area, the reports said.
At the Mater Dei de Belo Horizonte hospital, an entire wing has been reserved for Neymar and his entourage, and staff have been warned to uphold the facility's policy regarding confidentiality, said GloboEsporte.
Serious fracture
The initial assessment did not appear as serious on Sunday, when Neymar was reported to have suffered a hairline fracture of the fifth metatarsal, as well as a twisted ankle late in PSG's 3-0 win over Marseille in Ligue 1.
Neymar's father had predicted "at least six weeks" out, while PSG coach Unai Emery even said there remained a "small chance" of getting him back in time to face Real Madrid.
But Lasmar's assessment painted a graver picture.
"Yesterday we went back to the hospital (in Paris) and made new exams that left the seriousness of the fracture very clear," he told journalists in Rio.
"There was no doubt left regarding the treatment. We were unanimous in agreeing that it would have to be surgical treatment. More conservative treatment, without surgery, would present a far greater risk for refracture. We can't run that risk."
The drama is a big personal setback for Neymar, who has been at the centre of the world's footballing attention since his 222 million-euro ($264 million) move from Barcelona last August.
He has scored 28 goals in 30 appearances in all competitions for PSG since arriving. But on Sunday he looked to be in tears as he was stretchered off the field at the Parc des Princes.
PSG lost 3-1 to Real Madrid in the first leg of their European tie in Spain two weeks ago and are in danger of being knocked out of the competition in the last 16 for the second season running.
Neymar misses friendlies 
Brazilians' attention is entirely trained on the World Cup, where they have ambitions of walking away with a sixth title after the humiliation of crashing out 7-1 to Germany in the 2014 semi-finals on home soil -- a match Neymar missed after picking up an injury in the last eight against Colombia.
Even if Neymar gets back in time, he appears sure to miss two warm-up friendlies against Russia and Germany in March.
"Brazilians have high hopes for the World Cup with him and many are afraid he won't be able to take part," said one fan, kiosk owner Gabriel Tavares Barreto in Rio de Janeiro.
"I think he'll recover in time... but that's what Brazilians are worrying about," the 21-year-old said.
Images of Sunday's fateful duel between Neymar and Marseille player Bouna Sarr have been replayed incessantly on television, often in slo-mo.
Lasmar said he was aware of the pressure.
"It's clear there are goals to reach in terms of timing and we will do our best to meet the deadlines," he said.
The UOL sports website reported that Neymar may recuperate at his residence in Mangaratiba, on the coast of Rio state. The luxury residence has the facilities that would allow the star's medical team to run a full physiotherapy program, the report said.