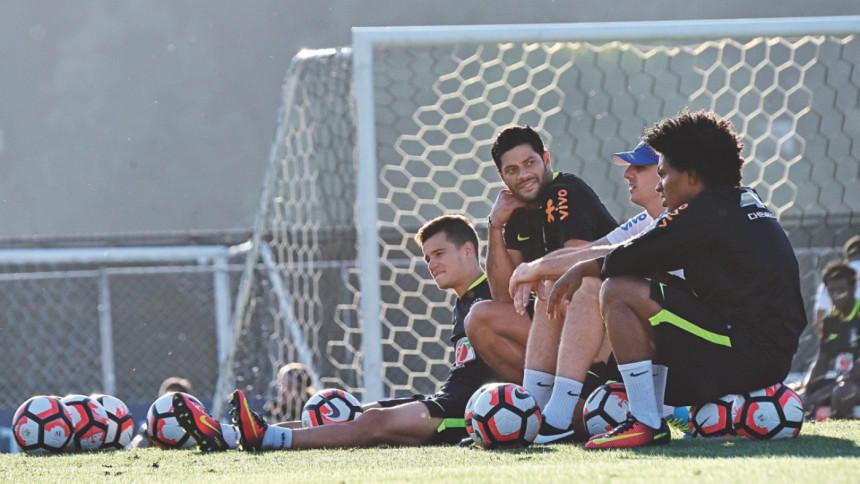 Brazil's troubled build-up to football's Copa America hit another snag Thursday when midfielder Luiz Gustavo became the sixth player to withdraw from the squad, citing "personal problems."
It comes a day after veteran striker Kaka pulled out with a hamstring injury before Brazil open their Copa America Centenario campaign against Ecuador at the Pasadena Rose Bowl in California on Saturday.
Wallace of the Brazilian side Gremio has replaced Luiz Gustavo.
"In a discussion with the technical staff of the Brazilian team, the Wolfsburg player has asked to be released from the squad due to personal problems," the Brazilian Confederation said in a statement, without giving more details.
Kaka had been an injury replacement for Bayern Munich's Douglas Costa.
Other players ruled out because of injury include Ricardo Oliveira Santos, replaced by Jonas, goalkeeper Ederson and Barcelona midfielder Rafinha.
Meanwhile, Brazil full-back Dani Alves has issued an emotional message of gratitude to Barcelona after the club confirmed he will be leaving.
Juventus are set to sign the Brazil international, 33, ending a glittering Camp Nou career that saw him win six La Liga titles, four Copa del Rey crowns and three Champions Leagues as part of an astonishing 23 winners' medals since signing from Sevilla in 2008.
Alves issued a statement on Instagram thanking those associated with Barca and insisting he would always be part of the club.
"In one month it will be eight years since my arrival at Barcelona," he wrote. "In July 2008, I came to this club for the first time and occupied the dressing room in which I have experienced the most important accomplishments of my career.
"From day one, from the first training session under Pep Guardiola, until the last of this season, I have had the fortune to enjoy football passionately.
"I have dozens, hundreds, of images recorded in my mind of moments shared with all of you in Camp Nou, from the pitches of the greatest stadiums in the world, in the streets of Barcelona.
"Many goal celebrations, the happiness in the forms of titles. I am a privileged, honoured footballer, for whom life has allowed him to wear the shirt of the best club in the world in an incredible decade for the quality of its players and coaches.