Booters humiliated
Suffer 5-0 loss to Maldives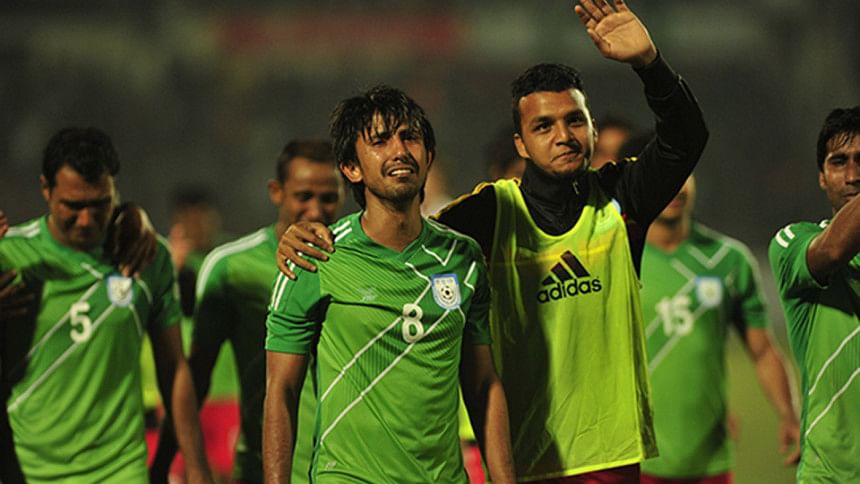 Bangladesh's preparation for their Asian Cup Play-Off Qualifiers went horribly as they suffered a humiliating 5-0 defeat at the hands of Maldives in an international friendly at the hands of Maldives in an international friendly at the National Football Stadium in Male last night.
It was new coach Tom Saintfiet's first match, one in which he attempted to fine-tune his team combination and strategy ahead of the crucial September 6th match against Bhutan. However, the night turned into a nightmare for both the Belgian coach and his charges as they conceded the biggest defeat to the Islanders, their third defeat to the nation on the trot since a shootout win in the 2003 SAAF Championship final.
The booters were used to defeating Maldives by large margins in the past and would suffer such heavy losses only to teams the calibre of Australia or Jordan, but yesterday's result was an eye-opener about the state in which the team currently is.
Saintfiet handed international debuts to Mohammad Abudllah, Jafar Iqbal, Sohel Rana and Sentu Chandra Sen, but the young guns failed to impress in the match which was goalless going into the second half.
However, if their performances could be ignored, the performances from experienced players, especially from Raihan Hasan, Tapu Barman, Nasir Chowdhury and Wali Faisal, were inexcusable. The Maldivian forwards, especially Ali Ashfaq, toyed with Bangladesh's backline in the second half and enjoyed a goal-fest.
Most of the blame would fall squarely on the shoulder of the backline and the scoreline could have been even worse as Maldives squandered at least three clear-cut one-on-ones.
Asadullah put Maldives ahead in the 53rd minute before doubling the lead in the 61st minute. Hamza made it 3-0 in the 79th minute before Asadullah completed his hat-trick in the 82nd minute. Substitute Ismail Essa completed the rout in stoppage time.