Djokovic set up Zverev final in Rome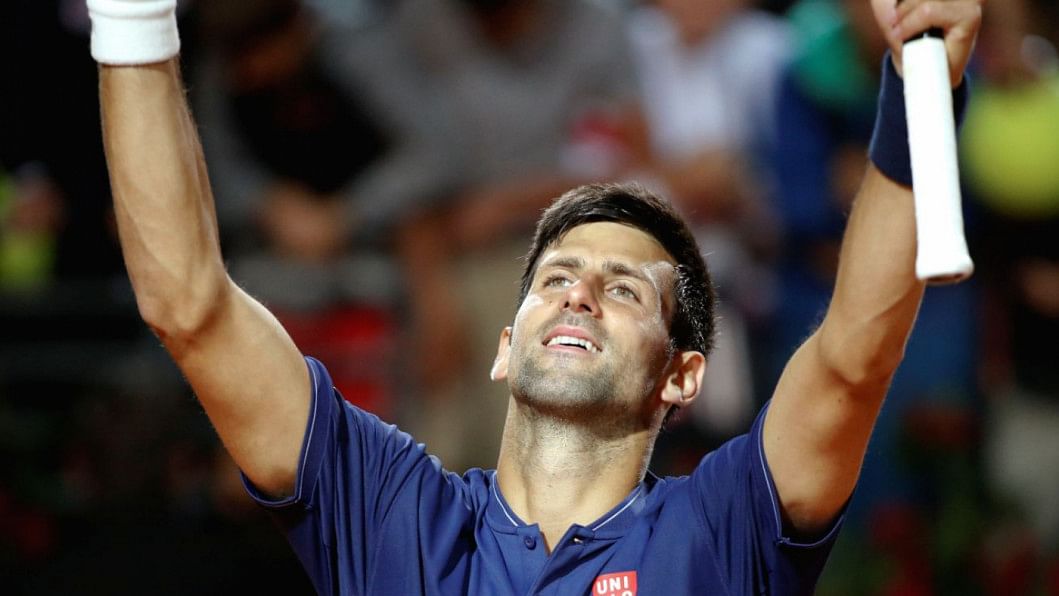 -Djokovic thrashed Thiem in Italian Open semi-final
-Zverev also into Rome final after beating Isner
-German is youngest ATP Masters 1000 finalist since Djokovic
-Djokovic also beat Del Potro in unfinished quarter-final
Novak Djokovic made a timely return to his brilliant best after a traumatic year on Saturday and talked of rediscovering his lost "joy" for tennis as he thrashed Dominic Thiem to set up an Italian Open final meeting with young German Alexander Zverev.
Djokovic, who has suffered a fall from grace over the last year while wrestling with injuries and a lack of confidence, looked his old dominant self as he hammered the Austrian 6-1 6-0 in the second semi-final in virtuoso fashion.
Earlier in Rome, Zverev won a battle of the giants to down unseeded American John Isner 6-4 6-7(5) 6-1, making the tall 20-year-old the youngest ATP Masters 1000 finalist since a 19-year-old Djokovic in Miami in 2007.
Djokovic said that his mini masterpiece, carved out in just 59 minutes against Thiem who had ended Rafael Nadal's 17-match winning streak so thrillingly on Friday, was "by far" his best performance of a difficult year.
The quick workout against Thiem was just what Djokovic needed as it was his second match of the day, having completed a 6-1 6-4 win over Argentina's Juan Martin del Potro in a rain-delayed quarter-final carried over from Friday.
"Best by far, obviously," Djokovic said when asked on Sky Sports whether the win over world number seven Thiem, which saw him spray 14 winners and give up a mere six unforced errors, was his best in 2017.
"The closest I got to this level was the final against Andy (Murray) in Doha in the first week of the season (which Djokovic won). Otherwise, I've been struggling to find the right level and be consistent."
Earlier this month, the Serb had parted company with his entire coaching team in a bid to regain the form that had made him an untouchable world number one a year ago.
Amazing Feelings
The move, which he described as "shock therapy", appears to have already paid dividends as Djokovic, who lost his top ranking to Murray at the end of 2016, produced a devastating display against one of the game's new luminaries.
"This game brought back some amazing feelings and memories on the court so I'm really glad," said Djokovic, who feels he is running into form at the perfect time with the start of his defence of the French Open just over a week away.
"Yes, I was looking for that," he said, when asked if everything was falling into place again.
"I was looking to have a nice balance between the right intensity and the fire and feeling satisfied and happy, calm again on the court and finding the joy of playing because, to be honest, I lost that in the last seven, eight months.
"There was fire but perhaps too much fire. Now I feel I'm on the right track and things are progressing well," he added, looking forward to his first final since Doha.
Another of the young guns, Zverev, had looked like wrapping up his match with Isner in straight sets after romping through the opener in under half an hour, but the defiant American took the second set down to a tiebreak.
The German was 5-0 down in the tiebreak but battled back before Isner took the match to a third set with a forehand winner.
Isner, the first American to reach the semi-finals in Rome since Andy Roddick in 2008, had a chance to break with Zverev leading 3-1 in the final set but the German snuffed out the challenge.
Earlier, Djokovic had finished an emphatic job against Del Potro. The match had been halted by rain and lightning on Friday with the Serbian leading 6-1 1-2.