'Asia backs 48-team World Cup'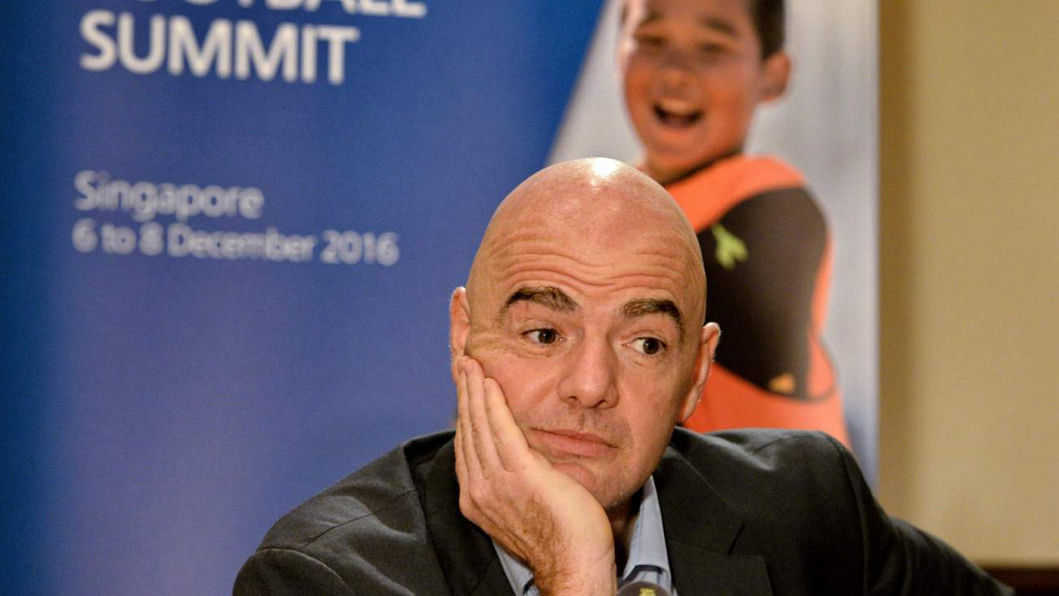 FIFA chief Gianni Infantino on Thursday said Asian countries backed his plan to expand the World Cup to 48 teams -- and added that up to three countries should be allowed to co-host the tournament.
Infantino, speaking after a three-day FIFA summit in Singapore, said Asian football associations "unanimously" supported a larger World Cup, with a "big majority" favouring 48 teams.
Infantino's proposal for a 48-team World Cup in 2026, featuring 16 groups of three, will be submitted to the FIFA Council next month. A 40-team World Cup is also on the table.
"They are very supportive on expanding it. Everyone, unanimously," Infantino told reporters.
"All of them were in favour of an increase and a big, big, big majority were in favour of the 48 teams with the 16 groups of three," he added.
The FIFA Council will vote in Zurich on January 9-10 whether to maintain the current World Cup format of 32 teams, or extend it to 40 or 48.
Under the 16-group format, every qualified team would play at least two games and the top two in each group would then go through to the last 32.
"I like 40 (and) I like 48 with the play-offs because it brings excitement before the group stage," Infantino said.
"But the 16 groups of three means that every game is important. There is no dead rubber. Every game is meaningful, is important."
Asia currently has four designated World Cup berths, with a fifth available via a play-off. The Asian confederation is the world's second biggest with 46 full members.
'Upside for football'
Infantino also said he supported allowing up to three countries to co-host the World Cup, instead of expecting one bidder to provide a dozen stadiums.
Japan and South Korea co-hosted the tournament in 2002 but a World Cup spread across three countries would be unprecedented.
"If a country does need to have 12 stadiums of more than 50,000 spectators but only (has) four, then why shouldn't we allow three countries to join forces, each country four stadiums and have 12 stadiums?" Infantino said.
"That would then fit more in football development strategy... and more countries could participate in the dream of hosting at least one part of the World Cup, so I'm very open to it."
He added that club football would not be affected by an expanded World Cup, and stressed that countries around the globe would reap the benefits of being able to participate.
"There's no downside for the clubs because the calendar is not impacted," he said.
"But there's an upside for football because it allows eight or 16 more teams and more countries and more regions in the world to participate in the competition, which is the World Cup."
Infantino also described his trip to Chapeco in Brazil as "very, very emotional" after he attended a massive funeral for the city's football team, which was all but wiped out in a plane crash.
Asked if there are plans to help rebuild the team, Chapocoense, Infantino said there will be "programmes to help them", without giving any details.