Iniesta's pain after historic debacle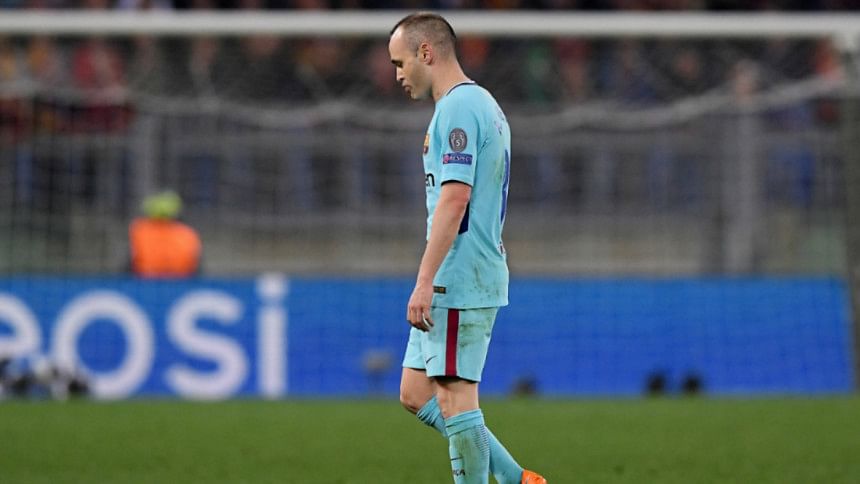 Barcelona made the wrong kind of history last night after crashing out of the Champions League as AS Roma became the first club in history to come back from three goals down against the Catalan club in a two-legged tie.
For captain Andres Iniesta, it was a painful night as he might be leaving at the end of the season.
"[That this was my last Champions League game] is a possibility and for that reason it hurts even more," he said when asked if he thought he'd play in the competition again.
Barca were uncharacteristically tame on a night where Roma brought in their aggression and perseverance. Barca, having won the first leg 4-1, failed to fire due to passive mindset.
"It's a very hurtful elimination because nobody expected it due to the lead we had. When you do things badly, make lots of mistakes and don't adapt to the game, this is what happens.
Barcelona, have now crashed out of the quarterfinal stage of the Champions League for three consecutive years despite their impressive league form under manager Ernesto Valverde this season.
Roma became just the second side to score three goals against Barca in a game. Real Madrid were the first when they defeated Barca 3-1 in the Spanish Super Cup back in August.
It's a big disappointment because of the season we were having."
"We always try to give the maximum but we are knocked out and now feel everyone's pain. We had high hopes this season and it has escaped us again," Iniesta said.
Iniesta has won four Champions League titles with Barcelona is an iconic player for the Catalan side and if he is to leave Barca and bid goodbye to the Champions League then it could be considered a terrible blow for football as well, particularly given the way that this midfield maestro has dominated the European football scene with his football.