Dwarfs stand tall at Rio Paralympics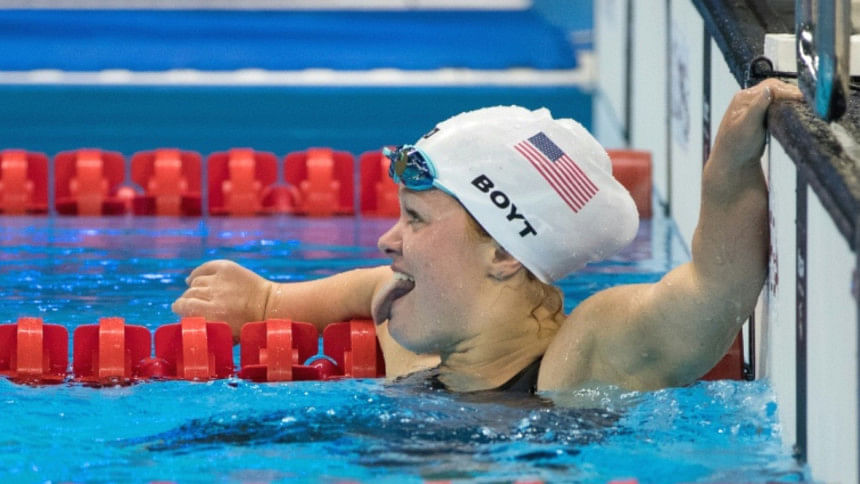 Dwarfs at the Rio Paralympics are getting the big stage they say they deserve.
Competitors in the women's 400m swimming this week cited Tyrion Lannister, the dwarf anti-hero of hit TV series "Game of Thrones," as a breakthrough in pushing back against centuries of mockery or ignorance.
And in Rio de Janeiro -- from the pool to the athletics stadium -- they're taking the fight for respect to new levels.
"People are starting to realize that we're a lot more capable of, you know, greatness than most people would perceive us to be because of our height," US swimmer Reilly Boyt, 20, told AFP.
Boyt, who has a nose stud and wears tiny star earings, remembers far fewer dwarfs at the 2012 London Paralympics and "almost nobody" at the World Championships in 2013.
"It's awesome," she said of the Rio Games, "because you're competing against people just like you."
On the starting blocks, the diminutive size of the women is startling. Once they dive in, however, the effect of the water and the whirring arms and legs made them appear abruptly different -- a lot bigger.
"Like giants," Boyt says with satisfaction.
'Game of Thrones' effect 
The International Paralympic Committee was unable to provide figures for the number of dwarfs in Rio, but spokesman Craig Spence said that "at each Games we are seeing an increasing number."
Dwarfs can compete in six Paralympic sports -- athletics, equestrian, powerlifting, swimming, table tennis and wheelchair tennis.
Another US swimmer, Sophia Herzog, 19, said it's been a thrill to compete with "a bunch of dwarfs" in Rio, including Britain's Eleanor Simmonds, who won gold in the 200m medley, adding to her previous haul of four golds from the Beijing and London Games.
"Hopefully it's inspiring a lot of other dwarfs," Herzog said. "We can have a college education. We can have a Ph.D. We're competing in the Paralympics. We get world records. We can get a job, a regular job, be a CEO -- we're no different."
The huge popularity of "Game of Thrones" and its cliche-busting character Lannister, played by award winning Peter Dinklage, is seen as a game changer.
"Awesome," Boyt said.
"It's wonderful," said Spanish dwarf swimmer Judit Rolo Marichal, "because the man performing in the role is incredible. It has nothing to do with him being small."
Excluded
There's still a long way to go though.
Rolo, who is 25 and works as a veterinarian in Spain, said dwarfs are relatively overlooked within the Paralympic world, where attention is mostly on amputees and the people confined to wheelchairs by accidents or diseases.
And in wider society, lack of empathy or even cruel prejudice remains rife.
Supermarkets and work places, for example, do nothing to help short people reach shelves, Rolo says. She recalls "ugly" incidents where school teachers excluded her from activities and says she's stared at in the street.
"Sometimes children will ask their parents, 'Why is she so small?' and the father will say, 'She's sick, don't look,'" said Rolo, who has a tattoo of a butterfly on her left shoulder.
"But I'm not sick! The parents should explain that I'm smaller because that's how I came out, like some people come out fat or thin."
Gary Arnold at Access Living, a US group supporting the disabled, noted in an email to AFP that the word "midget" is increasingly unacceptable and that "the public is much more aware of the concerns and rights of people with dwarfism."
However, Danielle Kisser, a Canadian para-swimmer and member of a group called Little People of British Columbia, said the success of a few Paralympians and actors like Dinklage doesn't add up to much.
"In the grand scheme of things, it's been a very little change," she told AFP in an email interview.
"That's great for that person who is making a difference in their field, but one out of 100,000 doesn't mean that we are changing the perception of dwarfism," she said.
"A true breakthrough for me would be that I could walk into a job, an interview, or anywhere for that matter, and not have my height be the first thing that they judge."