'You will see the real Rubel'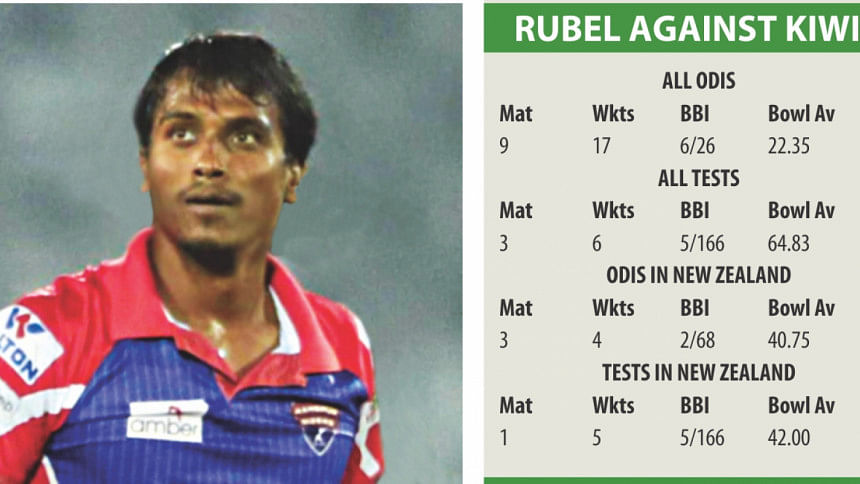 Sometimes fate brings about an opportunity out of the blue. Some can grab the chance with aplomb, while others fail to do so. Only time will tell which category Rubel Hossain will fall into.
An opportunity came the fast bowler's way as he was picked in the 22-man squad for the preparation camp in Sydney and the tour of New Zealand as a replacement for injured paceman Mohammad Shahid.
"What can I say? I am just fortunate as I got the opportunity. It's very simple; an opportunity has come and I must capitalise on it," the 26-year old right-arm paceman said while talking about his fortune.
Rubel, who was dropped during the Afghanistan series in September due to a lack of bowling fitness, was supposed to be a first choice first bowler in the team, but unfortunately he had to wait for a stroke of luck, backed by impressive performances in the ongoing Bangladesh Premier League (BPL), to get the opportunity.
"It's a common syndrome as fast bowlers cannot bowl at their finest rhythm all the time. I could not do so for a while but thanks to Allah I got back my rhythm during the BPL. Now my challenge is to carry that to international cricket. If I get the chance in New Zealand, I hope you will see the real Rubel and what you always expect from him," said a confident Rubel.
"I was always confident about my return to the national side and I tried my best in the BPL to bowl at my best. If I am not wrong -- except three matches where I conceded 36, 39 and 41 runs -- I bowled well and with good pace. If Shafiul [Islam] revived his international career after such a long break then why would I give up hope," continued Rubel, who took 15 wickets in 12 matches in the BPL to seize the opportunity ahead of Kamrul Islam Rabbi, Al-Amin Hossain and Alauddin Babu.
Rubel also could not fathom why some people are saying that he now lacks pace.
"I cannot understand why people saying this. I can still bowl at my best pace and you saw that in the BPL. I have the confidence that I will be able to give the New Zealand batsmen some tough times if I get a chance to play.
"Now, I am working hard and can fully understand that there is no alternative to hard work. But from my seven years experience in international cricket I know I will need to prove myself in the middle."
Rubel also admitted that nothing could have been as depressing as missing the New Zealand tour.
"It was really painful for me when I thought that I would not be there while the team played in New Zealand; a dream condition for any pace bowler. And if you look at my record you will find that my performances against New Zealand were not bad. So as a pace bowler I cannot imagine that my team will play in New Zealand and I will not be there."