'We didn't do justice to our talent'
When he arrived at the Nelson airport at around 11:30am on Sunday, coach Chandika Hathurusingha exchanged customary New Year greetings with the travelling Bangladeshi press corps. During that informal exchange he said he would not mind to speak in detail on a few issues subject to the approval of the authorities concerned. He said he was open for a press session upon reaching Napier and he would be available after the team meeting at the Scenic Te Pania, the temporary home for the Tigers facing the Tasman Sea in the north island. The beautiful, glassed structure does not have the facility for a conference and the Tigers had to meet in a nearby white house kept for such events. So, when he appeared to meet the reporters after a long session with his players and then with the chief selector Minhajul Abedin, he was quite frank while speaking in details regarding some burning issues. Here is an excerpt of the animated exchange.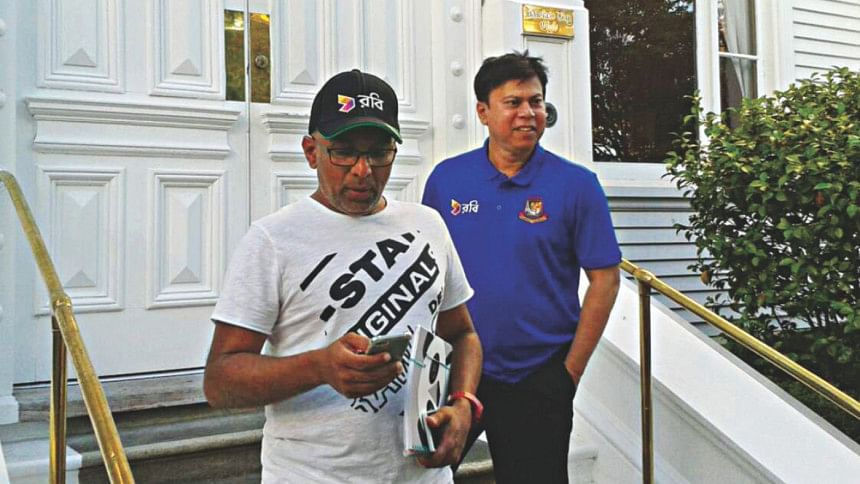 Question (Q): Your team have lost the one-day series 3-0. But what is the most disappointing part for you?
Chandika Hathurusingha (CH): It's obviously disappointing. You dominate certain stages of the game and then don't capitalise on that -- probably one thing to point out. That shows that with a little bit of experience or a little bit of good decision-making we could have gotten into a stronger situation in the game.
Q: How crucial was Mushfiqur Rahim's absence? Then three players made their ODI debuts; do you think it worked?
CH: Mushy's absence was very crucial because he was the in-form batsman in the last few months. Even in the first game he was in the middle with 40-odd not out and we were in with a slight chance to chase down the score because Mosaddek was with him, and then he got injured, so it's a blow for us. We had to replace him and it was not easy.
For the second part of your question Nurul [Hasan] came in and did really a good job. The other changes in that game is that we had to rest Fizz [Mustafizur Rahman] because we could not play him in three games in six days after months of injury. So, we decided which one [he would be rested from]. We decided it would be the second one because they have to play the match on the same pitch. We expected the pitch to be more helpful for his type of bowling so that's the reason [Subhashis] Roy came in.
The third one is we want to see what the leg-spinner can do. Tanbir [Hayder] bowled well in Sydney and then here also in the nets and we probably were looking at the bigger picture --we wanted to see a leg-spinner going for the Champions Trophy and the World Cup in England. So that's another reason to play him as well.
Q: Did that plan backfire, especially in the case of Tanbir?
CH: Not really. If you are expecting someone to come in and do well in two matches and establish himself, it won't happen. If you go back to Shane Warne he is the best leg-spinner the world has seen. If you go by his first two games, he didn't do much. For Tanbir, in the first game, he bowled well. And then in the second game he didn't bowl as well as we would have liked and neither did the other spinners in our team. So, in that case we are disappointed. But I don't judge a player in one or two games because we picked him seeing something in him and he has done well in practice.
Q: Did you pick him on his performance in domestic cricket or his performance in practice?
CH: No, no the selectors have picked him as a leg-spinner all-rounder who can bat, because you know from my start for two and a half years I have been looking for a leg-spinner. Unfortunately the one we had [Jubair Hossain], had potential but didn't go well for some reason. And he [Tanbir] is the other one we thought of as a leg-spinner.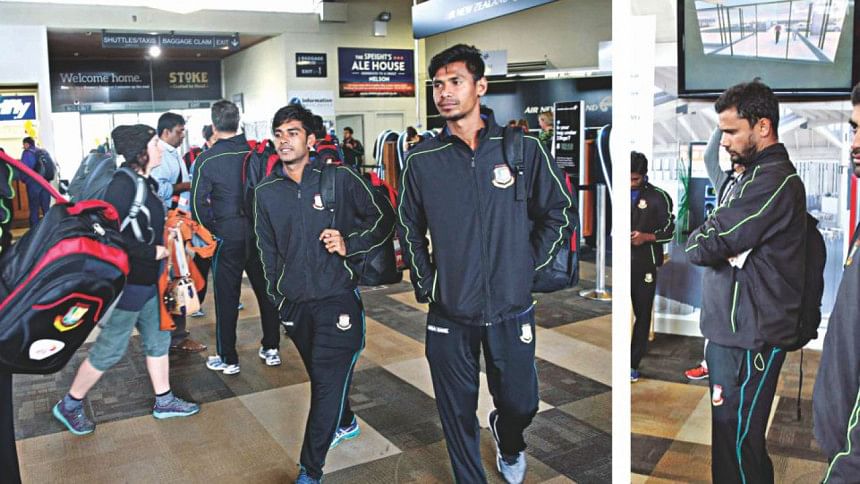 Q: Bangladesh had a half-century partnership and a century stand in the last two games. But the collapse after that was something you have not experienced in the last one-and-a-half years.
CH: That's disappointing but we need to understand that we are playing overseas after a long time. That's not an excuse. But my disappointment is not the guys who mostly failed but the guys who got in and can't get big hundreds. They got nearly three hundreds but we had only three fifties. That's the difference between the two teams. So, getting a start and not making it big is very disappointing; something we always talk about. I think it's all to do with decision-making and the quality of the opposition. They executed their plans against our batters and they pressurised us with the fielding and we were stuck.
Q: You dropped Soumya Sarkar after the first game. Wasn't that a bit harsh on him?
CH: It is harsh on him not to get the second game. But we have to tactically change the team. Because we thought we needed another spinner when we saw the wicket, the combination changed and also, Mushfiqur got injured. But when he [Soumya] scores runs we win matches. That's why we are still banking on him. Someone who has got a batting average of 40-odd and strike-rate over hundred, we don't have many in Bangladesh or even in world cricket. That kid can play international cricket. If you look at history every good player -- Smith, Root -- all these guys get into the international stage and then had a blip and then came back. I'm hoping that he will come back sooner than later.
Q: Does public sentiment put any pressure on you regarding Soumya's selection?
CH: On me, no. I can't speak for the other selectors. For me, no.
Q: You had a meeting with the batsmen separately today. What message did you give to them?
CH: The main massage is making good decisions for a long time for the batting. Back home, if you get in it gets easier to bat. These conditions are new for us; I mean, probably their fourth or fifth innings after five to six years. So once you get a start and then the runs are not coming that's where we need to make good decisions. Those are the kind of things we have discussed.
Q: Are you disappointed with the performance of your senior players?
CH: The senior players have to step up when you go overseas. We don't expect the person who is coming in for the first time to do well. The experienced guys or the seniors have to step up -- that's what I said. Even in bowling I'm disappointed that we did not execute our plans, like 250 is too many after it was 200 for eight in the second game, and in the first game 340 is too many. We did not do justice to our talent in batting, bowling and fielding. Our mistakes were magnified by a brilliant team like New Zealand at home. They fielded really well, they bowled to their plan.
Q: Coming to the T20 team, we find Shuvagata Hom whose form hasn't been that good. Do you still feel that he is the best off-spinner in the country and he has a role to play in the T20 side?
CH: If you remember, in the last T20, the T20 World Cup, he played. We have to be very consistent in our selection. We just can't go by hearsay selection. What I am trying to do is bring stability to the team. The only way we can bring stability to the team is by how we act. He played the last T20 world cup and he bowled well in the last two games. He is in the squad because of that. The other person, I think, competing with him is Mosaddek [Hossain]. Mosaddek is a similar player as well.
Q: What about Nasir Hossain?
CH: He will have to score runs. You can see his record for the last two years. So, when you are putting names I think it's because you are concerned that I have a role to play. No, I go by the stats and he has not contributed lately. In these conditions we do not have many spin options and we don't need to carry similar players -- more than two -- in a squad.