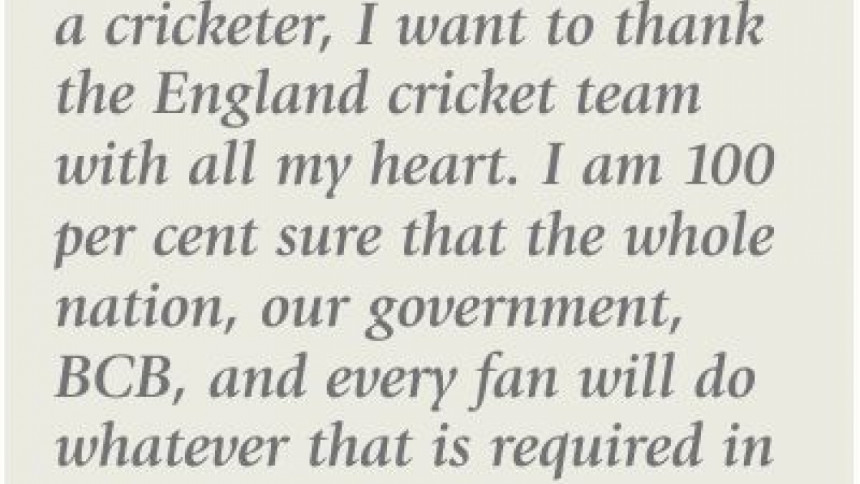 Bangladesh's cricket fans woke up to great news on Friday morning. The tour that they had been concerned about for the last month, had finally been confirmed.
The England and Wales Cricket Board (ECB) gave its national team the green signal to tour Bangladesh, as per schedule, this October. However, they will continuously observe the security situation in the country until their arrival on September 30.
Members of the Bangladesh Cricket Board (BCB) welcomed the news and described it as a victory for cricket.
Bangladesh opener Tamim Iqbal said that it was the best piece of news that he had heard in some time.
"Considering the current situation, I don't think there is any better news than this. As a cricketer, I want to thank the England cricket team with all my heart. I am 100 per cent sure that the whole nation, our government, BCB, and every fan will do whatever that is required in order to make this series successful," he told The Daily Star.
BCB director Akram Khan said that England's decision was a 'win for cricket'.
"Many might look at this as just another series. But keeping everything in mind and analysing the situation, this was a big challenge for us. This is actually a win for cricket. England has shown that the game won't stop just because of a few evil forces. They have shown that to the rest of the world." 
Meanwhile, BCB president Nazmul Hassan Papon said that the BCB would create a secure environment not just for the England team but the whole contingent of family members, supporters, reporters, etc.
"We will make sure that not just the players but the fans, the family members, the reporters -- if they let us know where they stay and they contact us, we will arrange security for them no matter where they are, be it in the stadium or next to the hotel, wherever. We believe that there won't be any problem with regards to this England tour," he told reporters yesterday afternoon. 
"We will provide them with a three-tier security system. But of course, there will be a lot more covert security steps taken, secure steps that are not discussed. I was confident that they would agree to tour Bangladesh because of a number of reasons.
"One of them is that no board in the world provides the kind of security we will be providing them with. During the Under-19 World Cup our security team had handled more than a dozen teams. I am sure they will be able to handle one team without any problem," added the BCB president.
After the terror attack at the Holey Artisan Bakery on July 1, the tour was thrown into uncertainty and the routine security visit of the relevant areas by a three-man ECB security delegation last week, assumed special importance.
Following a meeting between the delegation, ECB officials and players on Thursday, it was decided that England would tour Bangladesh.