The tax icons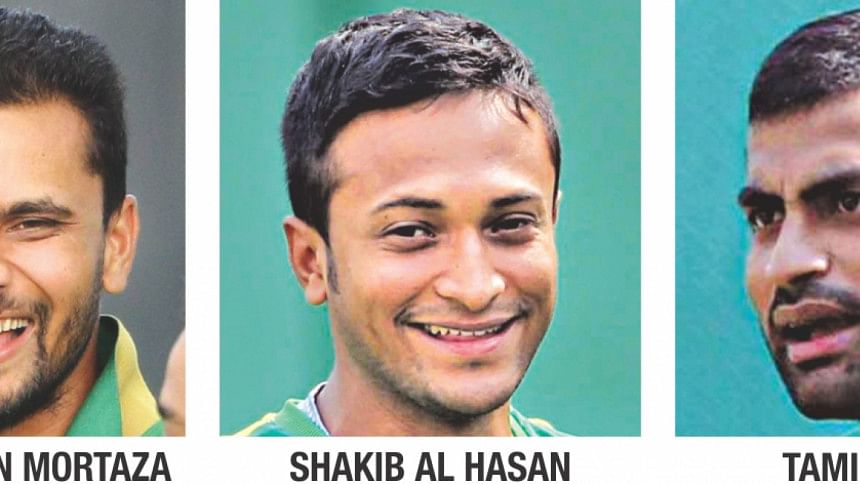 Cricketers Tamim Iqbal, Shakib Al Hasan and Mashrafe Bin Mortaza will be conferred tax cards, a first time for sportspersons in the country, as the government has decided to recognise taxpayers from different sectors for exemplary compliance for the 2015-16 fiscal.
A notice in this regard was issued by the Internal Resources Division of the finance ministry on Monday which stated that a total of 141 tax cards will be distributed among individuals and entities. These cards will be handed over at a programme tomorrow, according to a source inside the National Board of Revenue (NBR).
The tax cards, which will remain valid for one year from the date of issuance, will grant privileges in making reservations for seats on the state-run airline, trains and water transports. The card holders will also be able to use the lounge for commercially important persons at airports. The cardholders, along with their family members, will easily get cabins at government hospitals and will get priority in hotel bookings, according to the policy.
Mashrafe, the captain of Bangladesh cricket team for the shorter versions, said he was elated in learning the news.
"I am really glad to hear the news. As responsible citizens it is our duty and responsibility to pay taxes regularly," Mashrafe told The Daily Star over phone last night. "Our source of income was limited when we started playing cricket. But now that we earn from various sources like endorsement, sponsorship and playing in different leagues apart from national contracts, our income has increased, so has the amount of tax."
A source inside the NBR said that the list has been expanded this year under the amended, comprehensive tax card policy in order to encourage people from different sectors to pay taxes. "The number of cards has been expanded so as to make people from different sectors willingly pay more taxes. The sportspersons have been included for this reason, and we hope for more from them," said the source, who preferred to remain anonymous.