Talent, discipline take Shanto up the ladder
Talent and discipline take Bangladesh U19 cricketer Nazmul Hossain Shanto up the ladder.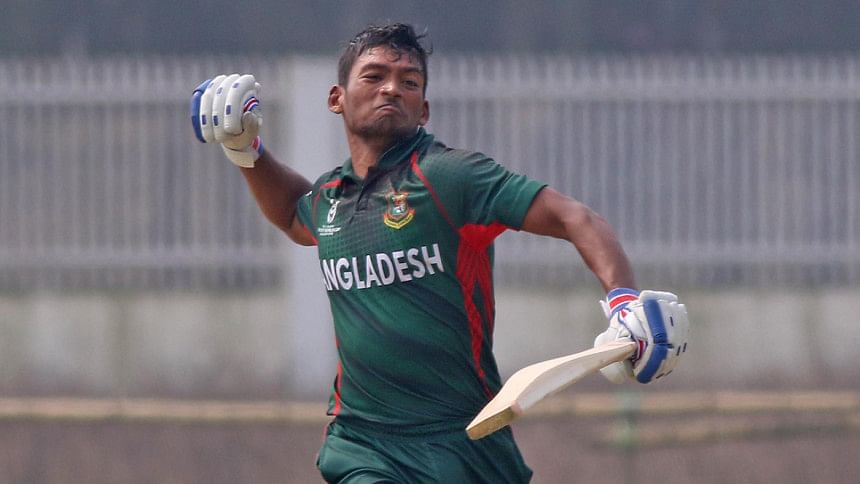 There was a moment during Bangladesh Under-19's victory over Namibia Under-19 in the ICC Under-19 World Cup 2016 on Tuesday (February 2) that was particularly striking.
Bangladesh had an early stutter in what was a seemingly easy chase of 66. It had lost its openers and was reduced to 13 for 2, and Namibia, despite what still seemed a definite loss, was all smiles, reports ICC's feature on Nazmul Shanto.
 
From the dug-out, one small figure emerged, pulling on his gloves, walking purposefully ahead. As soon as they saw the figure, there was a deafening roar from the 200-odd crowd. "Shanto-Shanto!" they screamed, and for a moment, the chants from the only small stand at the Sheikh Kamal International Cricket Stadium in Cox's Bazar sounded as though they were being bellowed from the concrete edifices in Mirpur or Fatullah.
 
The diminutive figure was that of Nazmul Hossain Shanto, a boy of 17. The knowledgeable Bangladesh crowd knew who the lad was. Already. Not because he had done something Pranav Dhanawade-esque, but because he is a highly rated prospect from the Under-19 side.
And with good reason. In the past two years, the boy has grown, literally and in cricket too. This isn't Nazmul's first ICC Under-19 World Cup. He was involved in Dubai in 2014 as well, but only managed 31 runs in four outings back then. Bangladesh had failed to make it out of its group, although it did beat New Zealand Under-19 in the Plate Championship final. So, this is already a better tournament, with Bangladesh formidable in three matches, and looking good to go on.
Nazmul, for one, is "very happy", having markedly improved in the two years since Dubai. He is the third-highest run-scorer in the tournament so far with 200 runs, thanks to a century against Scotland, and 73 in the opener against South Africa. That said, third highest isn't good enough for him. "The target for me right now is to be the highest scorer in the tournament," Nazmul told Wisden India. "But every match is important, and so, I focus on every match, one at a time. Right now, I'll focus on Nepal. And then will see after that.
"But yes, I want to be the best performer at this World Cup, the best batsman. And I feel very confident about doing that." 
The earliest evidence of his talent during this tournament came in Bangladesh's first warm-up against Zimbabwe Under-19 in Chittagong. After a good start, Bangladesh lost a couple of wickets and was reduced to 90 for 3. The Zimbabwe bowlers smelled blood, but Nazmul partnered Mehedi Hasan, the captain and his "best friend", and the two turned things around by putting on 80 for the fourth wicket.
The stand was broken, but Nazmul took charge and batted with assurance, equally confident in defence and attack. He rotated strike impressively and could accelerate at will, whenever he deemed fit, without making it look like he was a walking wicket. He ended with a fine century, which helped Bangladesh win by 63 runs.
 
It was a tranquil innings from young batsman. But it hadn't always been so. He admitted his biggest folly two years ago in Dubai was to go for broke. "I just try to play with a straight bat these days," he said. "Last time, my batting was undisciplined. I would go for every ball – boom. This time, I try and concentrate on staying at the wicket, and playing long innings and rotating strike.
 
"I just play according to the situation of the match. If we're a few wickets down, I try and rotate strike. If we're going to be safe, after 40 or 45 overs, that's when I try to hit some fours and sixes."
 
The ability to read the game is something Nazmul seems a natural at. Stuart Law, the former Australia batsman who is now technical advisor with the Bangladesh side, said it was a great asset for a youngster.
 
"He reads the game very well. He understands the situation that he is in, and he reads the conditions well, and plays according to those conditions," said Law. "For a young man, that is a great asset to have. He can hit the boundaries, he's got power. He's got very good technique. He is fit, runs between the wickets very well. And he trains really hard.
 
"He desperately wants it. You can see just in his body language on the field, when's he fielding, he is in every ball. He wants to be involved. And when he bats, he wants to be the one there at the end to score the runs. He's a great kid. Very outspoken in team meetings, and very well respected by his teammates. But also, he is in a different class when it comes to batting. From what I've seen, I've really enjoyed watching him play."
 
Law, in fact, believed Nazmul was ready for international cricket. To put that in perspective, Nazmul is so young, he can still play in the next ICC Under-19 World Cup, which would be his third.
 
"Shanto is having a fantastic run in this tournament as well. He just looks like a proper batsman, he looks like he is ready to play international cricket," said Law. "He knows he has a long way to go. If he continues his good form in the next three matches, he puts his name up for the international side."
 
Nazmul revealed that he had always wanted to play cricket professionally, right from when he first played at the age of ten. He had a pretty routine journey through cricket, coming through the age-group ranks. He has come far: He now receives text messages from Mushfiqur Rahim, who wants him to score big every time.
 
"Mushfiqur bhai has helped me a lot. We play together in the national league, so he talks to me a lot," said Nazmul. "Last night, he sent me a text saying congratulations. He told me that I've a knack for scoring big, so I should try and score big. In the first match, I scored 73, but Mushfiqur bhai was unhappy. He wanted me to score a century. After Scotland, he was very happy."
 
The knowledgeable Bangladesh crowd was happy too. There will be bigger challenges ahead. But for now, their dear Shanto just needs to keep doing what he's doing.