Starstruck Tigers welcome Walsh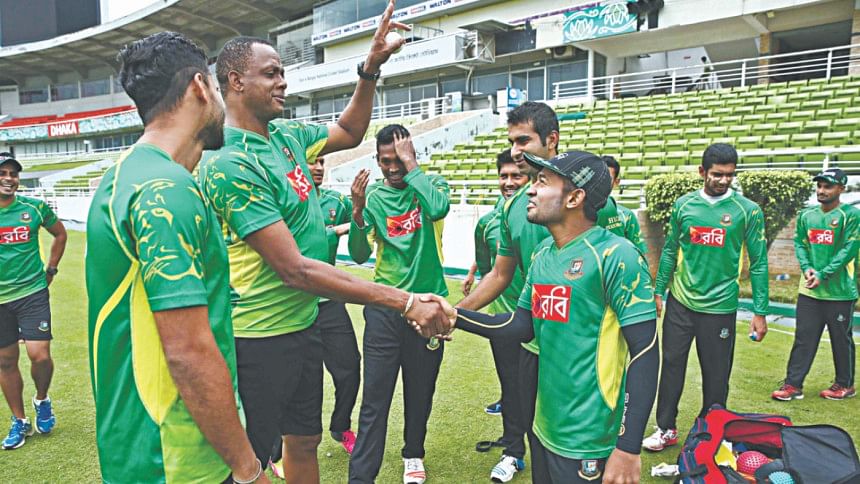 Bangladesh captain Mashrafe Bin Mortaza guffawed as Courtney Walsh apparently said something funny, with Tamim Iqbal also part of the conversation. Most of the players did not want to miss the chance to take a picture with the legend, even though many were not old enough to appreciate his mastery on the field during his heyday. Apart from the introduction, there had also been some bowling exercises on his first day at the office. The day actually belonged completely to Walsh, who won the hearts of many in his first meeting with the Tigers.
It was not a day for the West Indies legend to provide any serious tips or conduct serious drills; instead he asked the boys to keep focus on today's practice game before the Eid vacation.  The bowlers were looking forward to embark upon serious business with their new bowling coach but the impression they got on the first day was that Walsh's presence will not only help them improve their bowling but also add a positive vibe to the atmosphere.
Many, like Rubel Hossain and Shafiul Islam, did not waste any time in confiding that they will have to first overcome one barrier before working with the Jamaican: they will have to start looking at the sky to communicate with the six-feet-six-inches tall former West Indian skipper.
"He is a legend. Just worked for a day but we felt that he was not too hard. It's a different feeling when he said well done. He didn't say a negative thing when something went wrong; instead he advised to pitch it up. It would be fantastic if he is friendly to us. We are lucky to get a coach like him," said young paceman Kamrul Islam Rabbi, adding that their new coach loves to call them with shortened versions of their names; for instance calling him 'Rab'.  He also informed that only spot bowling had been discussed on the first day.
"As it was the first day, we were introduced to him and he worked on some basics. He advised us to concentrate on tomorrow's practice game and bowl to our strengths, which he will watch closely. Yes, when he will start to work with us in full swing I will try to learn a few things from him. It's a great thing that we have got such a legend beside us," said Rubel Hossain.
Rabbi said that what he understood in the first day was that Walsh loves to stick to the basics.
"Last few days I watched his bowling on Youtube to understand what type of bowling he had. He is a legend but unfortunately I was too little when he was in action. But I understood today that he likes the basics," said Rabbi.