Repaying faith, the Mahmudullah way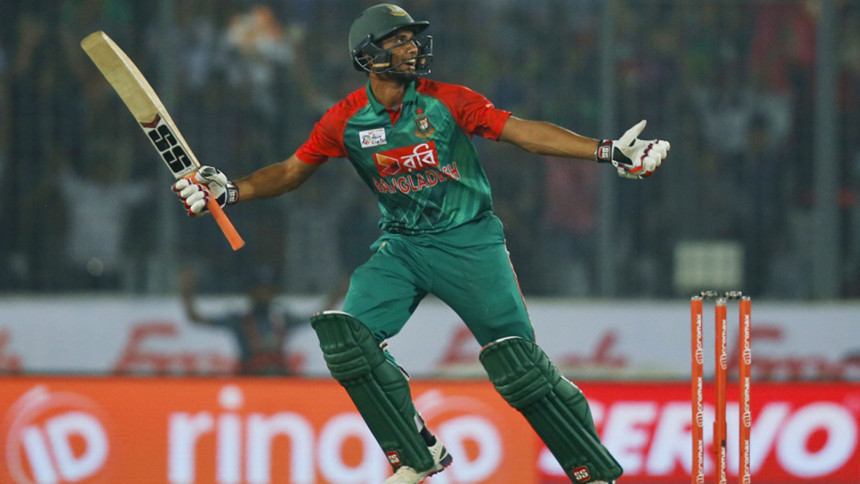 Mahmudullah's career graph has seen an upward curve, somewhat in this manner: from a bits and pieces allrounder to an occasional match-winner, a liability carried around for 18 months to being a comeback hero in the game's biggest stage. Now, he's a fine thinker of the game, and more importantly a finisher Bangladesh has been yearning for.
He has aced this job in the Asia Cup, when circumstances have demanded him to show a bit of caution before bringing out his full range of strokes. It is a delicate balance that no one in the Bangladesh batting line-up has been able to do for years.
Mahmudullah had 7.3 overs to resurrect a collapsing Bangladesh innings against UAE. His unbeaten 27-ball 36 helped them to 133 for 8 in 20 overs, which proved too many for a brittle batting line-up. Against Sri Lanka, he came in to bat after Sabbir Rahman had laid a foundation with a rapid 80. All the innings needed was the finishing touches. Mahmudllah waltzed his way to a 12-ball 23.
Against Pakistan the situation was a bit more tricky. Bangladesh needed 42 runs in 5.4 overs in a must-win game. Mahmudullah's response was to work the ball around for the first five balls before hitting Mohammad Irfan over extra cover for a six. It somewhat completed his transition from a touch player to one who could change gears effortlessly. The six, in particular, won't be forgotten soon, and is likely to find its way into highlights packages for a while to come.
Mahmudullah said it was a shot he had planned for months. "The coach [Chandika Hathurusingha] has talked about that shot a number of times in training, especially when I batted on the granite plate," Mahmudullah told ESPNcricinfo. There were shots like the pull off the front foot or to hit over the covers. Pulling off that stroke in that moment made me more confident in that crucial stage."
Mahmudullah's nerve held off Pakistan's late charge. Mashrafe Mortaza got two important fours off a rampant Mohammad Amir before Mahmudullah split one between point and short third-man. Then in the final over, he fittingly struck the winning runs and then see his teammates nearly have him gasp for breath as them jumped on him in delight.
He later said that it was redemption of the 2012 Asia Cup final when he failed to take Bangladesh over the line against Pakistan in a tight contest that they lost by two runs. "That was definitely on the back of my mind, we were all disappointed," he said. "It was tough to get over that disappointment."
Now, as a regular contributor, Mahmudullah seems to have made a smooth transition from a batsman who struggled to express himself in the limited opportunities he received at No. 6 to one who thrives under pressure.
"It feels good to be contributing to the team's cause. I was given this role during the T20s against Zimbabwe late last year," he said. "The coach told me that I have to bat at No 6 or 7. He also told me that I might have to bat higher up the order but the concept was for me to have a role to finish the innings. I can feel the difference now between the sort of player I was a few years ago and how I am now. The team expects from you when you have scored some important runs. I am ready for the responsibility that has come my way."
Mahmudullah believes his approach to batting lower down the order is more about selecting which shots to play rather than trying to be ground-breaking with his strokeplay. Once again, there was a mention of his pre-World Cup routine, where he batted on granite tops.
"It was more about shot selection rather than innovation," he said. "It was also important to execute those shots properly and I think that has certainly improved in my batting. I think batting on the granite surface has really helped me a lot. I tried to train myself so that I could think of myself in that role at a personal level. I think the camps in Khulna and Chittagong helped us to be more proactive as T20 players. I trained harder by attempting to play those shots that I needed to play in the death overs," he said.
There was a time in the first three years of his career when Mahmudullah looked like an odd choice to bat at No 7 or 8 in the ODI and T20 teams. A Test century, a steely knock, against New Zealand in Hamilton earned him plaudits. But back then, Bangladesh just wanted to fill their line-up with batsmen to ensure that a collapse could be stopped.
Now, he is an established force in ODIs, a dependable middle-order batsman in Tests and has just started to bat like a T20 finisher. The new role is going to give Mahmudullah an edge over other batsmen in his team, and his all-round strokeplay will keep him self-assured in the Asia Cup final against India.