'Proud that he is a symbol of love'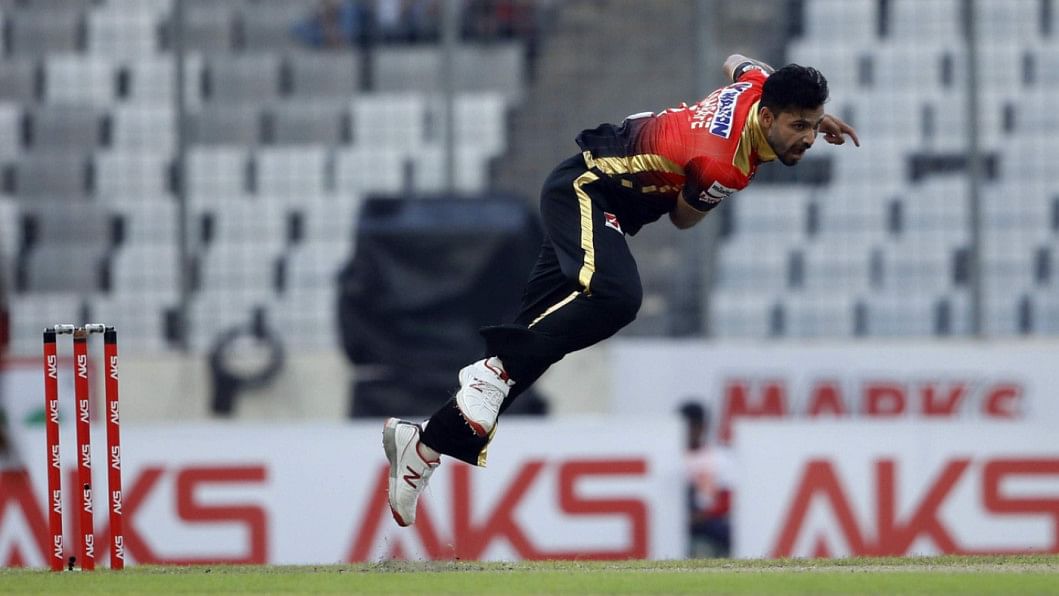 A father told a story on his son's occasion of completing 15 years in international cricket yesterday. Every father loves to tell stories of their children and all are unique in their own way. Still, when Golam Mortaza told that story to The Daily Star's Bishwajit Roy it seemed like an out-of-this-world tale. It is because the man behind the story was none other than the larger-than-life figure of Bangladesh cricket, Mashrafe Bin Mortaza. Pain and pleasure go hand in hand in life, but Golam Mortaza has walked a fine line between them. The tale the 59-year old told seemed like an epic, from which we have presented a brief excerpt below:
15 years, I still can't believe it. He is now in the twilight of his career. We know another injury means his career will be over because there is no chance for my 'pagol' (mad) son to make any recovery from injury. And he can be injured at any time and we are mentally prepared for everything.
As a father it is very hard to see my son still playing cricket with such pain. As a father sometimes I think it would be better if he says goodbye to cricket. You know he needs at least one hour to prepare himself before any game -- wearing all the knee braces and tape. It is very painful to watch him nursing his legs after each delivery and I think only a few know what kind of difficulties he has had to overcome with his two surgically repaired knees behind the scenes to continue his cricket career.
But on the other hand I cannot imagine Koushik, a nickname by which people are now often calling him, living life without cricket. I will go to the ground and watch a match without Koushik playing -- I cannot imagine that right at this moment. But once again it is really hard to bear the pain he has been suffering only to play cricket.
As an individual, he is nothing. It is cricket and his good soul that have made him special. If you ask me what makes me proudest I must say it's his stature as a good human being. Statistics will tell of his cricketing career but I don't know whether it would be wise to say as a father that sometimes I am astonished how he has developed such qualities in his character.
As a father I learned many things from him and am still learning. In our country it's very difficult to be loved but it's a great satisfaction in my life as Koushik has become a symbol of love. There were days when we came down hard on him as people were speaking about the company he kept. To Koushik, no matter who he is, he always values fellow human beings. That's why he has friends from all walks of life. He does not see any difference between a highly-educated, sophisticated person and a rickshawpuller, shop-keeper or cobbler. I sometimes wonder whether I could do something like that. Now we can understand what his philosophy towards life is. I can say with a lot of pride that there is nothing dirty in his mind. Sometimes, even I wonder how he developed it in himself!
Interestingly, in his 15-year career the most painful and most joyous things for me happened in Australia. The pain of seeing a person as vibrant as him lying in a hospital bed in Australia after enduring one operation after another is hard to explain in words. On the other hand, the way he led the team in the 2015 World Cup in Australia was something special. I am glad that I was in Australia during the World Cup to see him succeed after everything he has been through.
There are many people behind a person's success in life. But it would be unfair if I failed to mention [Ekram] Babu bhai. What he did for Mashrafe during his operation and post-operations in Australia was amazing. The word grateful is not good enough for that.
The day when Koushik made his debut at the Bangabandhu National Stadium is still fresh in my mind. I can still remember a journalist asking me: "Your son said that 'ami pach wicket niaya nebani'" in Narail dialect (I will take five wickets). That journalist was also curious to know whether my son was mad. I told him with a smile that yes he was a pagol and later Dav Whatmore affectionately called him 'pagla'.
I only pray that my pagol remains a pagol throughout.