Bangladesh Premier League
'Glad he is on my side'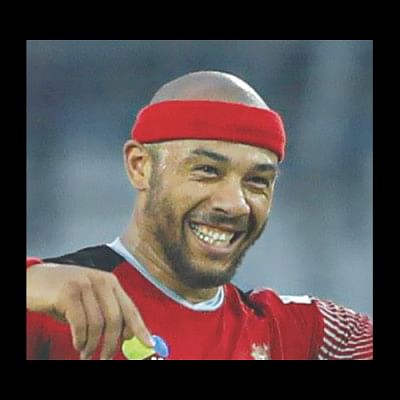 Prior to the start of the fourth edition of the Bangladesh Premier League, Chittagong Vikings fans might have been regretting the fact that they could not sign Mohammad Amir, their best bowler in the last season.
However, after watching the way Tymal Soloman Mills toyed with Comilla Victorians' batsmen, those concerns were probably forgotten.
A 24-year-old who has played one T20I for England troubled the batsmen with his high pace and also the occasional lack of it. He regularly seemed to touch the 150kmph mark yesterday and the batsmen were hard-pressed to cope with that.
And just as the batmen were getting used to his pace, he began unleashing his slowers, which further caused problems.
In the second ball of his first over, he bowled a lethal bouncer to a charging Liton Das, who probably was thanking the heavens that it did not hit his helmet. The ball whizzed past the batsman and forced wicketkeeper Anamul Haque to jump high in the air to intercept it. It was one of his better takes.
In the very next ball, Liton failed to evade a bouncer. The ball hit his helmet and went away for a four. His slower ones were probably more threatening than his faster balls. One of those went past Mashrafe Bin Mortaza, who had swung the bat a little too early.
"He is very quick and our batsmen are not accustomed to playing against such pace because we don't have such pacers in our country. It's always difficult to face a bowler who bowls at 150kmph.
"And when you have someone who can bowl that fast, no matter how he bowls his slower, it will be effective because everyone will be expecting the fast ball," Mashrafe said after the match yesterday. 
While Tamim did appreciate Mills's effort, he expects more from him.
"Pace is no doubt very important. But it can be both an advantage and disadvantage. I feel that he needs to bowl a bit better. If he can stay within his control, then his pace can be massive for us.
"There are very few bowlers who can bowl at 150-plus in world cricket and it will be a challenge for the local players to face him. If they can score against him, it will give them lots of confidence," said Tamim.
"The good thing is that he is on my team," smiled Tamim.