NZ warn no let-up in bouncer barrage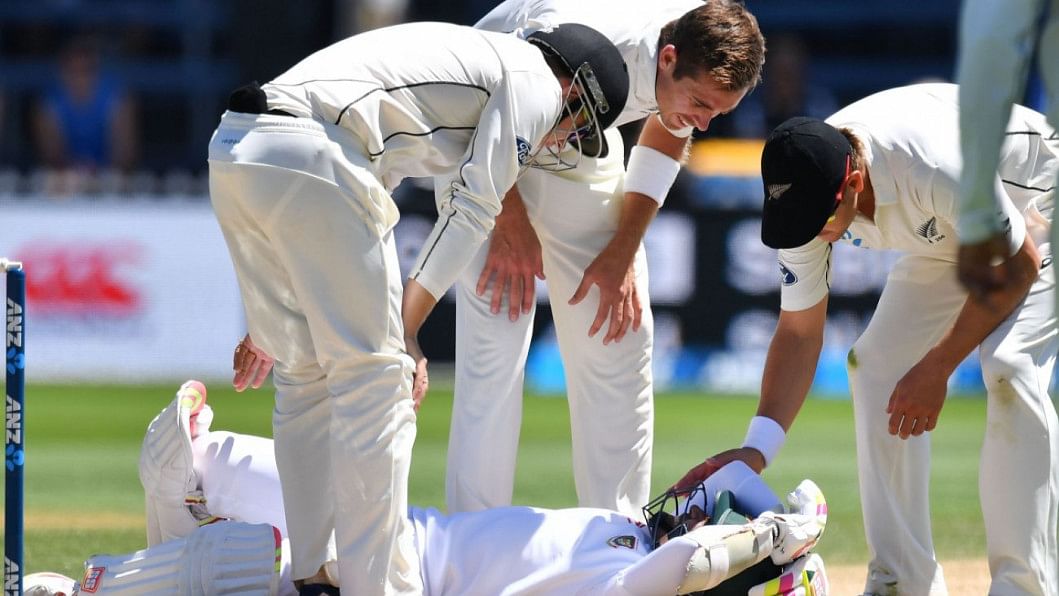 Bangladesh have been warned to expect a fresh barrage of short-pitched deliveries when the second Test against New Zealand starts in Christchurch on Friday.
While there were regrets Bangladesh captain Mushfiqur was struck on the head and rushed to hospital during the first Test, New Zealand pace spearhead Trent Boult described the intimidating bouncer as a valuable part of their armoury.
"I'm sure there'll still be some short-pitched bowling," Boult said on the eve of the second Test as New Zealand look to wrap up a sweep in all formats against Bangladesh.
"People have to realise why people are bowling short in the first place and that's to upset the batsmen and get them stuck on the crease to make the fuller ball more effective.
"You're not going in there with the intention of trying to hurt anyone -- it's to make your other skills more effective and have a bit more purpose."
There were anxious moments when Mushfiqur lay prone on the pitch after he was hit in the first Test in Wellington, with memories still fresh of how Australian opener Phil Hughes suffered a fatal blow from a similar delivery in November 2014.
Former New Zealand medium pacer Ewen Chatfield's heart stopped and he required mouth-to-mouth resuscitation after being hit on the forehead in a Test against England in 1975.
Mushfiqur has been advised not to play for up to three weeks, but Boult said that was not a reason to stop using legitimate short deliveries and most of the Bangladesh batsmen proved they could handle it.
"It's a valuable skill as a fast bowler," Boult said.
"It's always intimidating coming out and facing a barrage of short-pitched bowling but I think they played it nicely (in Wellington).
"They looked to be aggressive to it, picked their times down wind and into the wind when to play the short ball."
No complaints
Bangladesh also made liberal use of the tactic in the first Test, targeting New Zealand's short-ball bowling specialist Neil Wagner who was struck on the helmet three times and suffered a cut chin when the protective grille was slammed into his face.
Despite the injury to Mushfiqur, stand-in captain Tamim Iqbal said he had no problem with short deliveries.
"The short ball is part of the game. I can't really complain about it. If we feel a certain batsman is not very comfortable against the short ball we might use that tactic," he said.
"When New Zealand or any other team goes to our conditions they expect spin so I'm sure they don't complain about the ball spinning too much so why should we complain about bouncing".
New Zealand coach Mike Hesson said he believed there were sufficient rules in place to aid the batsmen which included a requirement to wear a safety compliant helmet.
"You're trying to create wicket-taking opportunities, you're certainly not trying to hurt anybody," he said.
"You play within the rules. Guys are really aware of sticking to that."
Mushfiqur will not play in the second Test although Tamim Iqbal said a fractured thumb was the main reason, not the concussion, and opener Imrul Kayes had also been ruled out with a thigh injury.
"They're two important players but you can't control injuries," he said.
"There is nothing to worry about. They should be fine for the next Test which is against India."
The one-off Test, which starts in Hyderabad on February 8, will be the first by Bangladesh in India.