You have to plan for a new team, says Papon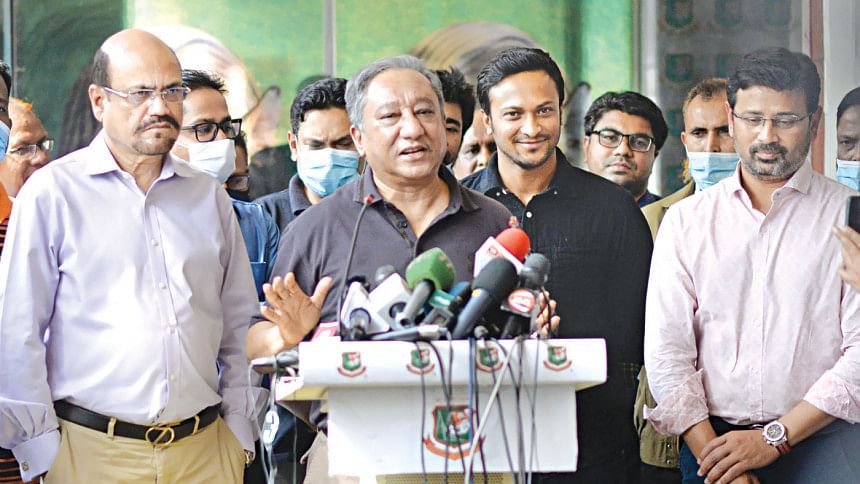 Bangladesh Cricket Board (BCB) president Nazmul Hassan Papon said that they will start to think anew in terms of building a new T20 side.
The BCB president, who will be leaving the country today to attend an ICC meeting in London, said that others from the management will be talking to the players in order to find out how performances can be improved. The BCB president had previously said during a press conference following the fifth board meeting on 17th July that he was going to talk to T20I skipper Mahmudullah Riyad and the other players regarding how to bring positive changes in performances of the T20I team.
"The others will talk with them. I will hear what they are planning and what can be done about the performances. Jalal [Yunus] bhai, Khaled Mahmud Sujon and maybe the CEO will sit with them. Since I am leaving, they will talk with the players," Hassan told The Daily Star today.
While the BCB president was in favour of changes, he was wary of experimenting too much in such a short period of time ahead the World Cup.
"If we want to do well, we have to think anew. Since the Asia Cup and World Cup are very near, we are also thinking whether too much experiment would be the right thing to do in such a short period of time.
"We will bring changes but in what positions the changes will be made will be discussed when they [cricket operations chairman, team director and CEO] hold talks with the players."
Mahmudullah Riyad's captaincy has come under media scrutiny after the Tigers failed to inspire in the West Indies T20Is.
"Maybe Riyad is being discussed because he is not getting the runs. Since he's not scoring as one does in T20s, his batting is being talked about.
"I have talked to Jalal bhai about it and I don't think changing captaincy will bring big changes. I don't see them doing very well with the current team. If we make changes, they can still do badly but then it would be said making changes caused all the problems. We have to find what the best possible solution is," the BCB president said.
He said they needed to start thinking of how to build a new T20I team. So while he was not wanting to experiment too much, he said they needed to find a new team for the format without thinking of pleasing everyone.
"You have to plan for a new team and without thinking anew it won't be possible [to do well]. Maybe they will lose matches at first but then they will win. Look at Pakistan for instance. We have beaten Pakistan in major events like Asia Cup but look how they built a very good team in the T20 World Cup. They are playing well in Tests too.
"So, I feel that we can't get anything done if we keep thinking of making everyone happy and accommodating everyone. However, we are yet to determine when is the right time to do that," he said.