'Special' Jaiswal: From homeless to IPL hero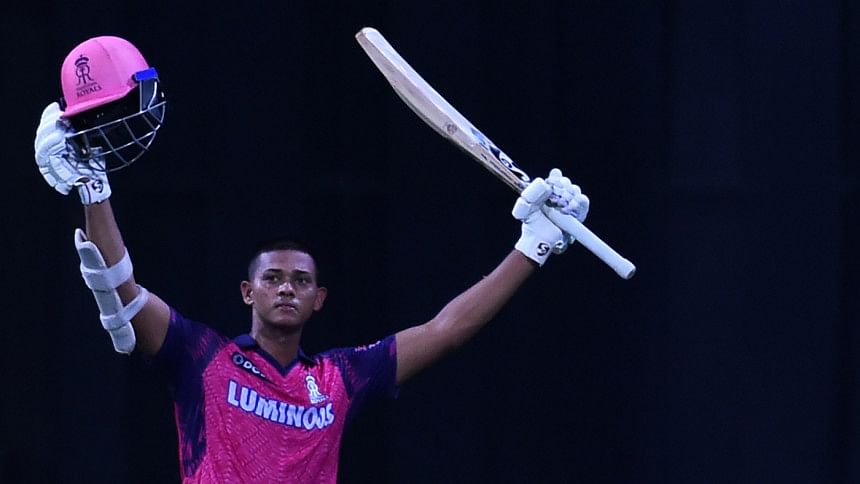 He once lived in tents and sold street food to pursue his cricketing dream. Now, sizzling talent Yashasvi Jaiswal is the toast of the Indian Premier League.
On Sunday the Indian 21-year-old smashed 124 off 62 balls for Rajasthan Royals in front of a huge crowd in Mumbai, the city he moved to as a child from a poor family in Uttar Pradesh.
"What a story, what a special talent. Yashasvi Jaiswal is a superstar in the making," former Australia batsman and ex-IPL coach Tom Moody tweeted.
"He has got real talent. The kind of domestic season he has had, he has taken that form into IPL. Good for him, good for Indian cricket and good for RR as well," India's all-format captain Rohit Sharma said.
The left-hander's maiden IPL century was not only the highest score of the current season -- it also put him on top in the league's 2023 batting rankings.
With a strike rate of 159.70, he has now racked up 428 runs, ahead of South Africa's on-fire Faf du Plessis (422 - Royal Challengers Bangalore) and New Zealand opener Devon Conway (414 - Chennai Super Kings).
Pani puri to premier league 
Jaiswal moved to Mumbai -- without his parents -- when he was just 11.
"I used to sleep in a dairy and then stayed at my uncle's place but it wasn't big enough and he asked me to find a different place," Jaiswal told AFP in an interview in 2020.
"I then started to stay in a tent near Azad Maidan (a Mumbai sports ground) and would play cricket there during the day.
"I sold pani puri at night, to help earn some money for food," he said, referring to a popular street snack.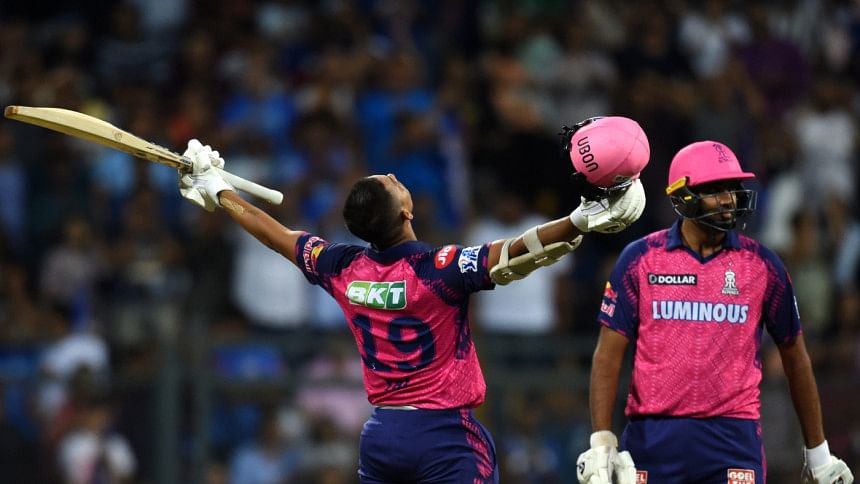 Jaiswal also did some cricket scoring and fetched balls in club games to help finance his career before being noticed by coach Jwala Singh, who became the boy's legal guardian.
"I saw in Yashasvi a younger me and thought God is giving me another chance to play well in my second innings of life," Singh, who played state-level cricket, told AFP in 2020.
Jaiswal won a place in the Mumbai state team in 2019 and became the youngest batsman, at 17 years and 292 days, to score a domestic one-day double century.
His big break came when the youngster was snapped up by Rajasthan for $338,000 in the 2019 auctions of the world's richest T20 tournament.
In 2020, Jaiswal was the leading scorer for India's under-19 team, and player of the tournament at the 2020 under-19 World Cup.
Losing cause 
His first three IPL seasons were ordinary, but this year he has formed a fearsome opening pair with England white-ball captain Jos Buttler.
His sparkling innings on Sunday was in a losing cause, with Mumbai Indians winning with three balls after Australian axe-man Tim David blasted three sixes in a row in the final over.
But Jaiswal was still named player of the match and was typically humble afterwards, even after his innings with 16 fours and eight sixes.
"I want to follow my dream and work hard for it. (I will) work on my process and the result will follow," he said.
Veteran cricket journalist Ayaz Memon tweeted that Jaiswal "seems destined for bigger things", while former India cricketer Virender Sehwag called the innings "one of the finest hundreds you will see".
His name was also trending on social media, with users comparing his knock to former New Zealand captain Brendon McCullum's unbeaten 158 for Kolkata Knight Riders in the first match of the league in 2008.
"This year he has taken his game to a new level," Rohit said.
"I asked him where all that power is coming from because last year I didn't see so many sixes and he was timing it so nicely. He says 'I have been spending a lot of my time in the gym'."