From the archives: 2012 Asia Cup Final
So close, yet so far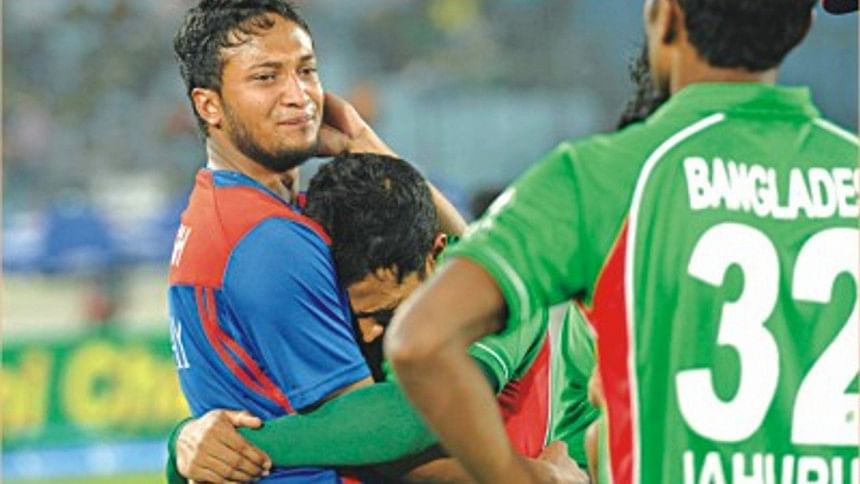 There was hardly a dry eye yesterday across the country. From people glued to their TV sets, to people thronged in miniscule cafes, from people gathering in public spaces to those 30-odd thousand who had managed to find their way to Mirpur the tears flowed freely and endlessly.
Mushfiqur Rahim wept on Shakib al Hasan's shoulder, Mahmudullah Riyad wept quietly; Tamim Iqbal was impassive but his expression hinted at the pain he must have been feeling.
A collective dream, which had transcended swiftly into an idea and which at certain points during yesterday's topsy-turvy encounter looked elusively possible was snatched away at the last in the most painful of circumstances. Bangladesh did not exactly snatch defeat from the jaws of victory but in the end a 2-run loss to Pakistan will leave no heart unbroken and no cheek dry.
So perhaps today is not the time for perspective, perhaps today we need to cry and weep and let our pent-up feelings out. And so perhaps asking people to reason today is a futile exercise because sport at the end of the day is about feeling and there will be no prizes for guessing how this nation collectively feels today. But yet we try, because despite the spiralling emotions it is important to remember the crucial things.
Which is that, Bangladesh have positively turned a corner and performances like this will probably become the norm and not the exception any longer. Never before in their decade and a half of international cricket have the Tigers so consistently got in the ring with heavyweights and came out with their reputation left intact and their heads held high.
The great thing across the whole tournament is that Bangladesh have consistently managed to get into winning positions in games. True, they have had the use of the pitch second on all of these occasions, but even the most ardent optimist would never have expected Bangladesh to make the final and even here give the Pakistan side a run for their money.
Human nature dictates that we will spend today moping on the negatives; from the fateful last over bowled by Shahadat to the sluggish run scoring of Nazimuddin but in truth there are plenty of positive memories to take home from the Asia Cup. To start with, there is the heroic (failed) effort in the first game by Shakib al Hasan to take his team beyond the finish line. Then there is the emphatic slow death imposed on Sri Lanka by the duo of Nasir Hossain and Mahmudullah Riyad, and who can forget the spectacular whirlwind from Mushfiqur Rahim that upset Sachin Tendulkar's applecart. Mashrafe bin Mortaza looks back to his best, Tamim Iqbal has his mojo back and Nasir looks like a find for the future. This has been a tournament of many highlights.
So while you spend today in your homes pondering about that one run here or that dubious decision there, know in your hearts that over the course of these last ten days we have managed to acquire something that we have been waiting for, for the last many years.
The same feeling, for which thousands throng the stadium at every international event or crowd around their TVs like clockwork at every Bangladesh matchday the feeling that we belong in elite company.
So, know this. That wait is over. The Tigers have arrived.
So despite our sorrows, despite our shattered dreams, despite losing the final in such heartbreaking circumstances, we should thank the Tigers for letting us believe. And for letting us hope. Their future holds so much more, but for today we salute Mushfiqur Rahim and his men. It has been a merry ride.