Rashid says 'more than 1000' wrist spinners in Afghanistan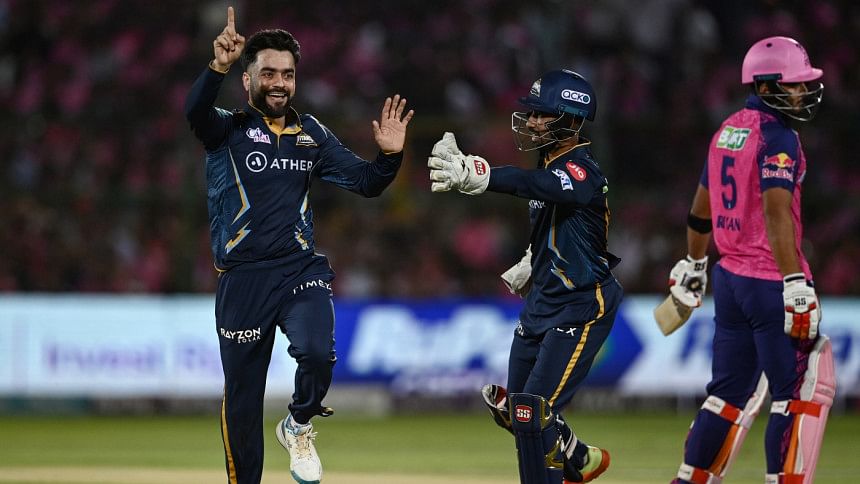 While Bangladesh, despite being a Test-playing nation for over two decades, are still struggling to grow a decent wrist spinner, superstar leggie Rashid Khan of Afghanistan made a bold claim that his country boasts 'more than 1000' wrist spinners. 
It was the wristspin duo of Rashid and his 18-year-old compatriot, Noor Ahmad, who hunted in pair for Gujarat Titans in their thumping nine-wicket win over Rajasthan Royals in the ongoing Indian Premier League in Jaipur on Friday. 
Noor was bought at his base price of Rs 50 lakh last year and has played six matches for Gujarat this season, picking up 10 wickets at a stunning economy rate of seven per over. He was pivotal in yesterday's game as well, scalping two for 25 runs in three overs. 
Meanwhile, Rashid, who remains among the top wicket takers with 18 scalps in 10 matches so far this season, was adjudged player of the match yesterday for returning outstanding figures of three for 14 in four overs. 
Asked how many more are there like Noor and Rashid himself in Afghanistan, Rashid gave a baffling answer at the post-match presentation ceremony. 
"To be honest, more than 1000 now," Rashid had stunned Harsha Bhogle with his response. 
Rashid went on to inform how his success at the international level had inspired hundreds in his country to learn one of the most difficult craft in cricket. 
"I have been to a few academies and there are so many leg spinners. There were 250 of them after my first year of IPL. Now, I've been playing IPL for 6-7 years now, and there are so many in Afghanistan trying to copy me. I receive so many videos every day of new leg spinners.
"I'm so happy to see Noor perform here, there are so many more like Qais Ahmed, and Zahir Khan who haven't got their opportunities in IPL but when they do they can perform really well," Rashid added.
With yesterday's win, Gujarat Titans moved a step closer to the playoffs as they took their tally to 14 points in 10 matches.