Invincible Kings clinch BPL title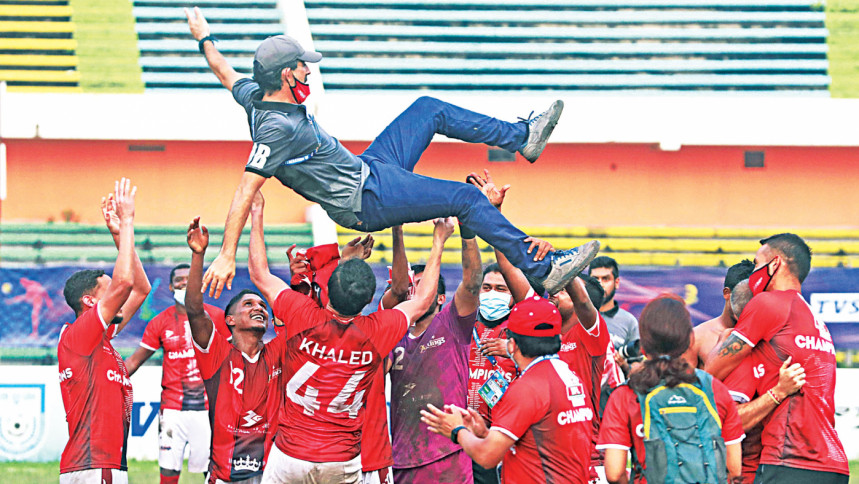 Defending champions Bashundhara Kings retained the title of Bangladesh Premier League after handing a 2-0 defeat to three-time champions Sheikh Jamal Dhanmondi Club at the Bangabandhu National Stadium yesterday.
Brazilian duo Robson Da Silva and Jonathan Fernandes struck one goal apiece to deliver season's second trophy to Kings who have taken an uncatchable lead in the 13-team table with 55 points from 20 matches.
Sheikh Jamal, on the other hand, slipped into the third position with 39 points from 19 matches after Abahani Dhaka beat Arambagh KS 6-1 in the day's second match, riding on a hat-trick from Jewel Rana, to reach the second position with 40 points from 20 outings.
.Having been boosted with season's first trophy of the Federation Cup, Kings recruited two Brazilians, one Argentinian and one Iraqi who all had a superb run from the beginning of the league, notching up seven straight victories. Whereas, inconsistent performances from Abahani and Sheikh Jamal, meant that the title race by midway had turned into a one-horse race with Kings leading by at least eight points from their two nearest rivals.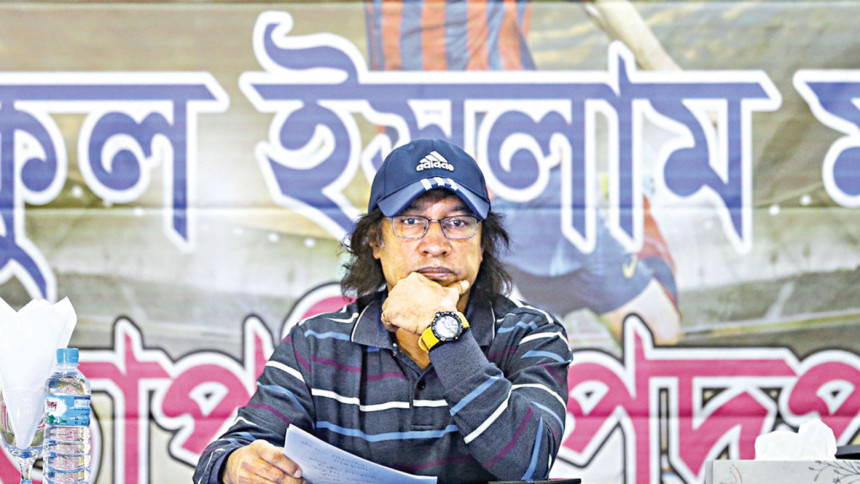 The gap kept increasing during the league's second leg as Kings kept their momentum conserved with Abahani and Sheikh Jamal often dropping points. This paved the way for Kings to clinch the title in record time, with four matches still left to play.
"There were plenty of things during the season's beginning. Our management surprised us by providing the best facilities, best players, confidence and support throughout the season. The credit goes to the players. I think we completed an excellent season filled with ups and downs due to discontinuities but we worked knowing that this season was going to be important. I think we played the perfect BPL and still have a big tournament ahead [AFC Cup in Maldives]. I'm delighted to win back-to-back titles," said Oscar Bruzon, Kings Spanish coach, after the match.
Kings definitely did not want to delay the party this time unlike their debut season in 2018-19, in which they had prepared to celebrate the title triumph with a win over Sheikh Russel KC in their 21st match, with two games in hand; however, they ended up suffering a 0-1 defeat. Yesterday, Kings held their nerves to bring the outcome in their favour despite an initial surge from Sheikh Jamal who had to play the match without their head coach Shafiqul Islam Manik, after the club management terminated Manik three hours prior to the match.
Sheikh Jamal seemed to be lacking ideas without their coach along with the absence of hard-working Uzbek midfielder Jonov Otabek, who usually initiates most of the attacks by pairing with Solomon King for their formidable Gambian striking duo Pa Omar Jobe and Sulayman Sillah. Having survived Sheikh Jamal's initial burst of pressure, Kings established their authority on the match, thanks to a 21-minute strike from Robson, who drove home from 25 yards to raise his goal tally to 19.   
Afterwards Jamal attempted to expose the Kings' backline but Sillah was denied by the woodwork in the 43rd minute before the tall striker drove wide three minutes later.
After resumption, both sides fought on level terms before Jonathan doubled the lead with a powerful drive outside the box in the 62nd minute while in the 83rd minute, substitute Emon Hossain had rattled the crossbar.