Hathurusingha fires 'missiles' on return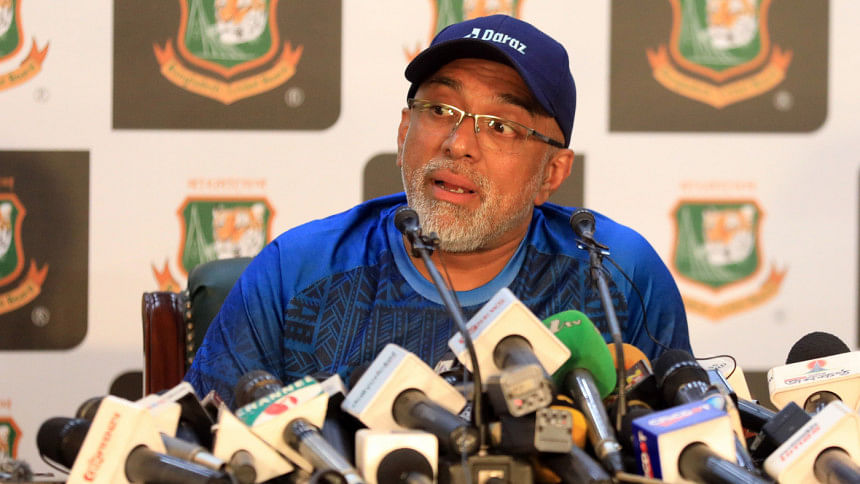 There was a lot of excitement surrounding Chandika Hathurusingha's reappointment as the head coach of the Bangladesh national team, and the Sri Lankan did not disappoint as he resorted to 'missiles' and 'guerilla' warfare references to counter questions from the media in his first official press conference on Wednesday.
Having previously served as the Bangladesh national team head coach from 2014 to 2017, this is set to be the Sri Lankan's second stint with the Bangladesh Cricket Board (BCB).
During Hathurusingha's first tenure, Bangladesh enjoyed an impressive run with maiden ODI series wins over Pakistan, South Africa, and India -- all at home. Bangladesh also qualified for the quarterfinals in the 2015 ODI World Cup -- the Tigers' best-ever showing in the event -- and registered Test wins over England, and Australia at home, and away to Sri Lanka during that period. 
Hathurusingha, who claimed to have closely followed Bangladesh cricket even after his departure, was a bit irked when asked what sort of plans he has to ensure Bangladesh's long-term success, instead of sporadic successes on favourable conditions at home.   
"What is home advantage? I am asking you, what's home advantage? When we go to New Zealand, what sort of wickets do we get? What do Australia and England do when we go there? What is India doing at home?" the veteran Sri Lankan coach turned the tables on the media in the presser at the Sher-e-Bangla National Stadium in Mirpur today. 
According to Hathurusingha, the tactics of the game needs to be adjusted when playing in foreign conditions, but when at home, a team needs to play to their own strengths and attack the opposition with whatever they have in their arsenal.
"So, when overseas, we try to manage with what we have. If you don't have missiles, how do you fight? You have to opt for a guerilla war, isn't it? You let them come home [and you make the best with what you have]. If you don't have ammunation, then you can't do it.
"I am not agreeing with you [about taking advantage at home], because every country does the same thing. You need to take home advantage. We play to our strengths when at home," Hathurusingha added.    
 
Bangladesh had some successes overseas last year. The Tigers began the year with a historic Test win in New Zealand before registering their maiden ODI series win against South Africa in their own backyard.    
"I think you can't say that they did badly [in overseas series]. In South Africa [last year], they did well. In New Zealand [in Tests last year], they did well," the 54-year-old was quick to point these success stories out.    
However, the Sri Lankan agreed that there is still scope for a lot of development on the side, but said it would need some time. 
 
"All we can do is, probably, develop those players, so that eventually we have enough [to go and win matches consistently overseas]. As we discussed, there are some players coming through the system. It takes time for players to come through the system."