Expectations heightened for Hathurusingha's return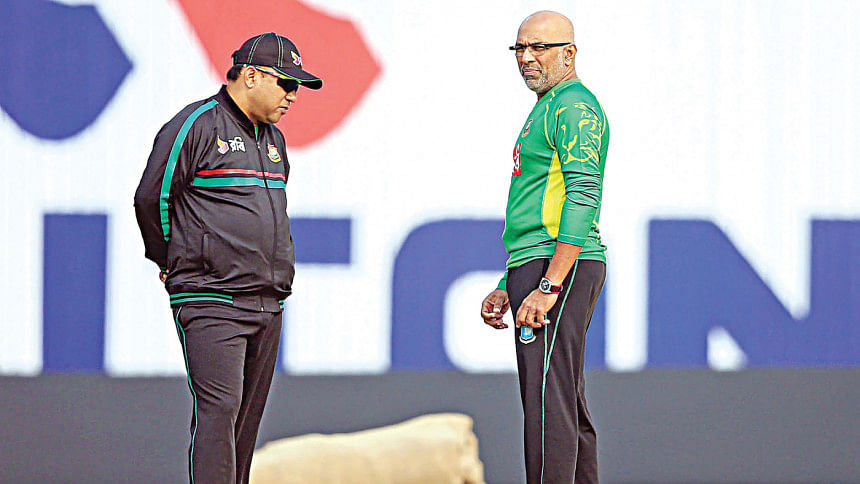 Bangladesh Cricket Board (BCB) director Khaled Mahmud had a great working relationship with Chandika Hathurusingha during the Sri Lankan's previous stint as head coach of Bangladesh. Back then, Mahmud was the man who acted as a go-between for the head coach when it came to dealing with everyday dressing room issues and tactics.
The BCB brought in the Sri Lankan coach for a second stint despite his last tenure ending unceremoniously, but expectations may very well define his return, even before results on the pitch.
Those expectations, key areas of improvement that the BCB earmarked Hathurusingha for, are heavily-built around World Cup ambitions, especially given how the team have performed, even away from home, in ODIs. While Mahmud yesterday informed that he would not be returning as team director for the England series, he punctuated the expectations that Chandika brings along with him.
"As far as I know him, my thinking is positive. May be he will take us further than where we are. The Hathurusingha that arrived before did not have an experienced side. But he made them a force and we started winning matches. The dressing room culture changed too. There were many changes. The team has matured and he has matured too so we can hope that we will do better under him and Bangladesh will achieve something big," Mahmud said while talking to reporters on Monday.
The question on expectations regarding the ODI World Cup soon followed, and Mahmud did not hold back.
"The ODI World Cup is in our main format. So we want to make it big. We want to do what we haven't done before. We want to be champions…if I can say that. If I am talking practically, of course we want to make the quarterfinals. You always have a chance in the knockout stages and playing well on a given day can see you progress to the semis or final. We are strong and playing well in this format, so our aim is to go higher," Mahmud stated.
Bangladesh made the quarterfinals of the 2015 World Cup and the semifinals of the ICC Champions Trophy in 2017 and, when asked if those expectations could be surpassed, Mahmud said the expectations were not just from the board.
"We want him [Hathurusingha] to eclipse himself. The Shakib-Mahmudullah duo that won the match [in the Champions Trophy game against NZ] are more mature now, right? The youngsters are more defined, so we obviously want to [do better]. I don't want him to feel like there is a burden on him. But I know that the kind of person he is, he will want to do that himself. Before arriving here, that is what he has been planning in regards to how he will organise Bangladesh," Mahmud replied.
"It's important to improve in Tests and T20Is with him in charge. He has good idea of our culture and our players," he added.
Hathurusingha is expected to begin working form Tuesday, according to Mahmud, and the head coach will also hold a co-ordination meeting at some point with Head of Programs David Moore, U-19 head coach Stuart Law and representatives of the HP and other game-development programmes in order to find a settled curriculum for the pipeline of cricketers.