Live: ICC U-19 World Cup Final
Young Tigers make history by winning World Cup
Bangladesh Under-19 10/7 after 42.1 overs. Akbar 43 (77b), Rakibul 9 (25b); Ankolekar 4.1-0-22-0, Mishra 7-0-125-2. India Under-19 177 all out in 47.2 overs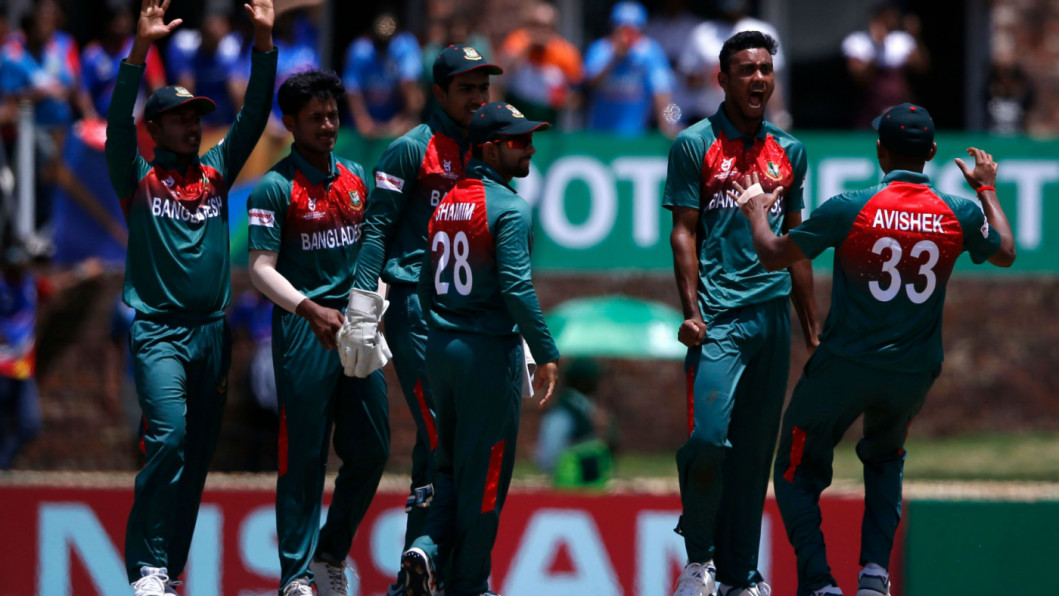 A long-held dream comes true not just for 11 under-19 players in South Africa, but millions of cricket lovers in Bangladesh as the country wins its first World Cup with victory in the final against India by three wickets.
The players had gone off due to rain with 15 runs needed off 54 balls to chase down India's 177 all out, and when they came back 20 minutes later the equation had come down to seven runs off 30 balls with the revised target of 170 as per DLS method. Rakibul Hasan hit Sushant Mishra for a four in the 42nd over, four balls after resumption. Off the first ball of the next over, which started with one run left to win, Rakibul took the winning signal to set off delirious celebrations in South Africa and in Bangladesh.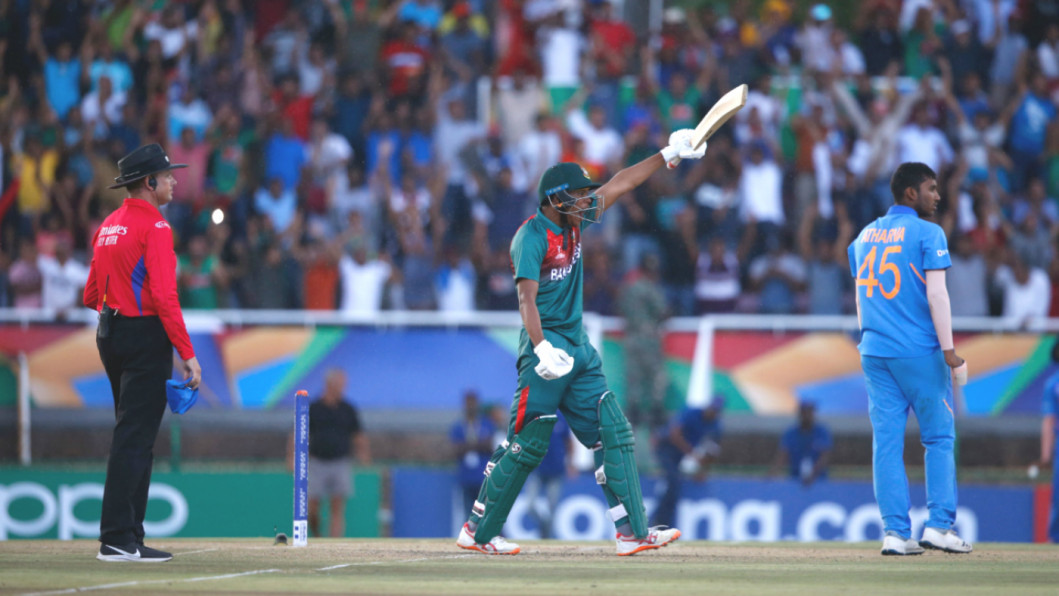 Update: The rain has subsided and the covers come off. The players are getting ready to come back to the field. A revised target of 170 has been set for Bangladesh. They need 7 runs from 30 deliveries.
The players have gone off the field with the drizzle turning into a more steady rain. The conditions are dark and Bnagladesh need a further 15 runs for victory from nine overs. Bangladesh are ahead of the DLS par score at the moment.
Tyagi, a major wicket-taker in the India, finishes his 10 overs after Bishnoi. The pacer conceeded 33 in his 10 overs and remained wicketless.
Leg spinner Bisihnoi finishes his 10 overs, bagging four wickets for 30 runs. Bangladesh would consider it a threat averted for now after his damaging spell left the entire batting lineup distraught.
[Wicket] 31.6: Bangladesh 143/7: Bangladesh in dire straits as Emon, who was suffering from a hamstring, loses his cool trying to go aerial against Jaisawal and gives an easy catch at cover. Parvez Hossain Emon c Akash Singh b Jaiswal 47 (79b 7x4 0x6) SR: 59.49
Upon the fall of the sixth wicket, Emon, who retired hurt, had come out to bat once more and he along with captain Akbar Ali has featured in a 26-run partnership so far.
A sliver of hope for Bangladesh as opener Parvez Hossain Emon, who retired hurt after the fall of the second wicket, is walking out now to join the captain. This is the last throw of the dice for Bangladesh. 
22.5: Bangladesh 102/6 -- Wicket! Avishek Das fails to learn his lesson after being fropped the previous ball, and hits an ambitious pull off Sushant Mishra, top-edges and is caught at square leg. Avishek Das c Tyagi b Mishra 5 (7b, 1x4)
20.1: Bangladesh 85/5 -- Wicket! After a four and six from Akbar Ali off Atharva Ankolekar in the previous over soothed nerves, Shamim Hasan hits an ill-advised hoick to extra cover to be caught on the boundary. Criminal given that the bowler was not the dangerous Ravi Bshnoi but pacer Sushant Mishra. Shamim Hossain c Jaiswal b Mishra 7 (18b)
16.1: Bangladesh 65/4 -- Wicket! Going from dim to bleak for the young Tigers. Another googly, but this time it takes the inside edge of Towhid's bat, rolls off the pad before wicketkeeper Dhruv Jurel picks the ball up and whips the bails off. Foot on the line and Towhid goes. Towhid Hridoy st Jurel b Bishnoi 0 (2b).
14.1: Bangladesh 62/3 -- Wicket! And are the wheels coming off here. Bangladesh cannot read googlies to save their lives. This time it is Towhid Hridoy who is pinned on the back foot by an excellent wrong-un from danger man Bishnoi. Umpire's finger goes up. It's now Bishnoi versus Bangladesh. Six more overs to survive after this. Towhid Hridoy lbw b Ravi Bishnoi 0 (2b).
What is as damagig is that Emon is walking off, seemingly with cramps, leaving two new batsmen in skipper Akbar Ali and Towhid Hridoy at the crease.
12.5: Bangladesh 62/2 -- Wicket! This may start some panic in the dressing room as the dependable Mahmudul Hasan Joy is bowled by superb googly from Ravi Bishnoi. The ball pitched on a good length just outside off and spat back in to take Mahmudul's off stump. He failed to read the variation. Mahmudul Hasan Joy b Ravi Bishnoi 8 (12b, 2x4, 0x6)
End of over 10: Bangladesh 55/1. Emon 22 (33b), Mahmudul 4 (4b)
Despite the dismissal of Tanzid Hasan, Bangladesh are in a very good position at 55 for one after the Powerplay overs. The field will spread out now and singles should be on offer easily, which makes the equation of 123 runs from 240 balls a simple one if wickets are kept in hand.
To that end, the leg-spin of Ravi Bishnoi was always going to be a threat, as it has been throughout this World Cup. How Bangladesh negotiate him will be the key to which team gets their hands on the coveted prize. Tanzid's dismissal brought in Mahmudula Hasan Joy, the centurion in the semifinal win against New Zealand. He is the perfect player for the job, and will try to do what Yashasvi jaiswal did for India. 
8.4: Bangladesh 50/1 -- Wicket! Tanzid tries to repeat that flat-batted six and pays the price for the exuberance of youth. his time it's a googly from Bishnoi and it deceives Tanzid, who top edges it to long on. Tanzid Hasan c Kartik Tyagi b Ravi Bishnoi 17 (25b, 2x4, 1x6).
8.2: Bangladesh 50/0 -- SIX! Tanzid Hasan smokes Ravi Bishnoi over midwicket for six!
End of over 5: Bangladesh 29/0. Parvez Hossain Emon 9 (18b, 1x4), Tanzid Hasan 9 (14b, 2x4)
Parvez and Tanzid have started solidly, and more importantly confidently, against the pace of Karthik Tyagi and Sushant Mishra. Tanzid hit Karthik for two boundaries in the first over, and the pair have since settled into a solid rhythm. 
India 177 all out in 47.3 overs (Jaiswal 88, Varma 38, Jurel 22; Avishek 3-40, Shoriful 2-31, Sakib 2-28)
The Bangladesh Under-19 side has completed a nearly perfect bowling and fielding performance by getting their mighty Indian counterparts all out for 177 in the ICC Under-19 World Cup final. 

The young Tigers know that the job is only half done and history awaits the youngsters. 

From the start, Bangladesh had India under pressure. Fiery opening spells from Shoriful Islam and Tanzim Hasan Sakib was backed up by disciplined efforts from medium pacer Avishek Das and left-arm spinner Rakibul Hasan.
There was only one batsman who from India who offered stiff resistance to the incisive bowling from Bangladesh -- tournament's highest scorer Yashasvi Jaiswal, but his fall in the 40th over for a 121-ball 88 to Bangladesh's best bowler Shoriful precipitated a collapse of six wickets for 21 runs.  
Shoriful took two wickets for 31 runs from 10 probing overs, Sakib took two for 28 from 8.3 overs, including the last wicket to faal, that of Sushant Mitra, who was brilliantly caught diving forward at deep third man by none other than Shoriful.
Avishek was the most successful bowler on display, taking three wickets for 40 runs from nine overs. 
India on back foot as Shoriful scalps two in two
Shoriful Islam bagged two wickets in two deliveries, including the all-important wicket of Yashashvi Jaisawal, out for 88, as Bangladesh dampened India's chances of going for a big total.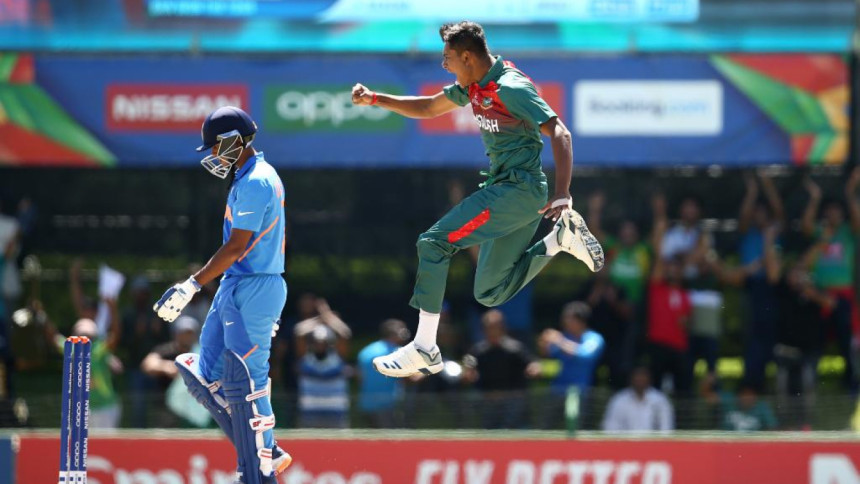 In the 40th over, Shoriful hit the pitch hard in the penultimate delivery of the over and brought out a tame pull shot from Jaiswal. An easy catch to mid-off with Tanzid Hasan taking the catch. Shoriful brought out the finger-on-lip celebration to shush the India batsman. Next delivery he got one to swing from off to middle in the air. A razor sharp delivery that rapped left-hander Siddesh Veer on the pads. Hint of reverse swing and the umpire raised his finger as Shorful bagged two with deliveries. The bowler was in with a chance to bag a hat-trick with the first ball of his next over but that was averted Dhruv Jurel who managed to dig out a full-length delivery.  
India would then lose their sixth wicket as Shamim Hossain ran out Jurel after a 22-run knock. India are 169/6 in 43 overs.
Young Tigers get quick breakthroughs
The early aggression from pacers may not have produced a lot of wickets but it did thwart the Indian U-19s from stepping on the gas pedal and scoring quick runs. The early economic spells did pay off as Bangladesh U-19s were able to make quick breakthroughs with Tanzim Hasan Sakib removing Tilak Varma to break a 94-run second wicket stand. Spinner Rakibul Hasan then bamboozled Priyam Garg as the batsman chipped one straight to fielder at mid off. India are 117 for three after 33 overs with Jaisawal unbeaten on 63. 
India weather early storm
India U-19s have weathered the early storm from Bangladesh pacers with a patient partnership between opener Yashashvi Jaisawal and Tilak Varma.
India are 74 for 1 after 24 overs and the early pressure did not break them due to the 65-run partnership between Jaisawal and Varma. The run-scoring has been slow but with wickets in hand India would look for a challenging total. Shoriful Islam, who bowled with fire and venom in his first three-over spell, was brought on again and he once again showed his aggression but India weathered the difficult challenge so far with their current run-rate standing at 3.18.
U-19 pacers' aggression puts India on the back foot
Bangladesh's Under-19 pace pair of Shoriful Islam and Tanzim Hasan Sakib started the ICC Under-19 World Cup final in Potchefstroom with fire, brimstone and iron-clad discipline, leading to Divyaansh Saxena falling for just two in the seventh over.
After 10 overs, India were 22 for one. Sakib did not concede a single run in his first 17 balls before ending a hundred per cent dot-ball streak by bowling a bouncer that was deemed too high and signalled a wide.
"Very unusual standard, high quality at this age-level," was how commentator and former West Indian pacer Ian Bishop characterised the bowling display.
The reward for the two pacers' aggression and discipline was reaped by first-change bowler Avishek Das, who had Saxena caught at point when the right-hander, having scored just two runs from 16 balls, looked to release pressure by throwing his bat at a wide delivery.
After Bangladesh won the toss, Shoriful regularly beat Yashasvi Jaiswal -- the tournament's highest scorer -- with deliveries that seamed away from the left-hander's off stump. There was plenty of aggression, with long stares and a few words from Shoriful, causing the umpire to step in on a few occasions, including when Sakib almost hit Saxena with an aggressive throw back at the batsman when he had stepped out after playing a shot.
Toss
Bangladesh won the toss and elected to field in the final of the ICC U-19 World Cup in Potchefstroom today. Bangladesh made one change to their playing eleven, with Avishek Das replacing Hasan Murad. India are unchanged.
Bangladesh: 1 Parvez Hossain Emon, 2 Tanzid Hasan, 3 Mahmudul Hasan Joy, 4 Towhid Hridoy, 5 Shahadat Hossain, 6 Shamim Hossain,7 Avishek Das, 8 Akbar Ali (capt, wk), 9 Rakibul Hasan, 10 Shoriful Islam, 11 Tanzim Hasan Sakib
India: 1 Yashasvi Jaiswal, 2 Divyaansh Saxena, 3 Tilak Varma, 4 Dhruv Jurel (wk), 5 Priyam Garg (capt), 6 Siddhesh Veer, 7 Atharva Ankolekar, 8 Ravi Bishnoi, 9 Sushant Mishra, 10 Kartik Tyagi, 11 Akash Singh
Bangladesh are playing their maiden final while India, the defending champions, are looking to win their fifth title of this event. Both teams came into the final with an unbeaten record.