50 not out: Sachin Tendulkar enjoys 'Tea Time'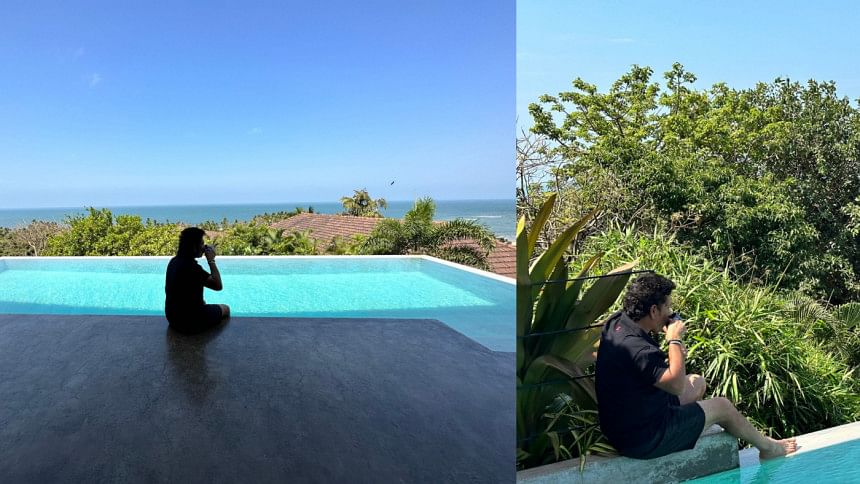 Legendary cricketer Sachin Tendulkar completed the half-century of his life on Friday. While the fans have flooded social media with happy birthday posts, they are also keen to know how the 'God of Cricket' is going to celebrate his big day.
Meanwhile, Sachin took to Twitter and shared a couple of his pictures, saying, "50 not out." The former Indian batter could be seen enjoying a cup of a tea at the poolside.
The cricketer had also recently shared that he is not very big on parties and would mostly celebrate his birthday with some close friends.
"It's gonna be a surprise for me (laughs). There are not really going to be big celebrations, I'm not a sort of a person of big parties and big celebrations. I don't remember going over the top and celebrating my birthdays. Would rather call close friends and that is all fine. So, I think there would be some plan this time but not at a mega scale, just close friends," Tendulkar said in an interview with CricketNext.
In the same interview, Tendulkar shared that his foundation is trying to help less privileged children in the country.
"We were doing that earlier as well but what we have done post-retirement is that we have structured that and identified certain verticals where we would want to focus more. The three areas are health, education, & sports for children," he said.
"My foundation, Sachin Tendulkar Foundation, of course, my name is there, but the captain of the ship is Anjali. Being a paediatrician, it helps because she thinks differently, she is extremely committed and extremely driven by this because we all believe that we are in a position to impact lives and work all around the country in these three verticals.
"There are tribal areas that have limited resources and with those limited resources, life gets challenging. So how could we impact their lives, how can we give meaning to their lives & how could we not allow them to lose hope and chase their dreams, help them achieve their goals is what we want to do," said Tendulkar.