Mustafiz, a baby-faced killer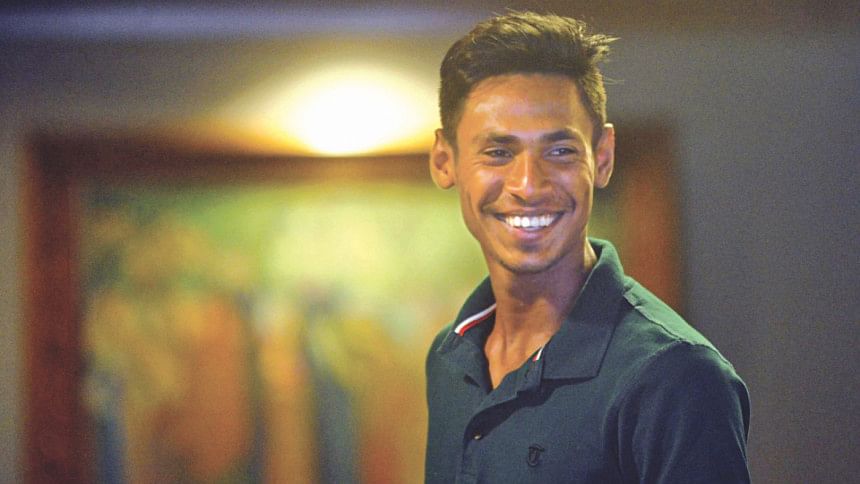 A wonder boy! A surprise! The feeling is yet to sink in.
The selectors spotted his talent early and did not hesitate to bring him in the senior fold. The team management then trusted his abilities. What happened next is now a fairytale. Captain Mashrafe Bin Mortaza said that what 19-year-old Mustafizur Rahman had done against India was beyond his imagination. Chief selector Faruque Ahmed said: "He [Mustafizur] surprised us all."
The baby-faced Mustafizur is now the most lovable cricketing hero in the country. People's interest in him seems to have no limits.
Everybody now knows that how shy the charming left-arm pacer is when it comes to saying something in public. But still, already a lot has been revealed about his background. But fans want to know more and more about the recipe that made him such a crafty bowler.
"He may be shy when it comes to talking in the public but he is a cricket smart," a simple but very interesting observation came from Mustafizur's long-time roommate Nihaduzzaman, a left-arm spinner who is now in the High Performance unit.
What is cricket smart? Nihaduzzaman went on: "From many instances I want to give you one example which will make you understand this. It was an Under-19 Asia Cup match against Afghanistan in Dubai in December 2013. We had a very small total on the board. There was grass in the pitch and the team needed some economy bowling from its main pacer Mustafizur. He has great strength in slower and yorker deliveries but on that pitch he only swung the ball and finished with 2 for 19 in 9.4 overs. He himself kept those stock balls in reserve, nobody told him."
"Generally he is simple but his cricket sense is unbelievable. I can still remember the way he bamboozled New Zealand in the Under-19 World Cup with his cutter and yorker. There was nothing for me to say him anything as a captain," added Mustafizur's under-19 skipper Mehedi Hasan Miraz. "I first encountered him in Khulna in 2011 when he was quick but an erratic under-16 divisional pace bowler. I found him a different bowler in the under-19 team after his stint with the pacer hunt programme. The world only has seen his cutters, but you don't know that he can bowl seven yorkers out of ten deliveries," continued Miraz.
Nihaduzzaman however found another great quality in his character which is his honesty. "He is very straightforward. He is very clear about what he can do and he cannot. He doesn't like to hide anything. As a roommate since 2012 I can say you that honesty is the biggest strength in his character."
Again he gave examples in support of his claim. "During a fielding session in the under-19 camp our fielding coach had been trying him to do the sliding and suddenly he received an injury during the practice and when he came back after four days' rest he clearly said that he was unable to slide and did not want to risk his knee. Another instance was in England where he felt a pain in his leg after two deliveries and immediately without hiding the fact he said that it would not be possible for him to continue the tour. He went back home and finally a bad type of injury was diagnosed."
Miraz and Nihaduzzaman spoke of another quality in his character by saying that the word fear didn't exist in his dictionary. And that might be the reason why a newcomer like him coming in to bowl against one of the world's strongest batting line-up showed no signs of nerve.
Now the expectation is that he will serve the country for long. He needs to improve his muscle as well as increase the pace to become a lethal pace bowler in world cricket, but most importantly he needs to cope up with the sudden name and fame.
Faruque has the faith in the young man. "He is a very level-headed guy, so I believe he will be our long-term asset but we need to nurse him properly."
Finally one can be hopeful by the words from Nihaduzzaman. "This [Monday] morning he rang me and said, 'dost [friend], kemon achis [how are you]'. I congratulated him on his performance. But he was not ready for these accolades. He said, 'Forget this performance, pray for me so that I can have another good performance in the next game."