McCullum ends one-day career with strong legacy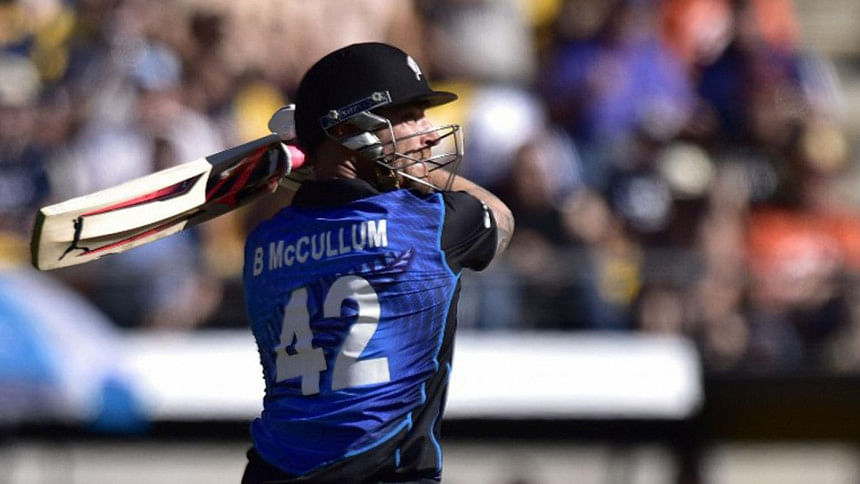 Brendon McCullum's one-day international career ended on Monday with a 55-run win over Australia at Seddon Park, though the legacy of the aggressive right-hander is likely to have a much longer effect on the sport in New Zealand.
The New Zealand captain, who made his debut against Australia at the Sydney Cricket Ground in January, 2002, is retiring from all internationals after the second test against Steve Smith's side in Christchurch.
His retirement will leave a hole at the top of New Zealand's batting order in limited-overs matches, while it could also change the way they approach games in future.
The right-hander's rip, snort and bust approach with his superb eye and lightning bat speed that enabled him to hit through the line, particularly through, or over, the cover field or down the ground electrified crowds.
When the mood took him, he could be so destructive that games were lost, or won, before he was dismissed.
One such game at Queenstown against Bangladesh in late 2007 was typical. Having dismissed the visitors for 93, McCullum then blasted 80 from 28 balls.
New Zealand won the game in six overs and television commentators joked he had finished the game so quickly because he had booked a tee time at a nearby golf course during the change of innings.
LEGACY
His biggest legacy, however, may be the way in which his personal approach has been transferred to the side, whose attacking style since he assumed the captaincy in late 2012 have been enticing crowds back to the game.
That was evident at last year's World Cup, where McCullum's bristling aggression helped drive New Zealand to their first final.
He scored 328 runs in nine innings with four half centuries. But it was the speed at which he scored, at a strike rate of 188.50, that got crowds gasping, none more so than his 25-ball 77 against England in Wellington.
McCullum had asked New Zealand to 'dare to believe' and that innings in the third game of the tournament got the country unequivocally behind the side, believing they could be witnessing a once-in-a-lifetime event for the co-hosts.
Since being forced to make his retirement announcement due to the timing of the World Twenty20 squad selections, he has been greeted by enthusiastic crowds throughout the Australian one-day series, lauding his contribution to the game.
At last week's series opener in Auckland, a school day, several youngsters alerted their teachers they had played truant with a sign that read "I should be at scool".
On Monday McCullum was flanked by a guard of honour from the Australians.
His first four scoring shots were boundaries and his third six, a casual flick off Scott Boland over mid-wicket was his 200th in one-day internationals.
He is just the fourth player to hit 200 one-day sixes but the only one to have 100 in test cricket as well.
He hit his sixth boundary off Mitchell Marsh in the 10th over when he guided the ball to the vacant third man boundary but was dismissed on the next ball for 47 with New Zealand 84-1.
The innings typified his career.
His approach more often than not paid off and at times when reining in his instincts could have been more beneficial, which told in his statistics.
He ended his career after 260 matches with a strike rate of 96.37, the sixth highest amongst batsmen who have scored more than 2000 ODI runs.
However, his all-out attack meant he scored just 6083 runs at an average of 30.41, with five centuries and 32 half centuries.