Kohli and spinners wreck Australia's day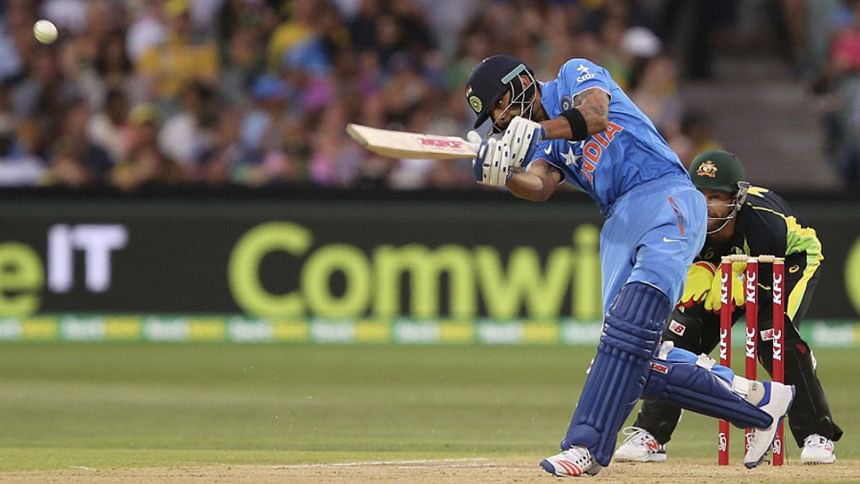 Virat Kohli spent the recent ODI series piling up runs all over Australia, hundreds in two games and half-centuries in two more. He hovered at a run a ball for most of the series, finishing with 381 runs from 384 deliveries. But there were times India might have wished he would change gear instead of remaining on cruise control. That lift in tempo came in the first T20, Kohli's unbeaten 90 from 55 balls setting up an Indian win by 37 runs at Adelaide Oval.
There were others who contributed to the result: Suresh Raina provided valuable support with 41 off 34 balls and Rohit Sharma set India's innings off to a strong start with 31 from 20 after Aaron Finch sent them in. Jasprit Bumrah and India's spinners then stifled Australia in the chase, R Ashwin and Ravindra Jadeja each collecting two wickets and keeping the runs tight, giving Australia an unwelcome but important taste of what they might face in the World T20 in India in March.
But Kohli was the real architect of this win. Remarkable though it is, Kohli is yet to score a century in his prolific Twenty20 career, and he looked like he might rectify that in his 176th match in the format. Kohli passed his previous highest T20 international score of 78 not out and had moved on to 87 by the start of the final over, but faced only the first and last balls of the 20th. Raina was dismissed off the second ball, and MS Dhoni used the others to smash 11 not out off three.
It meant India finished on 3 for 188 and from there they deserved to be firm favourites: no team has ever chased down more than 158 to win a T20 international in Australia. There were some encouraging signs early for Australia as Aaron Finch and David Warner rushed to 0 for 34 from the first three overs, but Bumrah helped tie them down and claimed the important wicket of Warner, caught pulling for 17 off 9.
It was a strange sort of match in terms of personnel, full of debutants and returning veterans whose fortunes fluctuated wildly. In his first T20 international Bumrah was excellent, his 3 for 23 key to restricting Australia. His fellow Indian debutant, Hardik Pandya, was all over the place - literally. His first over in international cricket brought five wides on both sides of the pitch, but he bounced back to pick up the wickets of Chris Lynn and Matthew Wade to finish with 2 for 37 off three.
Australia's debutant, Travis Head, was lbw to Jadeja for 2 from 5 balls, swiping across the line during a slump in which Australia lost three wickets for four runs in two overs. At the other end of the experience scale Shaun Tait, in his first international for nearly five years, leaked 45 from four overs; Ashish Nehra bowled reasonably for 1 for 30, also playing for his country for the first time since 2011; Shane Watson bowled well for 2 for 24; and Yuvraj Singh had little to do.
Little, but not quite nothing. Yuvraj bowled one over for 10 but his major impact came with major impact to his hands, snaring a catch at cover when Lynn drove with fearsome power. Lynn fell for 17 off 16, having struggled against the spinners, and Australia will want to see improvement from him over the next two games if he is to be in World T20 contention. The spinners were both outstanding, Ashwin with 2 for 28 and Jadeja with 2 for 21, each from four overs.
Australia were bowled out in the 20th over of their pursuit, reaching just 151 as regular wickets throughout their innings hurt their momentum. They had wanted to chase, they just didn't want to chase this many. Notably, wickets fell in only two overs of India's innings, Watson having claimed two in his first over of the match and James Faulkner picking up a consolation one in the 20th. Faulkner, Tait and Kane Richardson all leaked more than 10 an over.
Perhaps things might have been different had Richardson caught Rohit at long leg off Tait in the first over of the match, as he should have but for a misjudgment of the ball's flight. Then again, maybe that would only have served to give Kohli almost a full 20 overs at the crease, which could hardly have served Australia well given the form he was in. Kohli struck nine fours and two sixes, but rarely played what could be called a risky shot.
After Watson got rid of both Rohit and Shikhar Dhawan, the Kohli-Raina partnership was worth 134, India's third-highest for any wicket in T20 internationals, and their highest for the third wicket. No bowler escaped punishment from Kohli, who picked runs off the legspin of Cameron Boyce as he easily as he did by using the pace of the fast men. And importantly, after India lost the ODI series 4-1, Kohli found top gear, and found enough runs to keep India out of Australia's reach.