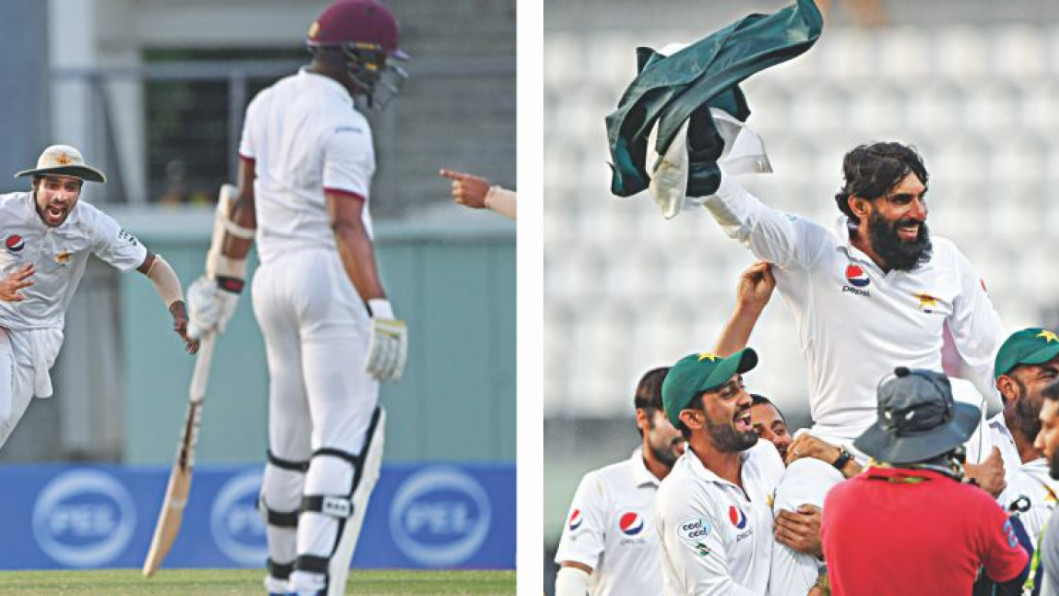 As Younis Khan and Misbahul Haq head off into the sunset after long and illustrious careers, Pakistan begin a tricky period of transition looking for a new wave of players ready to fill a huge void left by the retired batting greats.
Younis, Pakistan's most prolific Test run-scorer, and Misbah, the country's most successful captain, bowed out together in a blaze of glory on Sunday with the team celebrating a first-ever series triumph in the Caribbean.
It was a Test match befitting of a send-off to two of the country's greatest cricketers. Needing to last the entire fifth day to force a draw and deny Pakistan their first series win in West Indies, the home side were kept afloat till all but six balls from close by a masterful century from Roston Chase and stout lower-order resistance.
But in a classic Test-match twist, number eleven Shannon Gabriel, who had resisted for 21 balls and needed to play just one more from leg-spin wizard Yasir Shah to enable Chase to take them to a hard-earned draw, played a slog to a tossed-up googly and was bowled off the inside edge. That ill-advised shot gave Yasir an incredible 25th wicket and his third five-wicket haul of the three-Test series.
"This was just incredible," said a breathless Misbah after Gabriel's dismissal triggered Pakistani celebrations as the West Indies were dismissed for 202 to lose the series 2-1.
"There were so many things happening in that last session -- dropped catches, appeals, no-ball dismissals -- it looked for a while as if it wasn't going to happen.
"I am thankful for myself, the team and all supporters of Pakistan cricket that we were able to pull it off."
"The bowlers bowled their hearts out on a slow track," he said.
"Everyone was so motivated. They were working hard for me and Younis, too. There were frustrations. No-balls, wickets, couple of chances here and there, but you enjoy wins like this much more than straightforward wins.
"I'm happy with what I've had in my career, couldn't have asked for a better finish. Really happy for this team.
"The way they gave me and Younis a send-off ... I wish [Younis] all the best. It was a fine journey with him in the middle, sharing a lot of partnerships. In the history books, both our names will be there."
Younis steps away from international cricket as Pakistan's best batsman, it seems he has found closure. "People say to me, you should've done more captaincy," he told.
"But I think whatever happens, happens for the best. Had I been captain maybe I wouldn't have scored all these runs. People think that maybe I carry these regrets, but no. Had I done more, who knows whether I would be where I am today? If I had been captain for so long, maybe I would've been too distracted by other duties to score as many runs as I did."
"All the cricket I've played - for club, department, association, county, in Australia, wherever - when I'm gone if you ask any of them, they won't be able to say that Younis Khan left something in the tank. I gave 200 per cent everywhere I played."
SCORES IN BRIEF
PAKISTAN: First innings 376
WEST INDIES: First innings 247
PAKISTAN: Second innings 174 for 8 decl
WEST INDIES: Second innings 202 all out (Hetmyer 25, Hope 17, Chase 101 not out, Holder 22; Yasir 5-92, Hasan 3-33)
Result: Pakistan won 101 runs and clinched the 3-match series 2-1.
Player-of-the-match: Roston Chase.
Player-of-the-series: Yasir Shah.