Impressions from Tigers' mixed bag in India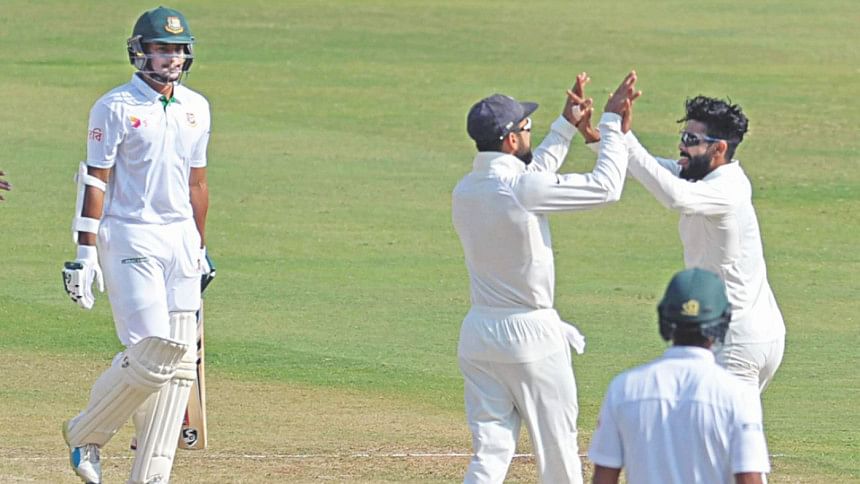 It took almost 17 long years for Bangladesh to travel across the border and play their first Test against India. They lost the one-off Test match by 208 runs in Hyderabad on Monday. But despite the heavy defeat against the top-ranked Test team in their den, Bangladesh have not fared as badly as the score line suggests.
It is true that the wicket at the Rajiv Gandhi International Stadium held firm during the entire five days, which was something unexpected considering the typical nature of Indian pitches where spinners rule the roost after three days. But for Bangladesh to take the game deep into the second session on the fifth and final day on Monday was impressive, if not fulfilling. It was not just about batting more than 100 overs in both innings but batting under pressure after losing that important toss.
Batting on a placid wicket for the first two days is always an advantage. But after fielding for nearly two days and after being buried under an avalanche of runs it is always tough for any top team to bat and score runs. India did not enforce the follow-on and came out to bat briefly for the second time in an attempt to give much-needed rest to their bowling unit. So, it was again a tough job for Bangladesh when they came out to bat for the second time knowing that they have got no chance to chase down 459 in four sessions; the battle would be to survive.
They tried to survive on a good wicket but were mostly undone by those rough footmarks on a good length outside the left-handers' off stump, which was a crucial advantage that India enjoyed against an army of Bangladeshi southpaws at the top of the order. Four out of five top-order batsmen are left-handers and three of them, including Shakib Al Hasan, were victims of those rough patches.
This is not an argument against the notion that the wicket did not play a part on the fourth evening and on the fifth day. If we analyse the eight wickets shared by the Indian spinning duo of Ravichardran Ashwin and Ravindra Jadeja in Bangladesh's second innings, we will find either the footmarks or the rough played a big part in those dismissals. Actually it was pace bowler Ishant Sharma's two wickets after lunch on the fifth day that stood out as sheer brilliance as far as wicket-taking deliveries are concerned. But that does not mean that Ashwin and Jadeja did not deserve those wickets. What was most fulfilling for Bangladesh was that every batsman, save skipper Mushfiqur Rahim, did not throw away their wickets, which was a definite improvement from their two Tests against New Zealand.
But this particular Test match has reignited some serious issues, that need to be addressed and solved if Bangladesh are to go a notch forward.
SHAKIB'S REFUSAL TO CHANGE HIS STYLE
Shakib's down-the-wicket antics against England on the third morning of the opening Test in Chittagong, his similar act on the fifth day of the Wellington Test, his arrogant cut shot straight to the throat of the backward point fielder on the fourth day of the second Test in Christchurch have already been well documented as extremely careless shots and, more importantly, ones that played an important part in Bangladesh's defeat in all three games. He also did the same in the first innings against India when Bangladesh needed him most to continue taking the fight to the opposition alongside Mushfiqur Rahim.
It is however not his inexplicable shots but his interpretation of those acts that would most baffle even those with a little knowledge about cricket. He said he will not change his style of play. His logic behind that was: if he changes his style he will not be the Shakib people appreciate most. First of all, no one has ever asked him to change his style. We want him to be aggressive with the bat, with the ball and while he is fielding. We want to know the purpose of all his efforts. If all his positive energy and intent does indeed solely point to the benefit of the team, then we demand an explanation from him for the aforementioned shots. Have those acts helped or damaged the team? Perhaps he will not find a single individual to support his acts in those desperate situations.
Secondly, there is apparently an admission in the team's core group that Shakib should be allowed to play the way he plays. While attending a press briefing after the Christchurch Test, Tamim Iqbal defended Shakib's inexplicable shot by saying: "he plays like this".  Remember, Tamim led Bangladesh in that Test match in the absence of Mushfiqur. Coach Chandika Hathurusingha in another bout with a reporter refused to single out Shakib's act of audacity. He took that as part of a collective mental breakdown and after being pressed said: "only one or two sessions [with the team] would not be enough to change that."
But Shakib's actions have nothing to do with mental toughness or the lack of it and unfortunately no one holding a responsible position in the Bangladesh Cricket Board or even the national selectors will raise their voices against his wilful acts in any public forum. We need someone in the board's hierarchy to speak loud and clear with a strong message that the purpose of every effort should point to the benefit of the team.
MUSHFIQUR RAHIM PLAYING THREE KEY ROLES
Donning the wicketkeeping gloves, Mushfiqur has made it a habit of making at least one crucial blunder in every Test innings. He did not dive when Indian one-down batsman Cheteshwar Pujara edged pace bowler Kamrul Islam Rabbi on the opening day of the one-off Test against India. Standing at first slip Soumya Sarkar took it on the bounce. Pujara was on 35 then and went on to score 83. Mushfiqur then missed a simple stumping chance while Indian wicketkeeper Wriddhiman Saha was on four. The right-hander went on to make an unbeaten 106. Mushfiqur's errors cost Bangladesh 150 odd runs.
Now, the question is whether Bangladesh have the luxury to have him behind the stumps in Tests where one good catch makes all the difference. Besides, since he is keeping he comes in to bat at number 6. This is a position many feel he should not bat in, being the number one batsman of the team. His average is under 35 and he often finds himself batting with the tail. His elevation to a more suitable number four position can benefit the team most. But if he keeps it would be physically impossible for him to bat in the top order in the demanding five-day contest.
But the biggest dilemma for Mushfiqur to bat up the order and sacrifice his keeping gloves is that Bangladesh will have to sacrifice one batsman to accommodate a keeper. Bangladesh have got two wicketkeepers lining up for the job. They are Nurul Hasan and Liton Kumar Das. Unfortunately however, both have so far failed to excite with the bat. Nurul is undoubtedly the best of the three wicketkeepers, but his batting has not improved that much. Liton Das got a decent spell in the national team before being expelled after a poor run of form with the bat.
But that does not necessarily mean Bangladesh will have to stick to the same formula, knowing that they desperately need a good wicketkeeper-batsman firstly to bring the best out of Mushfiqur as a batsman and captain of the Test team. Mahmudullah Riyad has been occupying the crucial number four spot for quite some time. Unfortunately he has not been consistent with the bat. He has scored only two 50s in 16 Test innings since his magnificent twin tons in the 2015 World Cup. The most disturbing aspect of late is that he looks like a sitting duck against those well-directed short-pitched deliveries. And if he continues to fail with the bat Bangladesh can seriously think of resting him for a while and allow a wicketkeeper to come into the frame, pushing Sabbir Rahman to bat at number six.
Besides, with off-spinner Mehedi Hasan proving his potential to be a good all-rounder the hard and fast rule of playing with seven batsmen can be relaxed as a test case to form an ideal combination. After the one-off Test Mushfiqur said that he feels comfortable with all three roles in the team. But he will feel more comfortable if he considers each of his roles from a critic's perspective. He should ask himself what are the scores he deserves as batsman, wicketkeeper and captain. He will get variable figures ranging from 10 out of 10 to six out of 10. And as captain of the team he will definitely prefer 10 out of 10. And if he thinks that way he will feel more comfortable as the most passionate and committed leader of the team.