Bangladesh v England 3rd ODI
Live: Stokes and Woakes take England home in style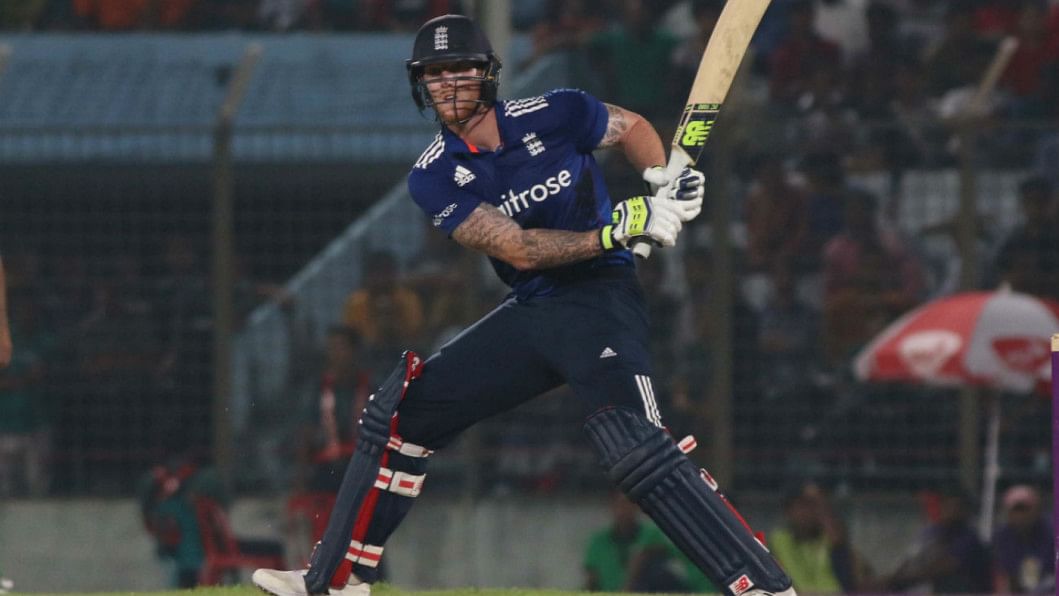 This is the first series loss for Bangladesh after six successive series wins at home. They lost three tosses on the trot and the evening dew did not help the spinners here, but England held their nerve and were always ahead of the game in the chase. Except for Mushfiqur Rahim none of the Bangladesh batsmen made the most of their starts and that may have cost them a crucial 10-15 runs. 
England win by six wickets with 13 balls to spare and win the series 2-1
10:30pm- Chris Woakes hits a six over long off to seal the game with 13 balls left. After the crucial drop by Imrul off Taskin in the previous over, Ben Stokes hit a six over long on off Shafiul, who then bowled two wides, before Woakes finished it off in a flurry. 
10:23pm- Chris Woakes hits a four to make it 21 off 21 but then Imrul Kayes drops him the next ball at slip. Just to rub salt in the wounds, Woakes hits the last ball of the over through covers for a four. 17 off 18 now. 
10:15pm- Spirited bowling by Bangladesh but England holding firm with 29 required off the last five. Mashrafe ends his 10 having conceded 51 runs for two wickets.
England tour of Bangladesh, 3rd ODI
England: 278/6 (47.5.0 overs) 
Bangladesh: 277/6 (50.0 overs)
10:00pm- This time it is an off-cutter that fools Moeen Ali, who miscues it high towards mid on and Mahmudullah Riyad takes the catch running backwards. Mashrafe Bin Mortaza becomes the leading wicket-taker in ODIs, but the man now in second place, Shakib Al Hasan, has two overs left.
Moeen c Riyad b Mashrafe 1 (3)
Fall of wicket: 236-6 (42.3 overs)
9:50pm- Mashrafe pulls it back! He bowls his opposite number Jos Buttler off the inside edge in the 41st over just as the game was slipping away. It's a small moral victory for the Bangladesh captain after the acrimony of the second ODI, but there is still a lot to do after Buttler had hit a boundary earlier in the over.  
Buttler b Mashrafe 25 (26)
Fall of wicket: 227/5 (40.4 overs)
9:25pm- Mushy…you beauty…brilliant catch to send the partisan home crowd dancing in the aisles…Shafiul strikes again, and gets the well-set Ben Duckett for 63.
The batsman scooped his shot to the keeper…went across his crease outside off but getting a little tickle.
BM Duckett c †Mushfiqur Rahim b Shafiul Islam 63 (68b 4x4 1x6)
Fall of wicket: 179/4 (33.2 overs)
9:04pm- Shafiul strikes…Tigers needed that wicket, and now they are back in the contest! The 45-run stand between Bairstow and Duckett is stopped in 6.5 overs. Will the wicket send the cat among the pigeons as far as the England dug-out is concerned?
Jonny Bairstow went for a pull to a back-of-a-length delivery, used his feet, made the ball fuller to start with, and sees his furniture disturbed.
JM Bairstow b Shafiul Islam 15 (18b 1x4 0x6)
8:55pm- England line up the slog overs as Ben Duckett reaches his second ODI 50. The visitors require 119 runs in the last 20 overs with eight wickets in hand. 
Ben Duckett 50 off 56 balls
8:30pm- A bit of pressure tells on England as Sam Billings slog-sweeps off Mosaddek Hossain and finds Imrul Kayes waiting to gobble it up at deep square leg. Mashrafe Bin Mortaza brought Mosaddek back for the 25th over and it worked a charm. 
Sam Billings c Imrul b Mosaddek 62 (69)
Fall of wicket 127/2 in 24.3 overs
8:16pm- 50-run partnership comes up in 60 balls in the 22nd over between Sam Billings and Ben Duckett.
8:02pm- Sam Billings scorees his first ODI 50 in his sixth match by running down Shakib Al Hasan to third man in the 19th over.
Billings: 50 not out off 50 balls 
7:38 pm- That's a goner…James Vince walks across the stumps, ball doesn't turn sharply and strikes his in front. The England opener was looking to work a single off his pads, and made a better decision by not reviewing the on-field umpire's call.
Vince scored 32 from 37 with five fours to his name.
Chittagong crowd finally gets going when Nasir Hossain delivers the first breakthrough for the Tigers. England reach 63 for 1 after 12 overs.7:23 pm- England openers settle down at the crease, and begin to shift gears as Bangladesh bowlers err in line or length. 49-run stand after 10 overs will soothe the nerves in England's dug-out.
6:56 pm- All set for the chase… The stats are against England and so are the conditions. The highest target successfully chased down in ZAC Stadium in ODIs is 226. England's target is 278. Sam Billings will open alongside James Vince. And Mashrafe takes the new ball…
Moeen Ali and Adil Rashid got the ball to turn on this pitch and that must be encouraging signs for Tigers as they have as many as five spinners in their ranks. England have a daunting task in their hands.
6:02pm- Bangladesh score 79 runs in the last 10 overs through Mushfiqur Rahim and Mosaddek Hossain's Bangladesh-record 85-run seventh wicket partnership to score an above-par 277 for six. 
Mushfiqur: 67 not out off 62 (4x4, 1x6)
Mosaddek: 38 off 39 (4x4)
5:48pm- Mushfiqur Rahim reaches his first 50 of 2016 in style with a six over square leg off Chris Woakes in the last ball of the 47th over. He was dropped by Ben Stokes at long on the ball before. 
Mushfiqur: 52 not out off 54
5:39pm- It is the home stretch now for Bangladesh, with two set batsmen in to get as many as they can in the last five. Ben Stokes gives them a helping hand with two wides in the 45th over. 
5:27pm- Mosaddek Hossain hits back to back boundaries -- one over point and the next a cross-batted swipe to the straight fence -- to take 10 runs in the 42nd over bowled by Jake Ball.
5:15pm- Nasir Hossain becomes Adil Rashid's fourth wicket as he hits a full toss straight to midwicket inside the circle in the 39th over. Nasir scored 4 off 10 balls. 
5:06pm- Big wicket…England on a roll, Bangladesh reeling…Shakib Al Hasan is sent back for 4 by Moeen Ali in the 36th over.
Shakib played forward to a delivery that spun enough to beat the edge and quick hands from keeper-captain Jos Buttler completed the stumping. Tigers allrounder made four runs from 10 balls
4:48pm- The last thing Tigers wanted…a wicket before pressing on the gas, and that of the swashbuckling Sabbir who was batting fluently. Sabbir was Adil Rashid's third victim of the game, and the batsman fell one short of his fifty.
54-run stand in 8 overs between Sabbir and Mushfiqur gave the impetus Tigers needed, but the tempo needs to go up a notch if they aim for a big total from now on.
4:36pm- Sabbir Rahman is the catapult Tigers need going into the last 20 overs of their innings. He is going better than a run-a-ball, and his positive batting is allowing Mushfiqur Rahim to settle at the crease. Bangladesh going strong at 158/3 after 30 overs.
4:14pm- A long hop from Adil Rashid results in Mahmudullah Riyad hitting a forcing shot straight to cover for Jonny Bairstow to pouch. He had hit a similar delivery over midwicket for six the ball before, and that is the route he should have gone.
4:05pm- Adil Rashid gets rid of Tamim Iqbal with a googly that the left-hander hit straight to extra cover fielder James Vince. This comes moments after Tamim became the first Bangladeshi to cross 5,000 runs. He scored 45 off 68 balls with five boundaries. Riyad goes for 6. Mushfiqur Rahim in next.
4:00pm- With a pull over mid-wicket off Chris Woakes that took him to 41 in the 22nd over, Tamim Iqbal becomes the first Bangladesh batsman to reach 5,000 ODI runs in ODI cricket.
3:46pm- Imrul Kayes departs for 46 off 58 balls to have Bangladesh 80 for one at the end of 19 overs. Ben Stokes was the bowler who had him caught at square leg by substitute Dawson off a short of length delivery on the pads. 
3:39pm - Bangladesh reached the drinks break at 77 without loss with Imrul Kayes on 45 off 54 with four boundaries and a six and Tamim Iqbal on 29 off 54 with two boundaries. Highlight for Bangladesh so far was the six over cover by Imrul in the 11th over by Liam Plunkett. 
3:29pm - Imrul and Tamim record Bangladesh's highest opening partnership against England when the score reached 64 for no loss, beating their own record of 63.
3:24pm - Imrul survives an England review of a not-out call in the 14th over bowled by Moeen Ali. A reverse sweep off the first ball hit Imrul on the forearm and carried to Ben Stokes at slip. Replays showed that there was no contact with the glove, so Imrul bats on. 
3:10pm - Bangladesh openers Tamim Iqbal and Imrul Kayes got the Tigers off to a solid star, ending the first Powerplay on 42 for no loss. Imrul is batting on a 33-ball 23 with three boundaries and Tamim is batting on a 28-ball 18 with two fours.  
Bangladesh openers Tamim Iqbal and Imrul Kayes gave their side a steady start with 23 runs on the board after five overs, and they were playing sensibly to deny the English any early breakthroughs.
England captain Jos Buttler decided to field first considering the inclement weather at Chittagong against Bangladesh in the third and final ODI of the series.
With intermittent showers keeping the ground staff busy from early morning, there will be a delayed start to the match today.
Two changes for England: Billings and Plunkett come in place for Roy and Willey. Bangladesh are unchanged from the last game.
Prior to the game, during the pre-match press conference at the ZACS yesterday, Bangladesh captain Mashrafe Bin Mortaza had said that things get a lot more difficult with the rains around.
"It's not that difficult to select the eleven but the challenge is to keep your concentration amidst the rains which goes on and off. When these things happen, you need to take a good decision at that precise moment. The team that manages to take the right decisions wins the game," said Mashrafe.
If Bangladesh goes on to win this game, it will be their seventh consecutive series win at home.
Bangladesh
Tamim Iqbal, Imrul Kayes, Sabbir Rahman, Mahmudullah, Mushfiqur Rahim(w), Shakib Al Hasan, Mosaddek Hossain Saikat, Nasir Hossain, Mashrafe Mortaza(c), Shafiul Islam and Taskin Ahmed
England
Sam Billings, James Vince, Ben Duckett, Jonny Bairstow, Ben Stokes, Jos Buttler(w/c), Moeen Ali, Chris Woakes, Liam Plunkett, Adil Rashid and Jake Ball